We departed Mahon, Menorca at 09:40 on Saturday September 3rd, in anticipation of good sailing in southwesterly winds that we knew would pick up overnight to gusts of around 23 knots, not bad for our easterly passage towards Carloforte, a smallish island with a large marina off the SW corner of Sardinia. We would then reevaluate to see if we wanted to continue on towards Tunisia or stop and rest a while.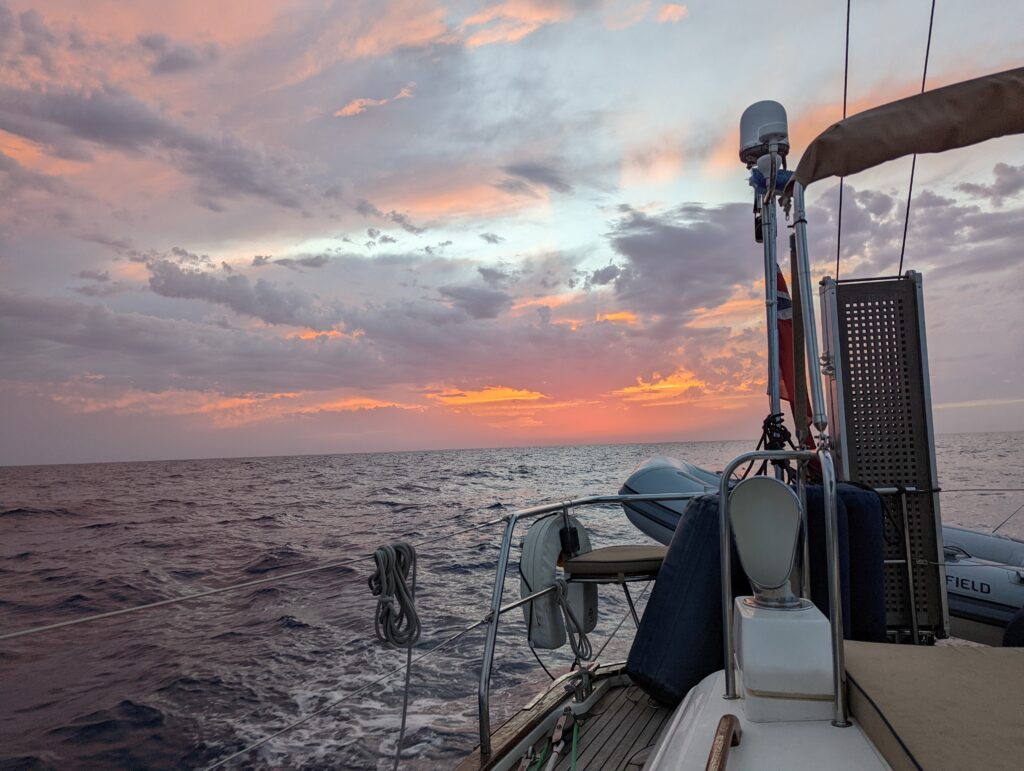 The passage turned out to be a lot more stressful than anticipated. The winds were flukey, often insufficient in strength during daylight hours of the first day so we ended up motoring for about half the time towards Carloforte. In the afternoon lightening flashes developed along with several rain squalls. By midnight, sailing at night and in anticipation of potentially worsening weather, we had put a deep reef in the mainsail, followed by a similar reef in the genoa. Both reefs were definitely needed during the 30+ knot squalls. It was a very dark night, no moon, and clouds that sometimes parted enough to reveal a multitude of stars. Not much sleep was had that night. There wasn't a lot of phosphorescence apart from the occasional large tennis ball sized blobs floating past in our bow wake. We assumed that the blobs might be jellyfish. By morning the wind started to subside and essentially from 07:15 until after sunset we were motoring again.
However, we decided to continue on towards Tunisia based on an updated forecast of Easterly winds that would fill in after 22:00, which again weren't forecast to go above 24 knots. It was another tense night, sailing close-hauled in winds consistently above 20 knots and often over 30 knots. On top of that, there was a lot of shipping around. We were in contact via VHF radio with several of them to make sure they had seen us (ship information obtained from our AIS transceiver). They all kindly obliged by altering course to avoid us, which was very much appreciated. It was much easier for them to alter course a few degrees than for us to manoeuvre in 2+ meter waves and strong winds.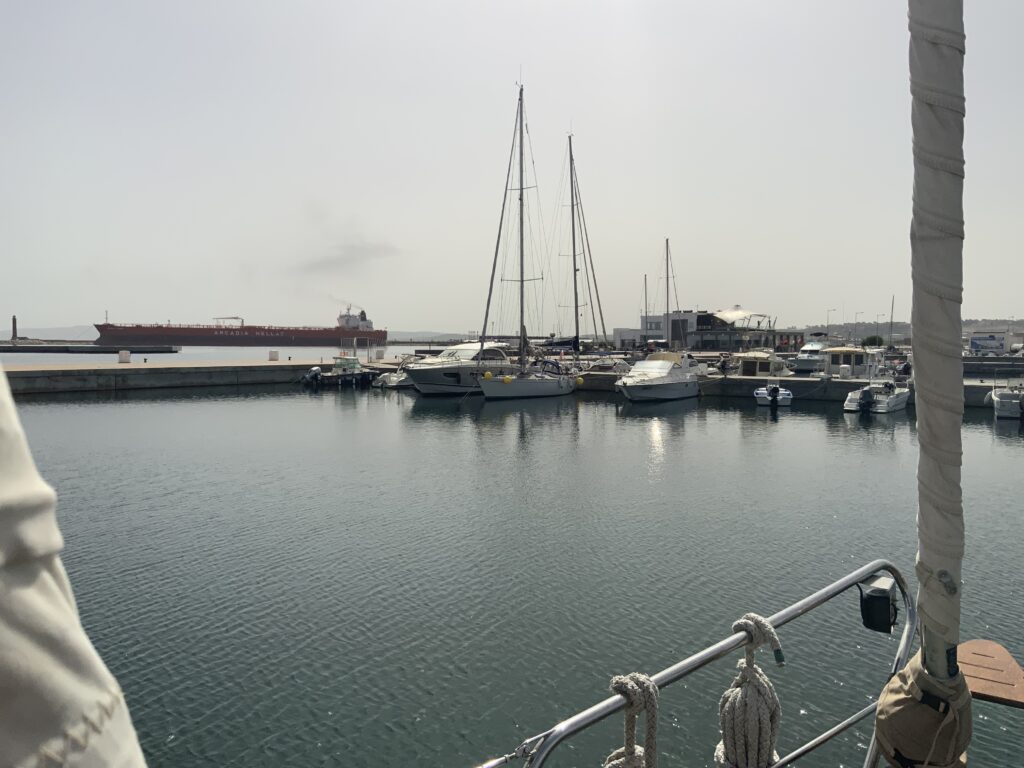 We arrived in Bizerte at 18:45 on Monday September 5th, tired but relieved to have made it safely.  We were greeted by the sub-harbour master and marineros who helped us dock and arranged for customs and police to come and check us into Tunisia. Having heard stories of some boats encountering difficulties with authorities, we were pleasantly surprised by how civil and cordial the experience turned out to be for us. 
Strangely, on the first day of the passage, both of us saw a bat circling around the boat which seemed to disappear somewhere near the stern. I wondered if we had a hitch-hiker. Later on we noticed the mainsheet was dirty and there was black dirt on the decks. We assumed our bat friend had made a home in our boom and had been disturbed when we started sailing. Sure enough, when I removed the last fender from the stern in preparation for docking in Bizerte, who should I find clinging onto the fleecy cover but our hitch-hiker bat. Sadly we were too busy to take photos then, too tired afterwards (I fell sound asleep on the sofa before even the official returned our passports) and by morning our batty friend had found another place to call his home.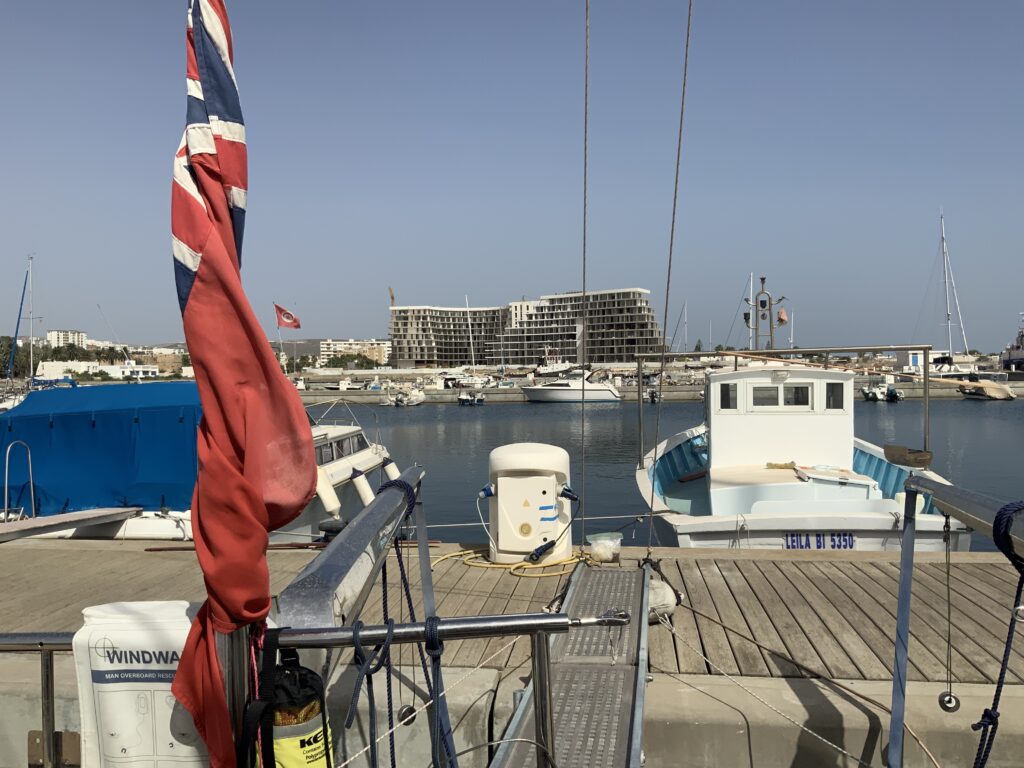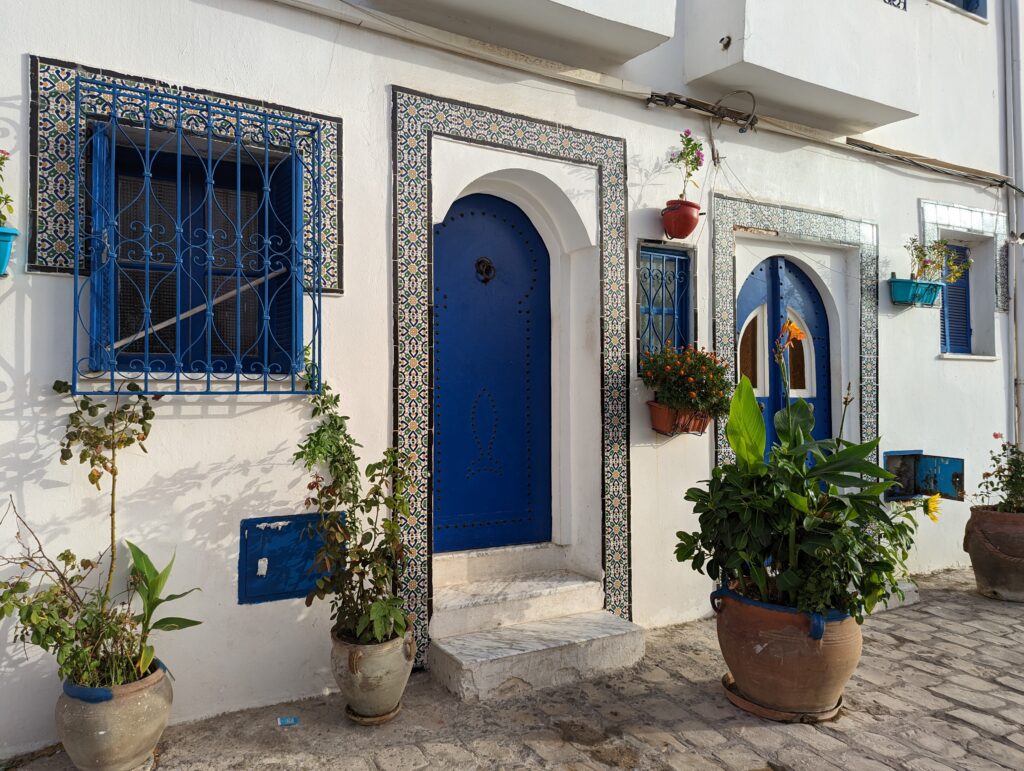 After a couple of recovery days when we did a bit more boat maintenance and repair, we decided to have a day out seeing more of Tunisia. After having over-wintered in Cartagena (New Carthage, following its Roman occupation), Spain we thought it appropriate to visit the original city, after which it was named. Accordingly, we arranged for a taxi to drive us to Carthage, near Tunis, about an hour and a half's drive from Bizerte. It was well worth the money, not only for the convenience of not having to drive ourselves but also to see more of the countryside and learn about the Tunisian way of life. Although it is an Islamic country, It is a much more liberal than many others we have seen; it seems to be acceptable for women to dress either in western or Islamic style and they reportedly hold positions in many professions, engineering, politics, education, etc. Sadly, neither the Carthage (Byrsa) nor the Bardo National museums were open at the time of our visit, for supposed political reasons. Similarly, there is very little remaining of the old city, some broken columns and statues, and some impressive mosaics. The remnants of the baths offered a glimpse of the grandeur of the city at its prime.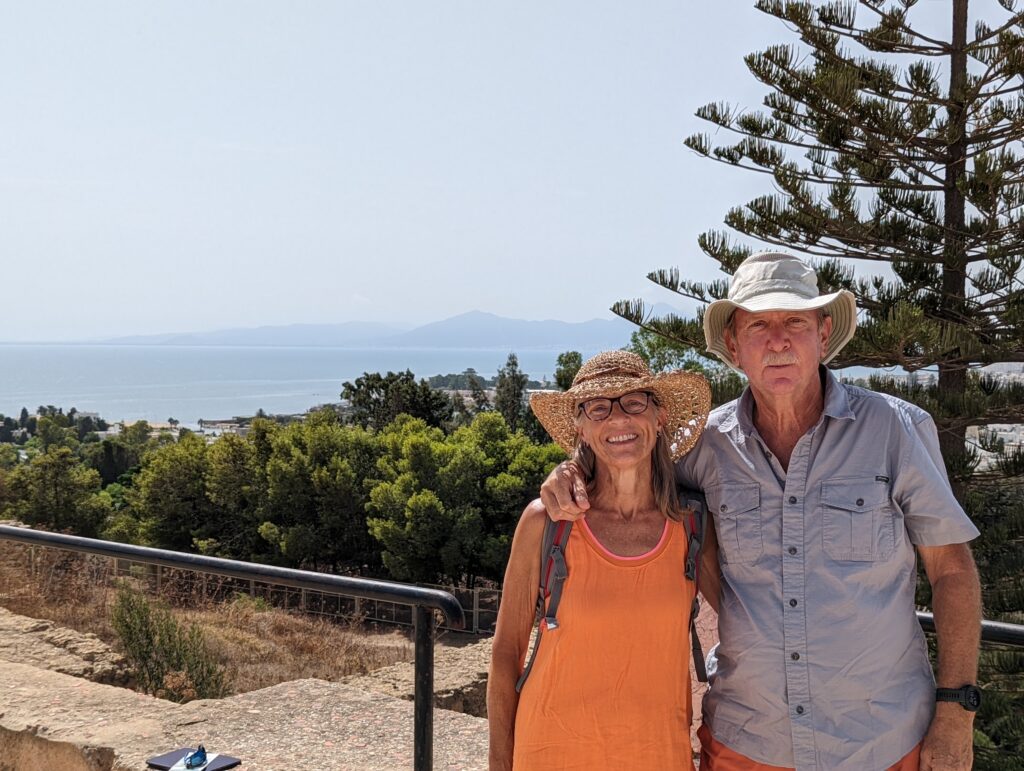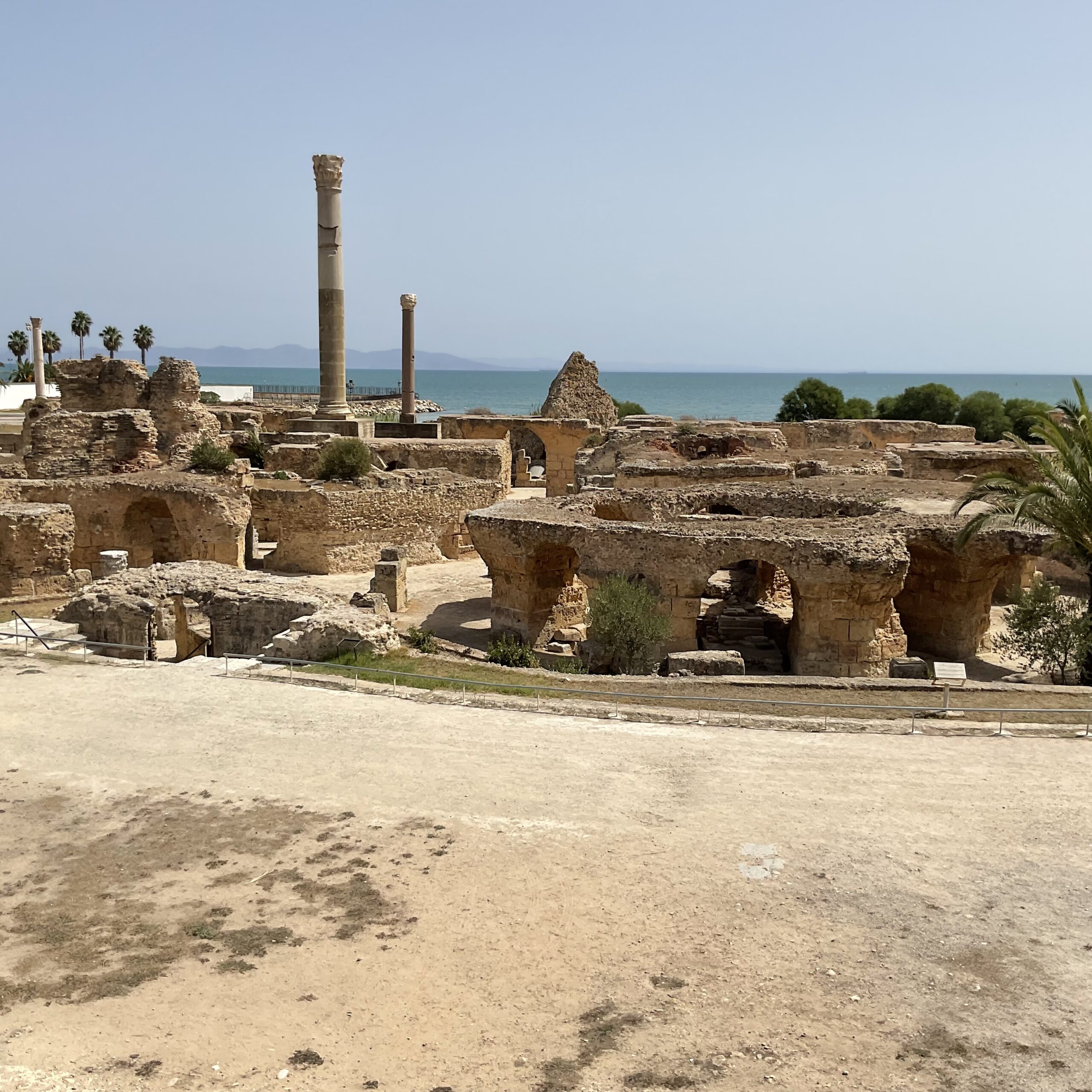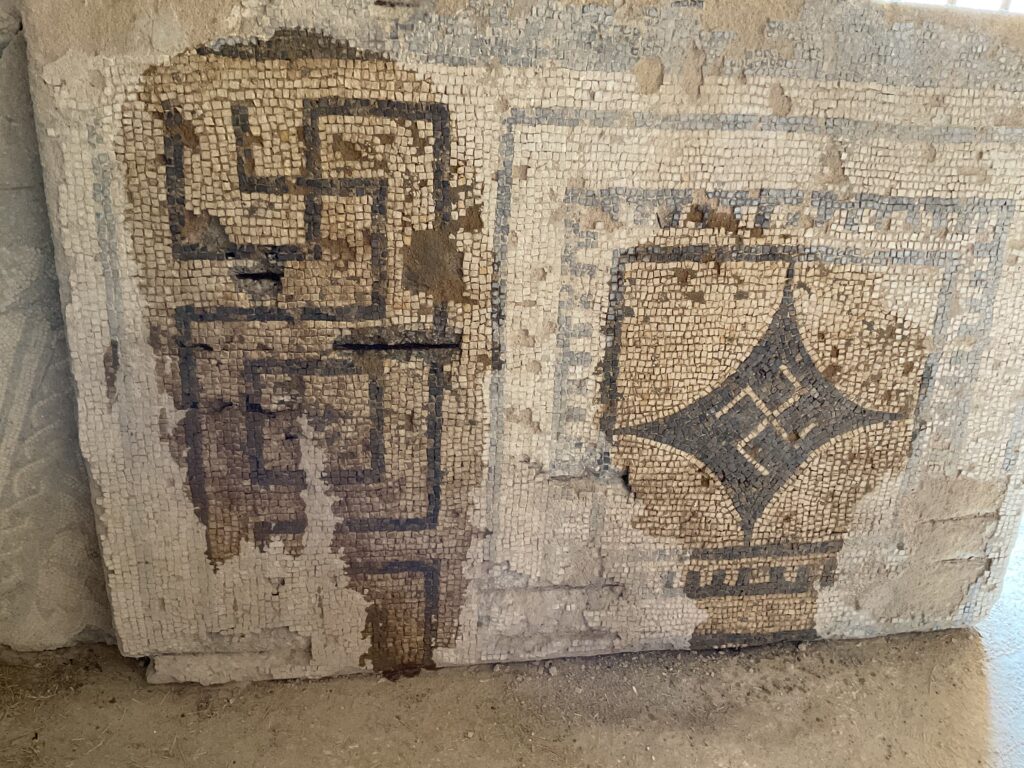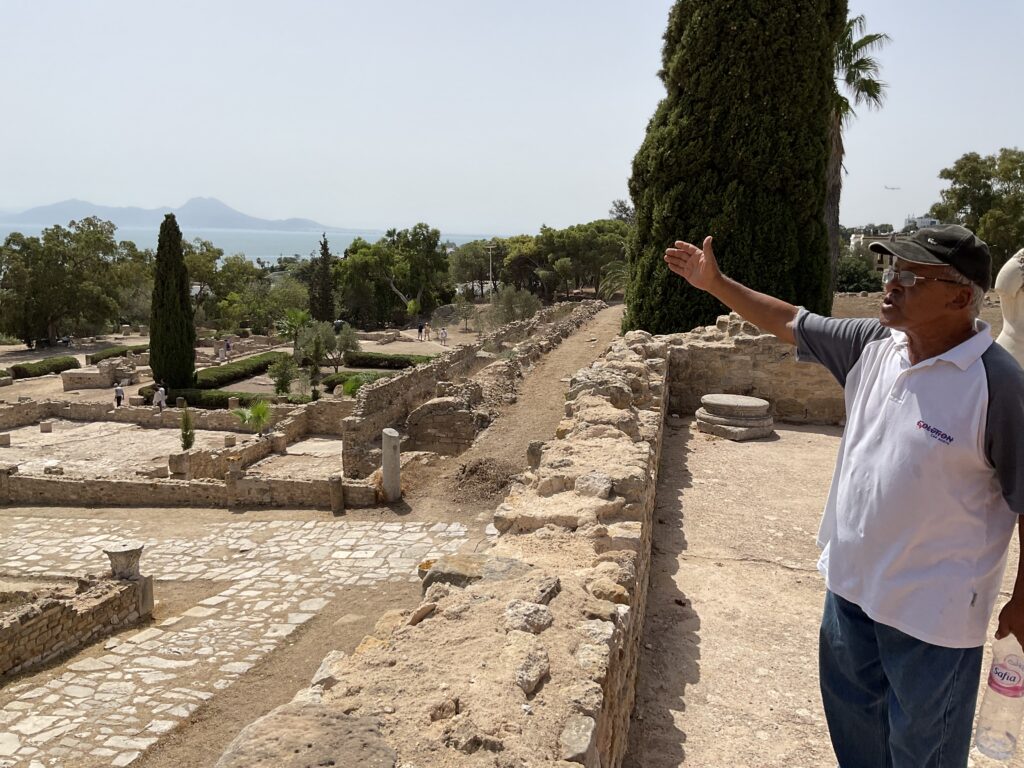 Carthage was founded by the Phoenician Queen Alyssa in the first millenium BC. It became one of the most important trading hubs in the Mediterranean and one of the most affluent cities in the classical world. The city was destroyed by the Romans during the third Punic War in 146 BC, and was subsequntly rebuilt by the Romans as Roman Carthage. The city was sacked by the Vandals in AD 439, who occupied it for 94 years, using it primarily as a pirate base. During the Byzantine period it continued to play an important role. it was destroyed by Umayyad forces in 698 AD. Muslims used it as a fort, with its occupants neing massacred by Crusaders during the Eighth Crusade. Subsequently, the Hafsids destroyed its defences so the city could never again be used by hostile powers.
We departed Bizerte on Saturday 10th September around noon local time, a bit later than we had hoped by the time we refuelled (an expensive pass-time; 430l at just over €1.00/l), paid our bills and were checked out by the coast guard. We then had lovely broad reach sailing in fairly steady winds throughout the day and night around the north Tunisian coast, past the bay of Tunis and then south towards Monastir. We only motored for the last few hours when the wind strength dropped.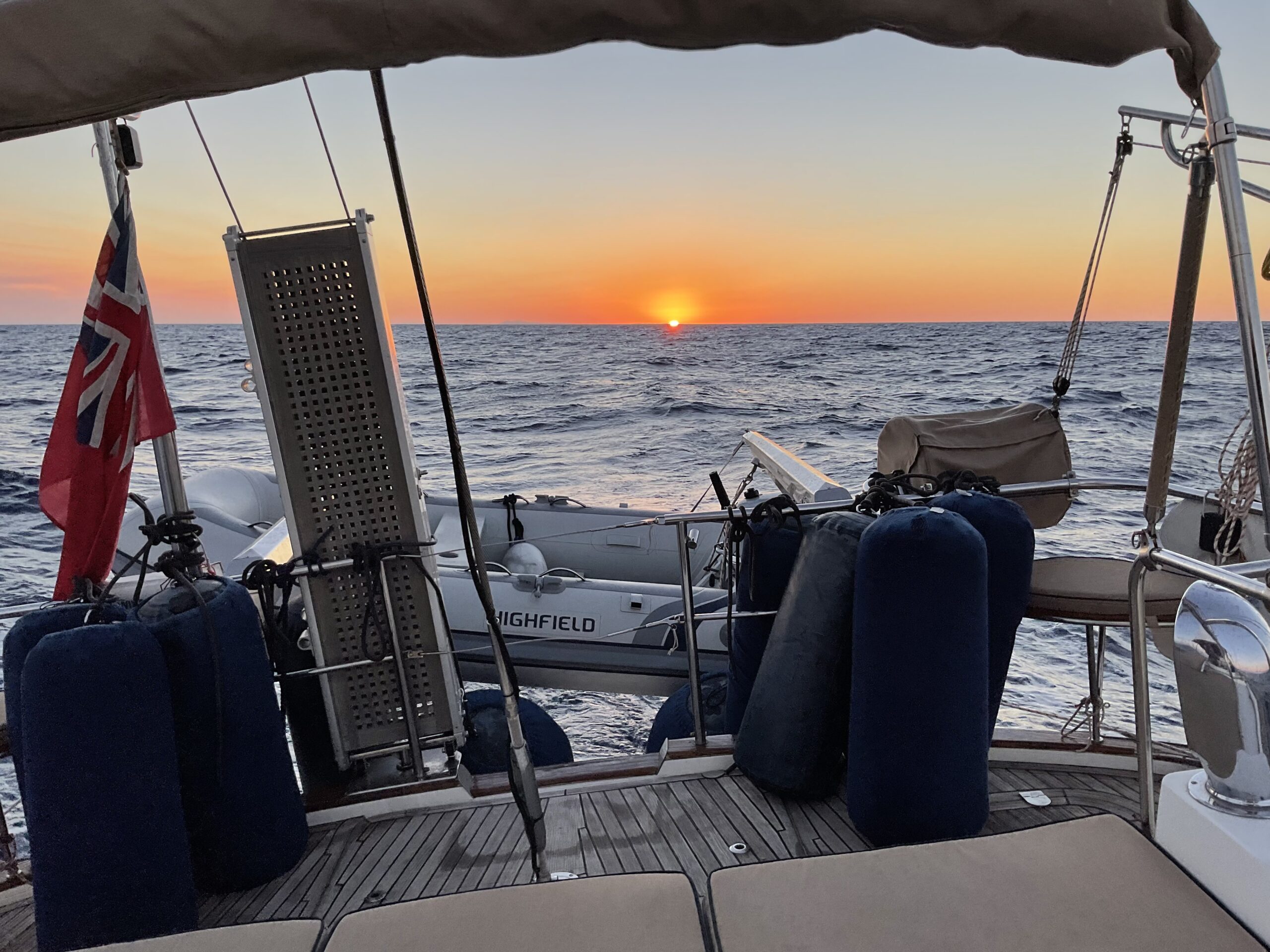 Monastir is a much smaller, cozier marina and the town seems to have more character… but it is early days yet for us to comment. Hopefully we will manage to do a bit more exploring of the environs before departing for Malta in a few days.