Our sojourn in Crete turned out to be rather short and sadly didn't allow for much time to explore.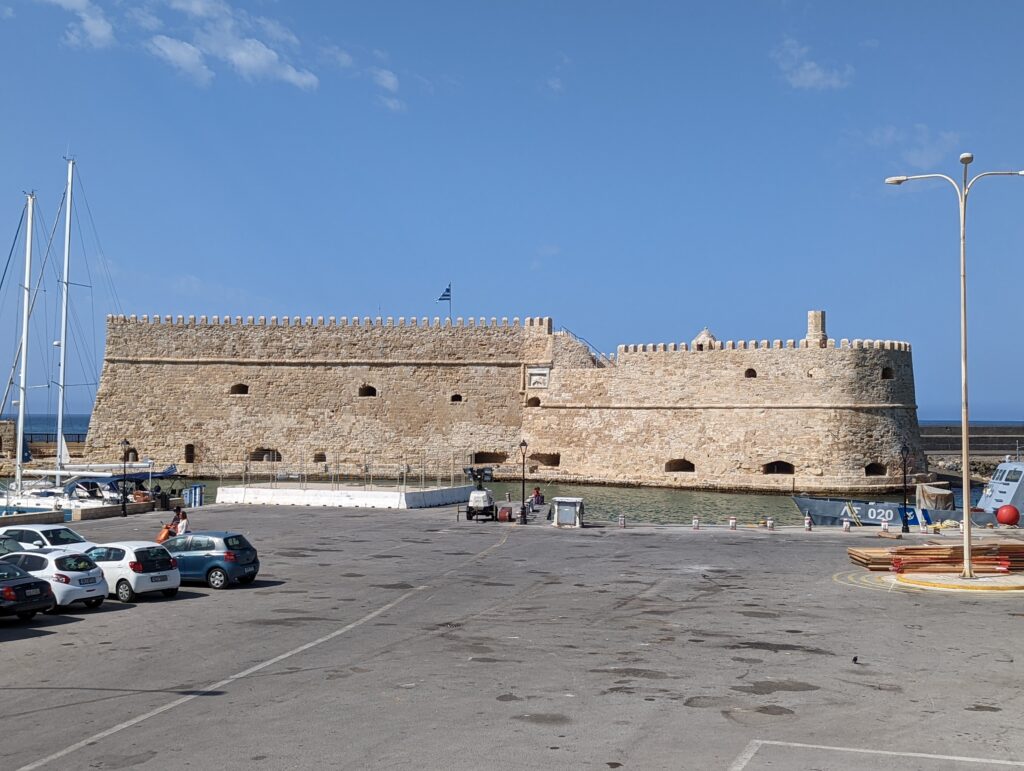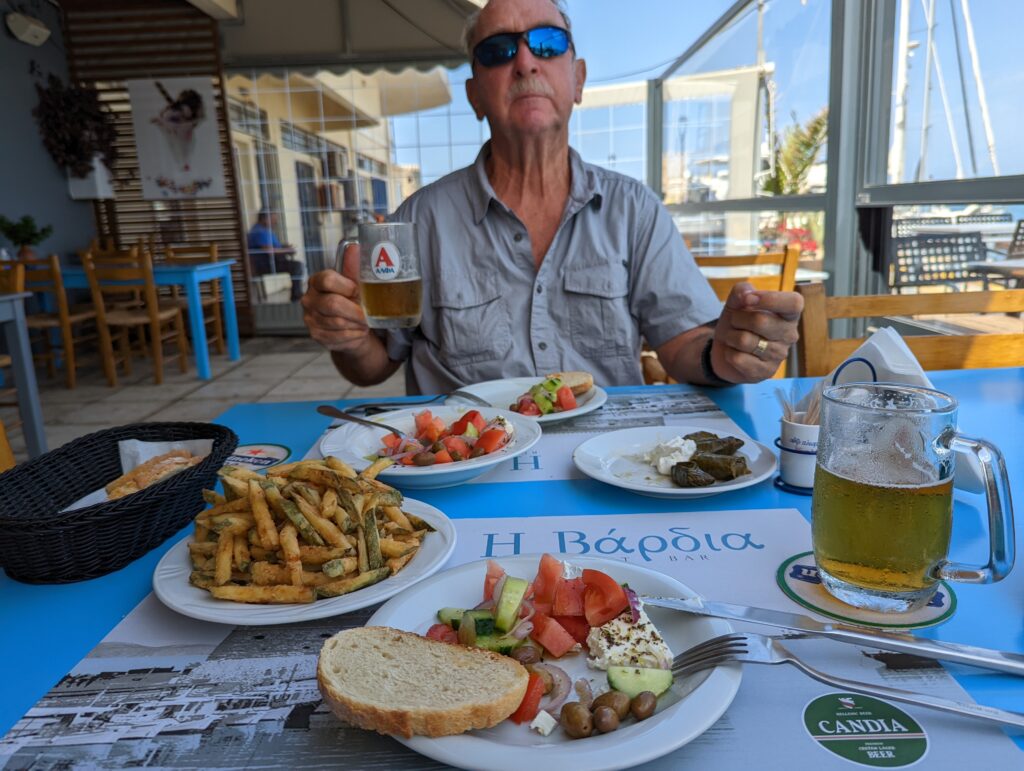 It took us several hours to check in, first with the port authority soon after we arrived on Wednesday and then the next day with customs who prepared our transit log, a paper-driven system. Fortunately we had cleared into Schengen in Malta so didn't need to add a stop at immigration (illusive in Iraklion). Meanwhile we had been keeping a keen eye on the weather forecast. It looked as though strong Meltemi winds from the north would begin to fill in on Sunday. So, the decision was made to depart on Friday afternoon with light winds initially and head straight for Finike, a passage of around 260nm, which we estimated would take us about 40 hours, i.e. we should arrive on Sunday morning.
Fortunately Steve managed to make contact with friends in Crete and enjoyed a few meals and touring some wineries overlooking Iraklion with them.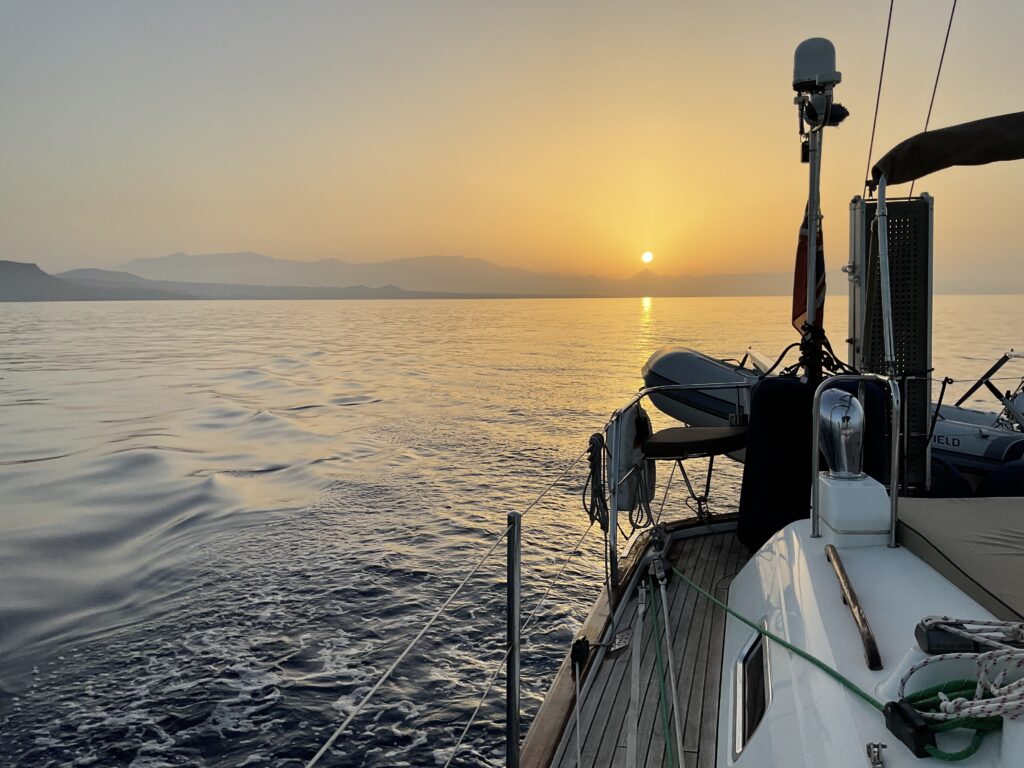 We knew we would have to motor along the north coast of Crete overnight but hoped that the wind would fill in once we had rounded the eastern tip. It did, but wasn't as strong as we had anticipated. So, we continued to motor-sail all Saturday morning until finally we shut off the engine around noon. The islands of Kasos and Karpathos and to a lesser extent, Rhodes (because we were quite far south of it) tended to funnel the wind and then cause wind shadows. Fortunately we were able to reef the genoa before the belt snapped (again) so we were if anything under-canvassed and ready to face any stronger wind gusts overnight. The last segment along the Turkish coast again found us motoring as the wind had died.
So, although we motored more than we would have liked, we are glad we left when we did because otherwise we might still be in Crete, waiting for the next weather window.
It feels good to be back in Finike, although we had quite a shock when we checked in as the mooring fees had risen by 60%, even though we had signed a contract several months previously. The explanation was inflation in Turkey, which currently is between 80-160%, depending on source. Fortunately, electricity and water were included as we ran the a/c almost continuously for several days after our arrival. The marina is very full (supposedly a 35 boat waiting list, although some boats moved on to Cyprus after learning of their new fees), much more so than when we were here last. We managed to attend the Sunday BBQ the evening we arrived and have since met several more folks on the docks and at the Friday Happy Hour, at a bar just outside the marina. Steve departed for Istanbul on Thursday, having kindly stayed on to help reduce wear on our engine fan belts (cleaning and resurfacing the engine pulleys) and genoa furler belt, as well as brain-storming a couple other issues. We have quite a long list of tasks to complete over the winter!
We are flying to Glasgow on Tuesday for a family reunion event, and will be back in Turkey on October 18. There should be enough time for us to sail to Kekova, a favourite spot, for a few days before we wrap up the boat for the winter.