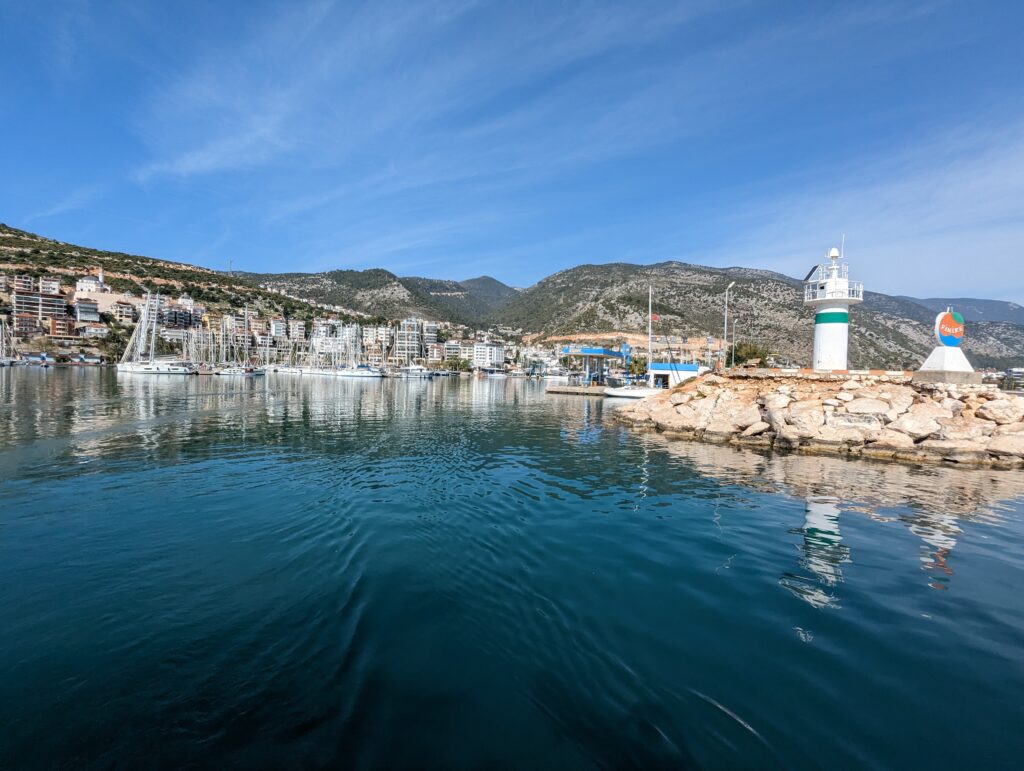 It's hard to believe we have been in Finike since October; the time has passed quickly. We did, however, have a couple of trips to catch up with family. The first one was to Glasgow for about a week for a gathering of Hope's McAusland cousins, which hasn't happened for too many years. The second was to Wales for Christmas with the Newth family, where Sonia joined us, then to Kent and Hampshire to be with the Pearmans and Adams. All was very jolly. We then flew to Oregon to spend a couple of weeks with Scott, Kendal and our two wonderful grandsons, a very special time.
So, what have we been filling our time with in Finike?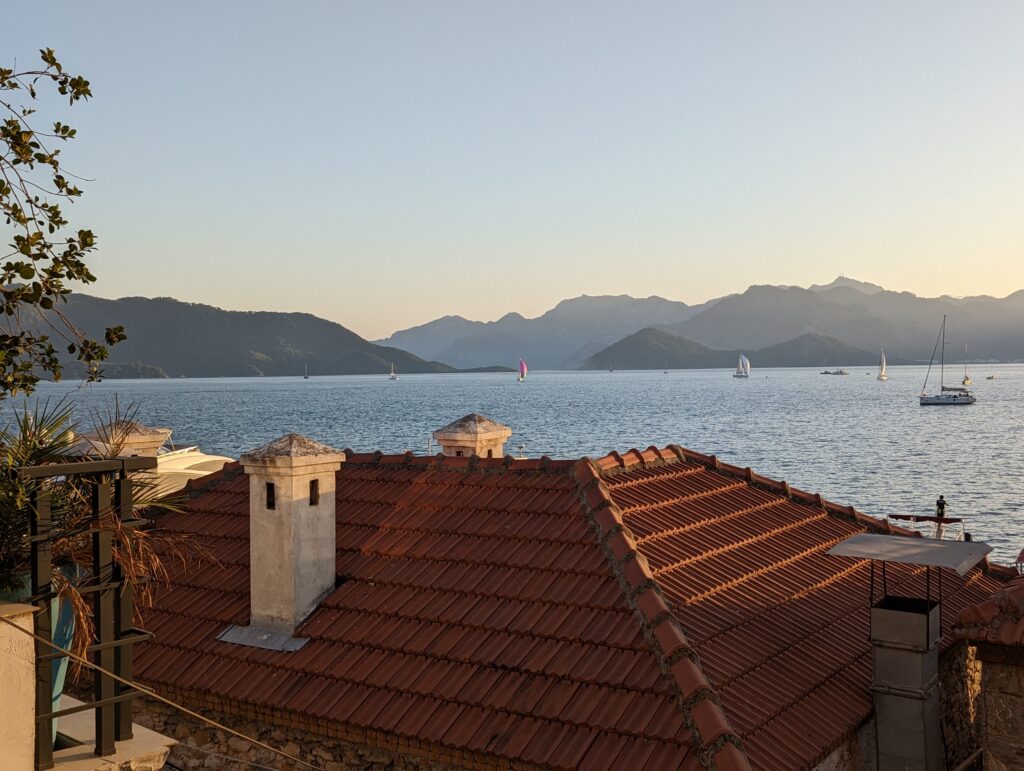 Next, we much appreciated a "working" visit from William and Karen in November to help figure out what needed to be done to make our Victron battery monitor give us useful information, amongst other electrical issues. The obvious thing to do was to demonstrate how it behaved whilst under engine and at anchor. What better place to do this than in Kekova, our favourite anchorage? William kindly wrote up his thoughts which have guided us through more upgrades.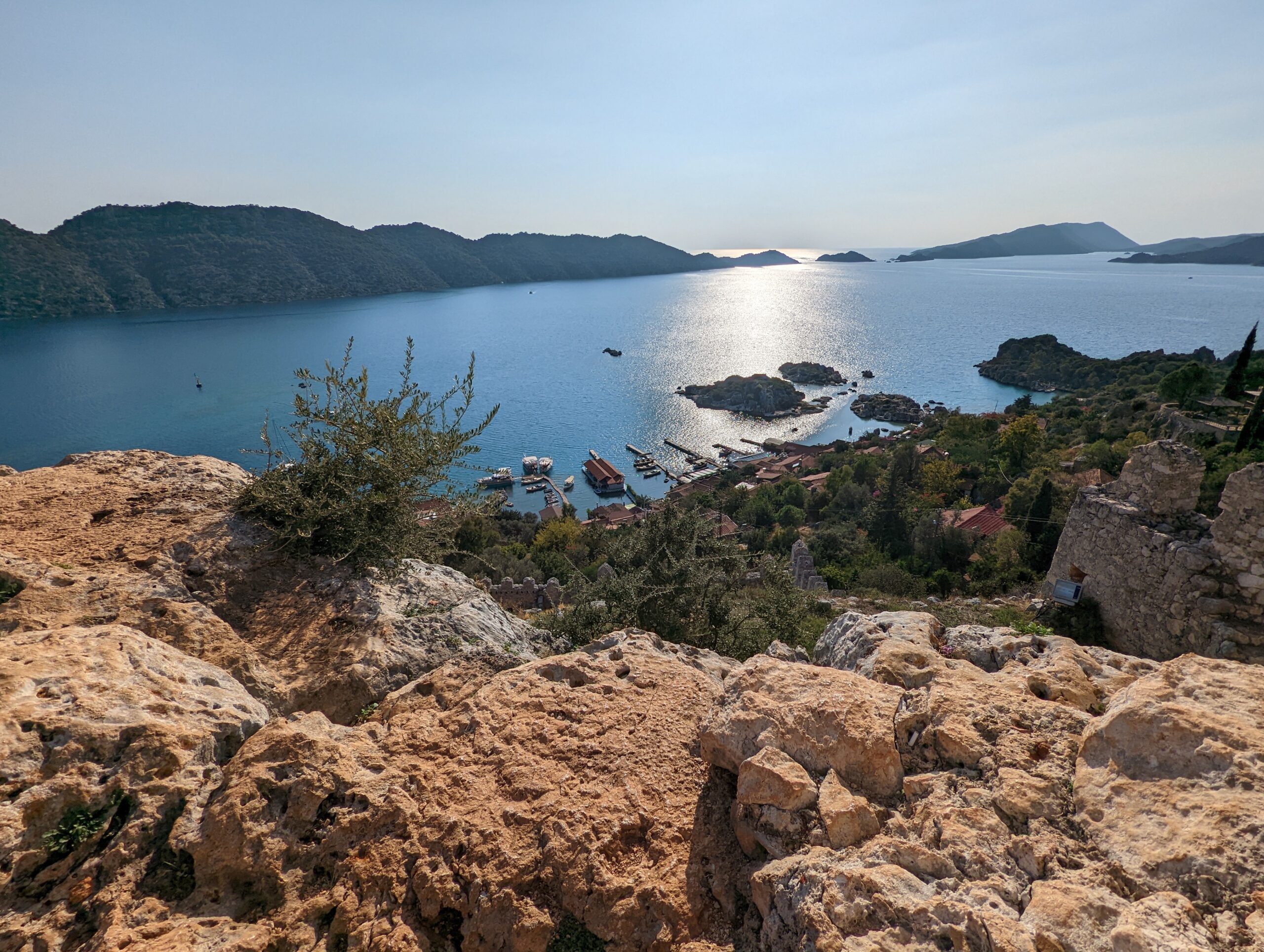 But life in Finike has been good to us over the winter. The marina was almost full of boats and owners from all over the world, some having many sea miles under their belts and others just starting out, some with kids, others with dogs or cats onboard: Brits, Aussies, Americans, Kiwis, Scandinavians, French, Germans, South Africans, Turkish and Russians (who tended not to socialise with the rest of us). So, there was a busy social life, the Sunday BBQ, Friday Happy Hour at the local tavern, fitness/yoga classes most M, W & F mornings; as well as bridge and craft afternoons, in which we did not participate.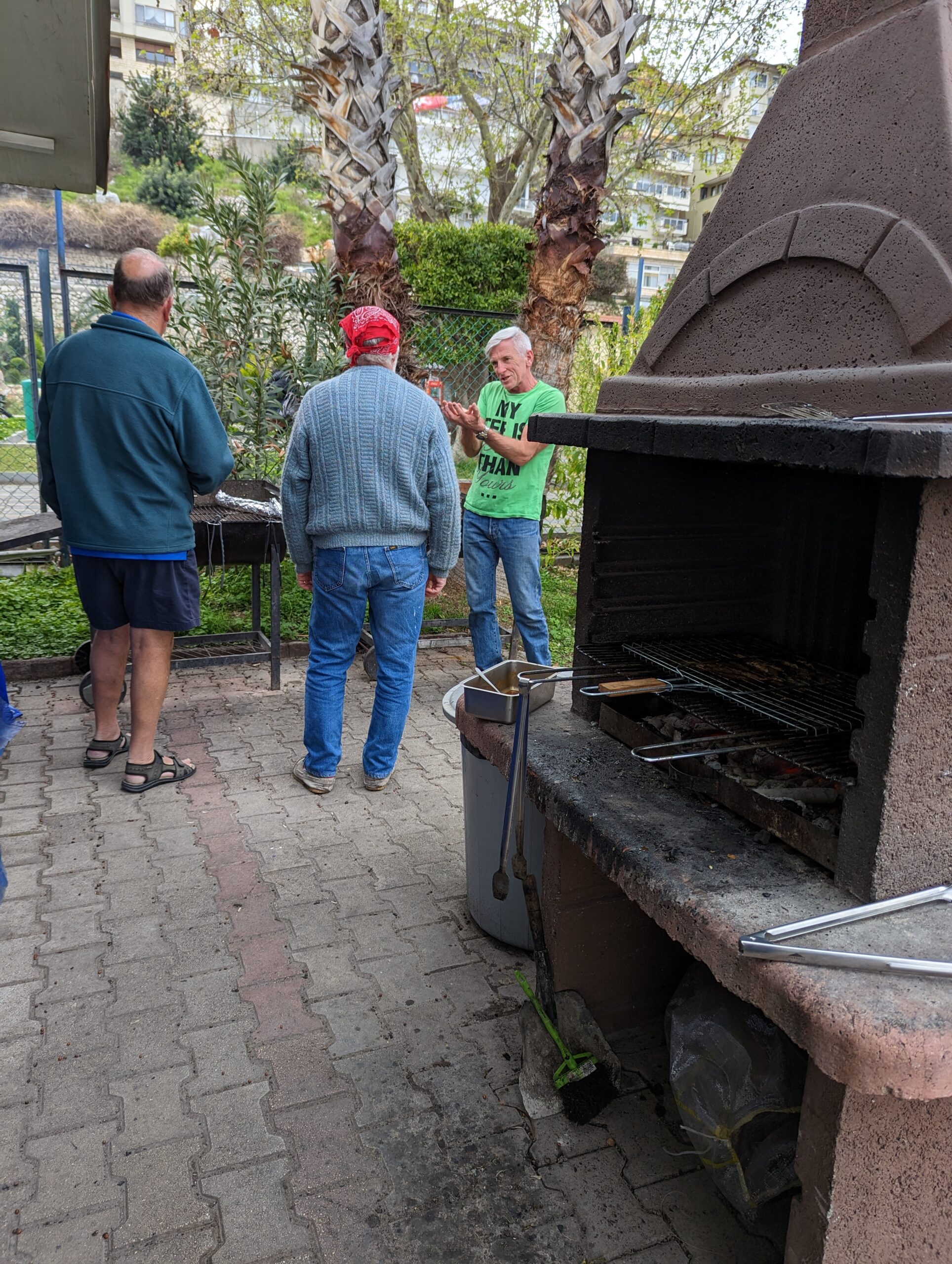 We also discovered a few interesting restaurants around Finike.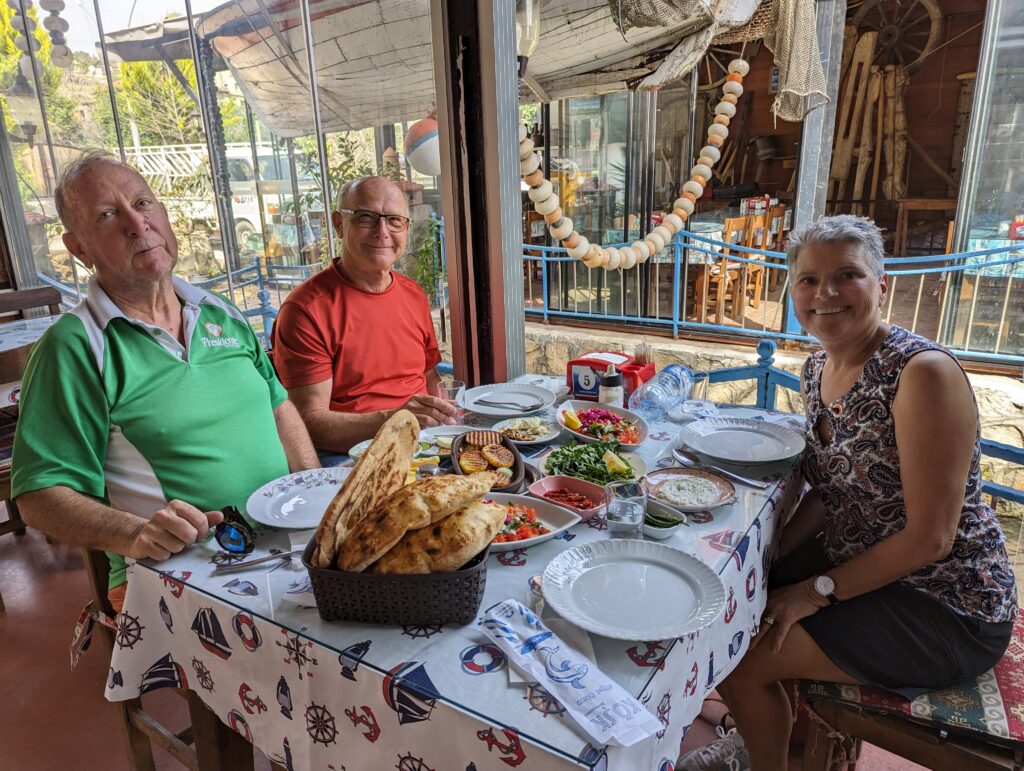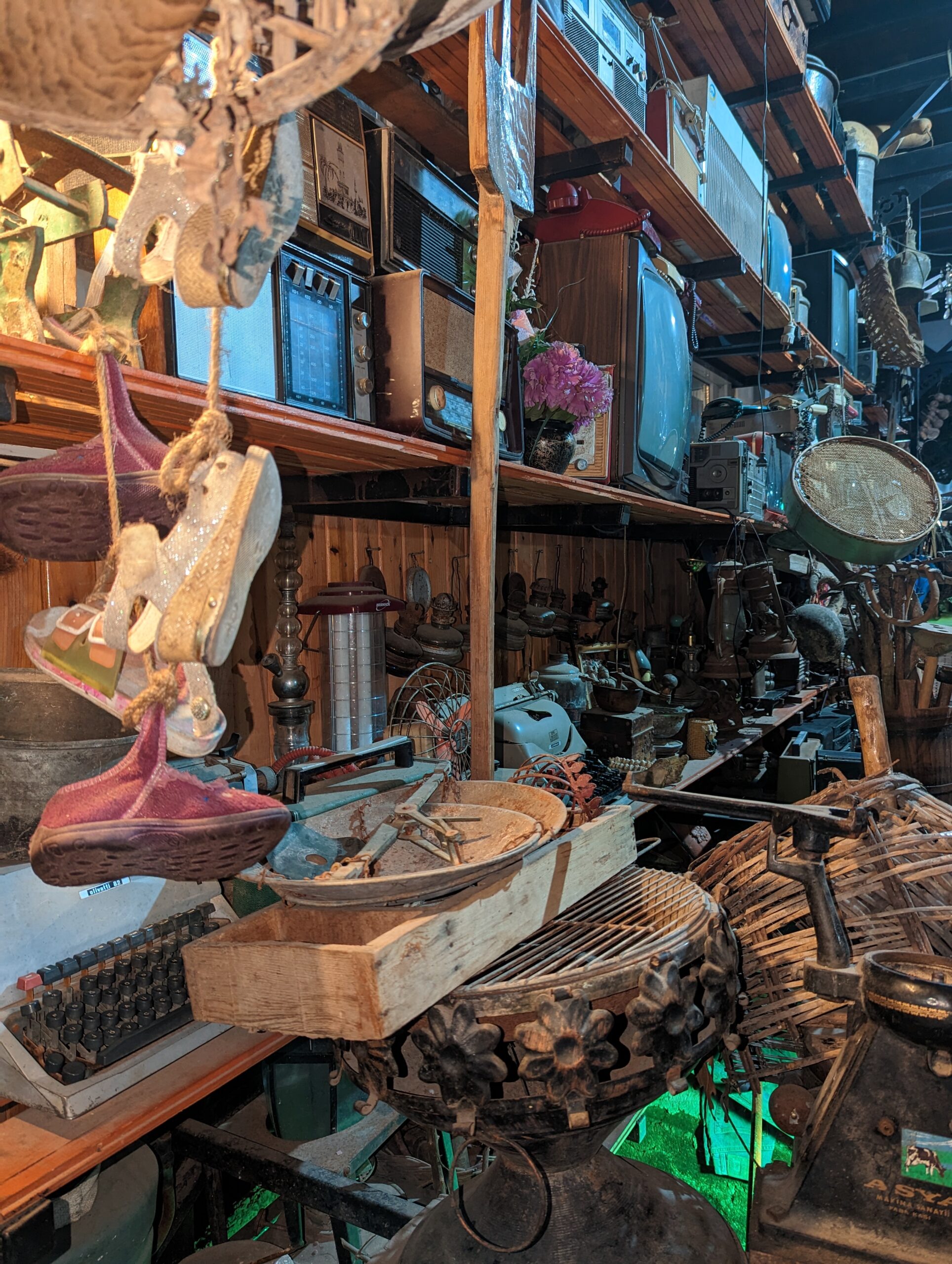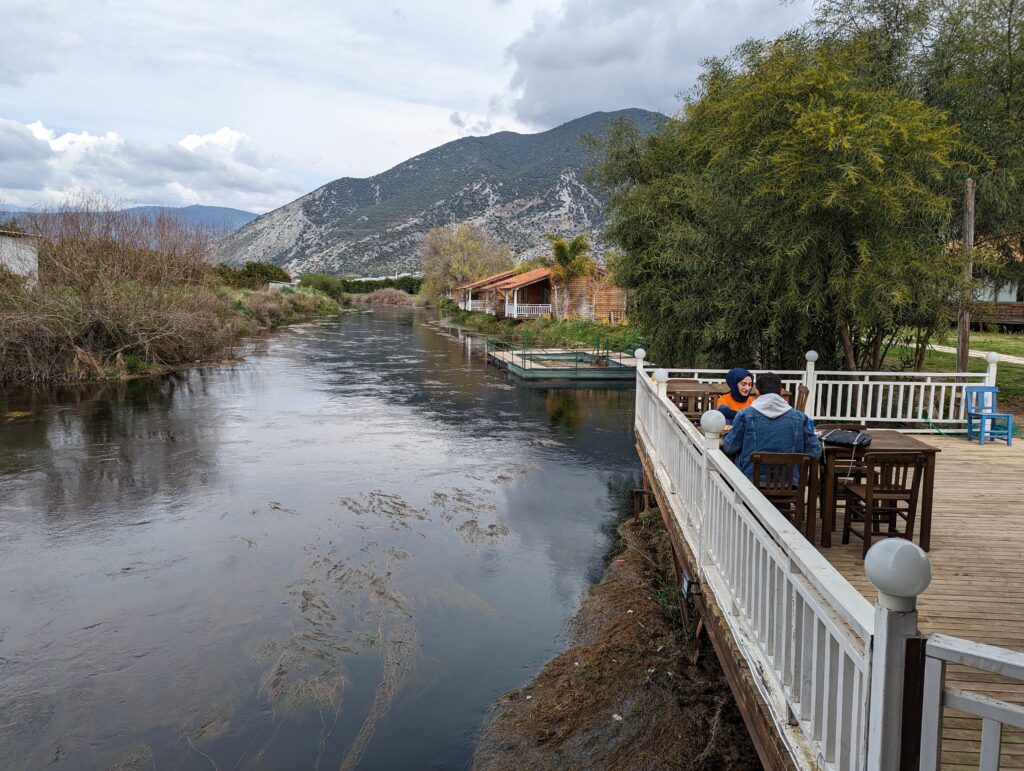 We did have a couple of bike rides to neighbouring Kumluca where we rewarded ourselves with a coffee and cake. We aiso walked up the hill above the mosque, overiookıng the marına, that was under construction the last time we were here.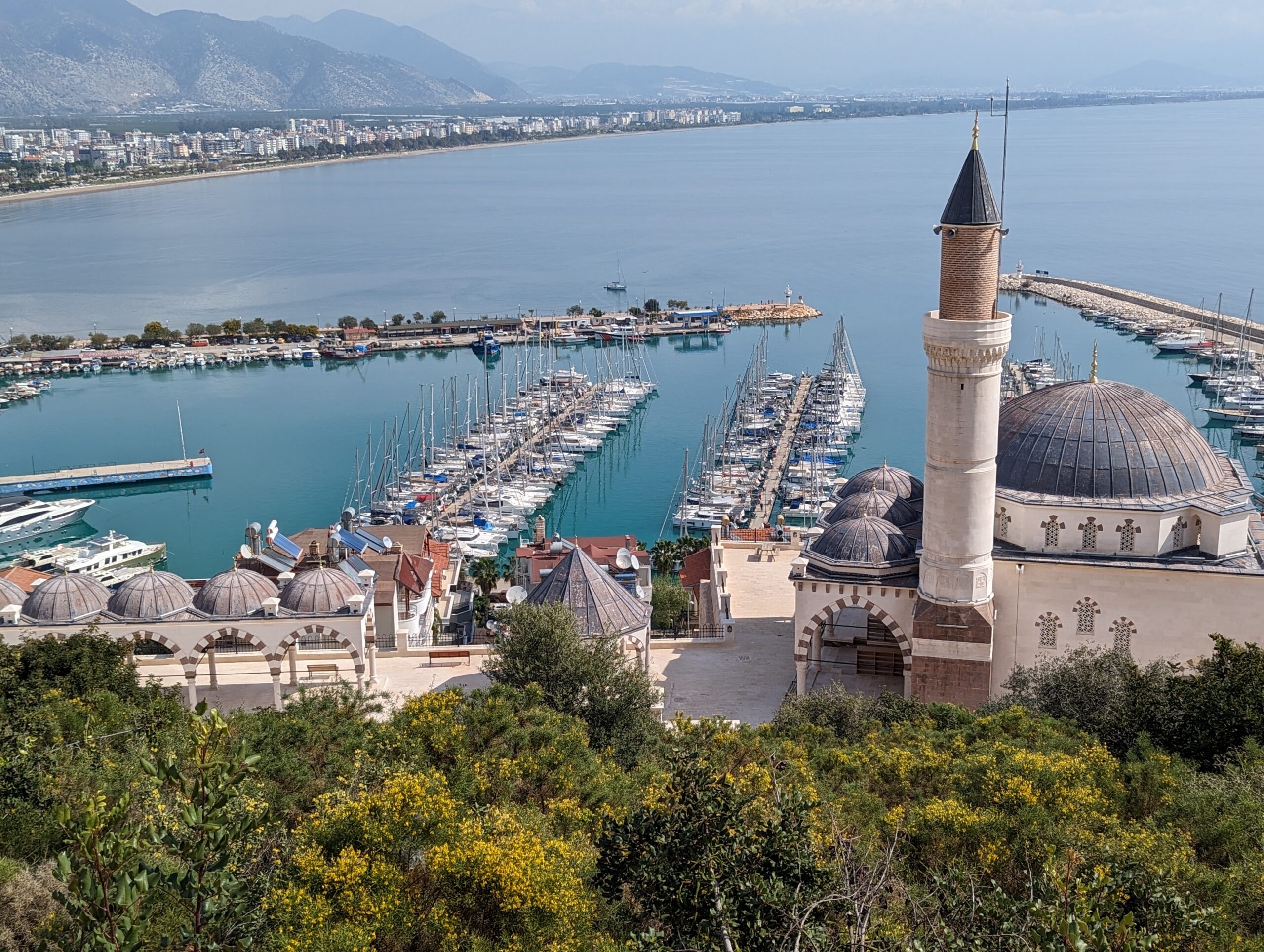 It did get a bit chilly in January and February. The backdrop of snow-capped mountains was rather picturesque but we weren't so keen when hail accumulated on our deck on one occasion.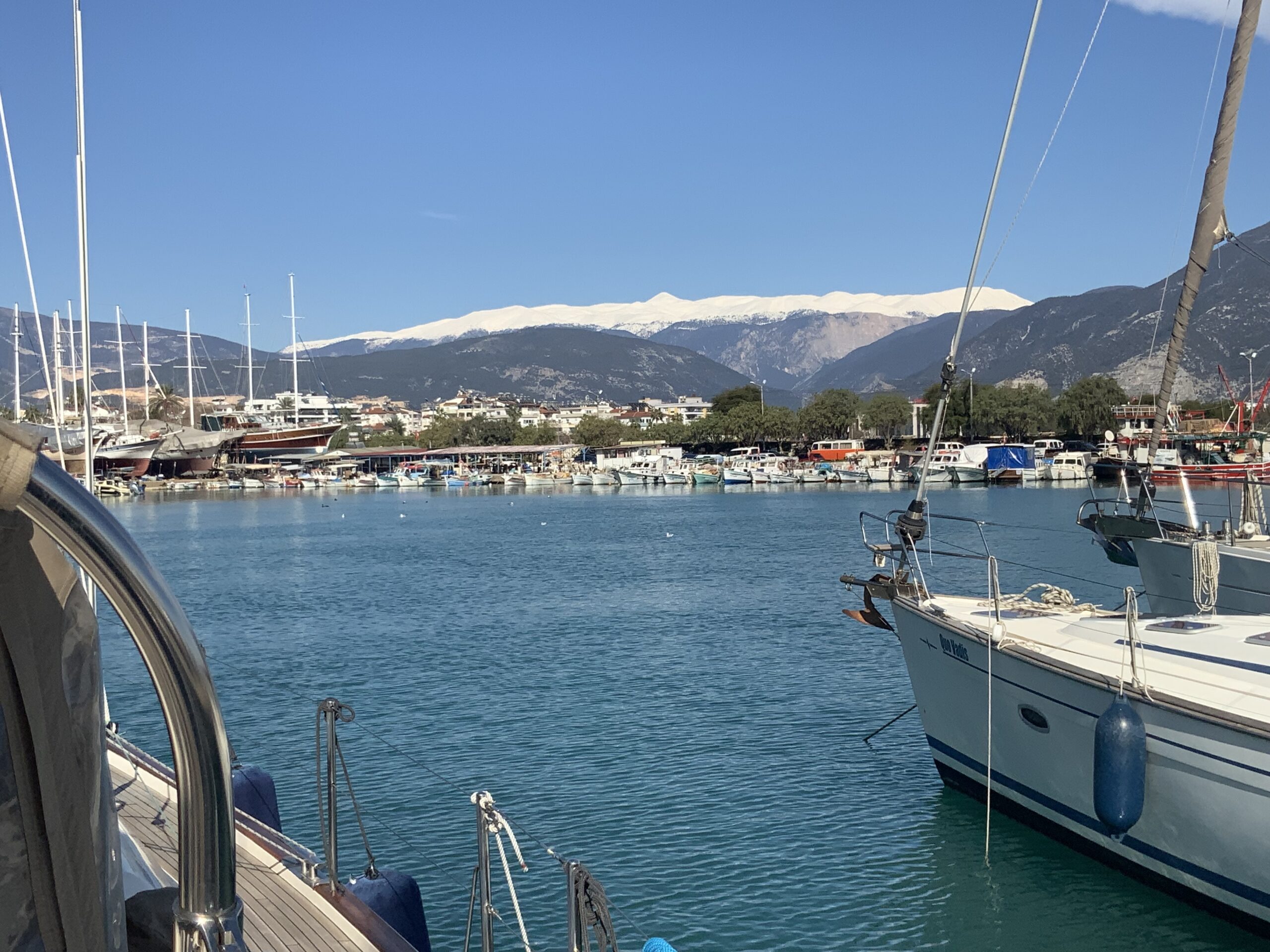 At other times, we had plenty of boat jobs to keep us busy. Howard (with some help from Hope) re-caulked the windows that were beginning to show signs of water ingress, repaired and varnished the toe rails that had been damaged in Mallorca, polished the topsides, amongst other things while Hope was busy sewing a summer cockpit enclosure.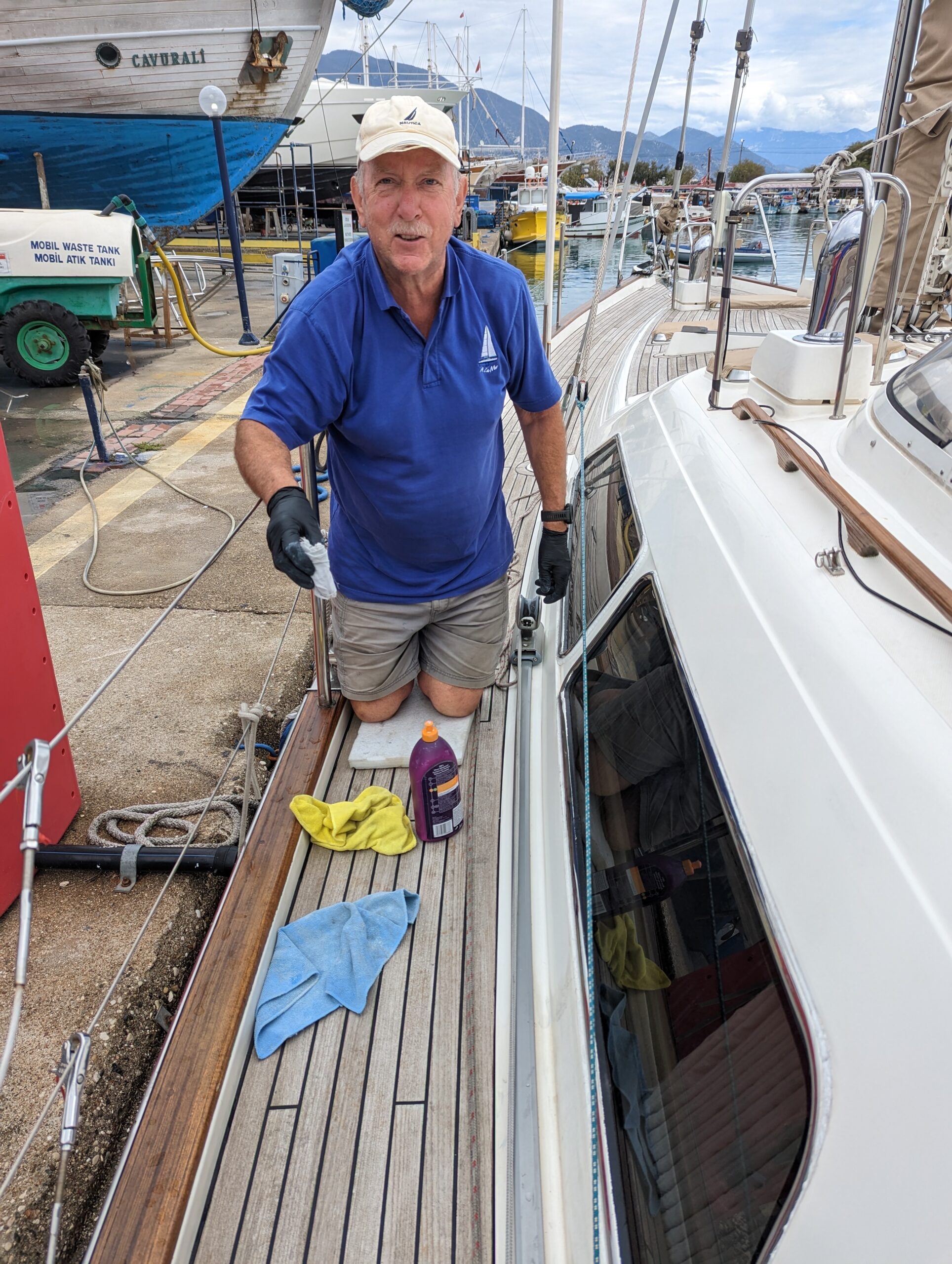 Meanwhile the yard was busy making a stainless steel arch for our new solar panels (920w). Although it took longer than we had hoped, we are pleased with the final outcome. The quality of the stainless steel work is impressive.
With the solar panels installed, the yard electricians (under supervision by a more senior electrician from Kaş) finally got to work to not only install the necessary wiring and equipment for the panels but also to fix the issues that William had identified. So, finally we can monitor our 3 battery banks (two 24v and the 12v starter batterıes) and enjoy seeing how much power the sun is putting into them. Hopefully we will not need to run the generator as much on passages any more.
We had debated whether or not to haul the boat but when we asked the price for a short haul in comparison to a quote for a diver to clean our prop and change the anodes, it was a simple decision.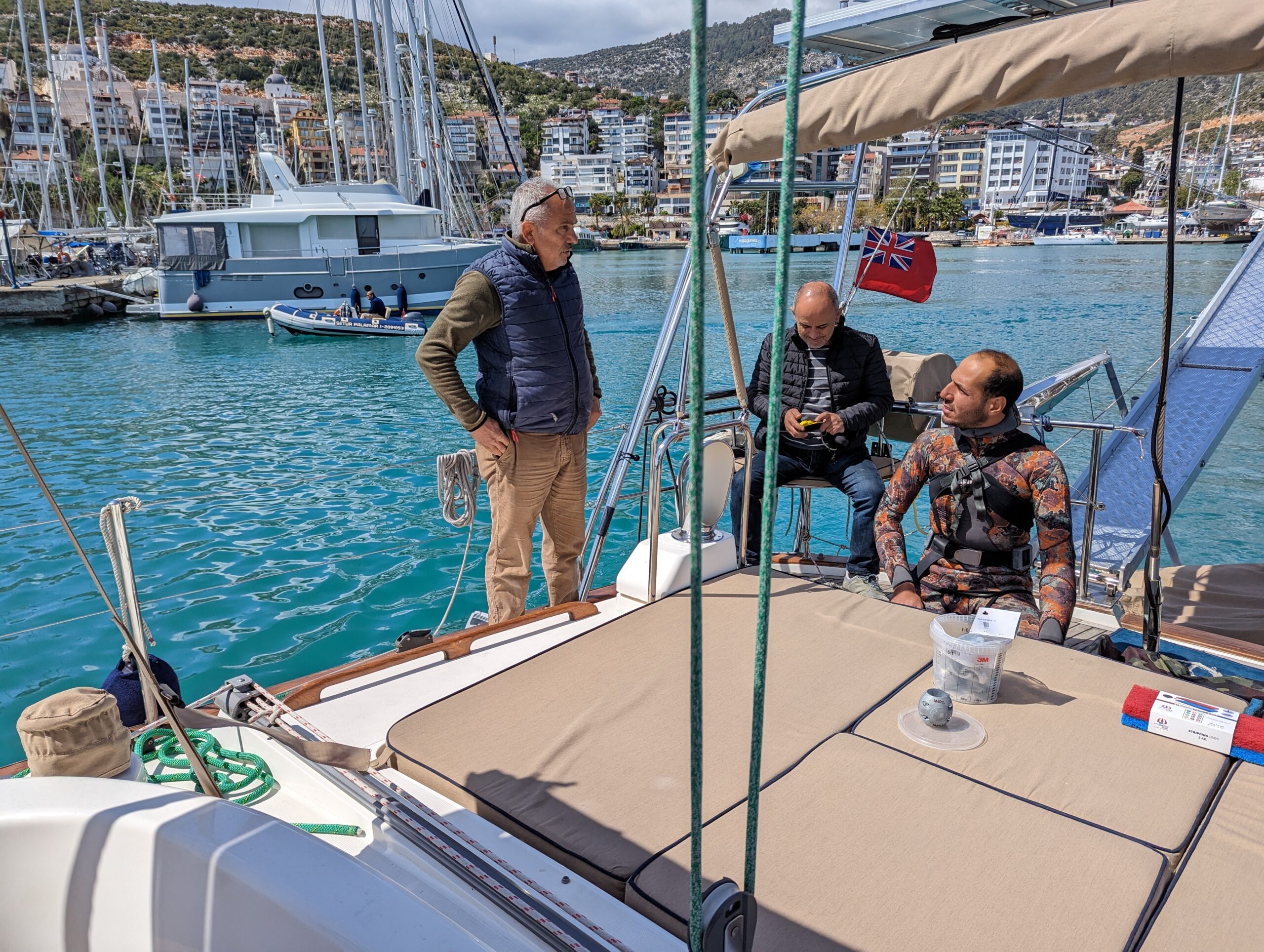 So, finally we were ready to depart for Marmaris where the rigger is patiently waiting for us. We left Finike on Monday and had a fast downwind passage to Kaş marina. However, the weather is still somewhat unsettled and the wind picked up overnight with some rather strong gusts. Howard ended up calling the marina on the VHF radio at about 5:00am to let them know that our floating dock had separated from the landward segment and the water pipe had burst! They have subsequently been repaired but we are still here, waiting for our next weather-window opportunity to head north, hopefully on Saturday.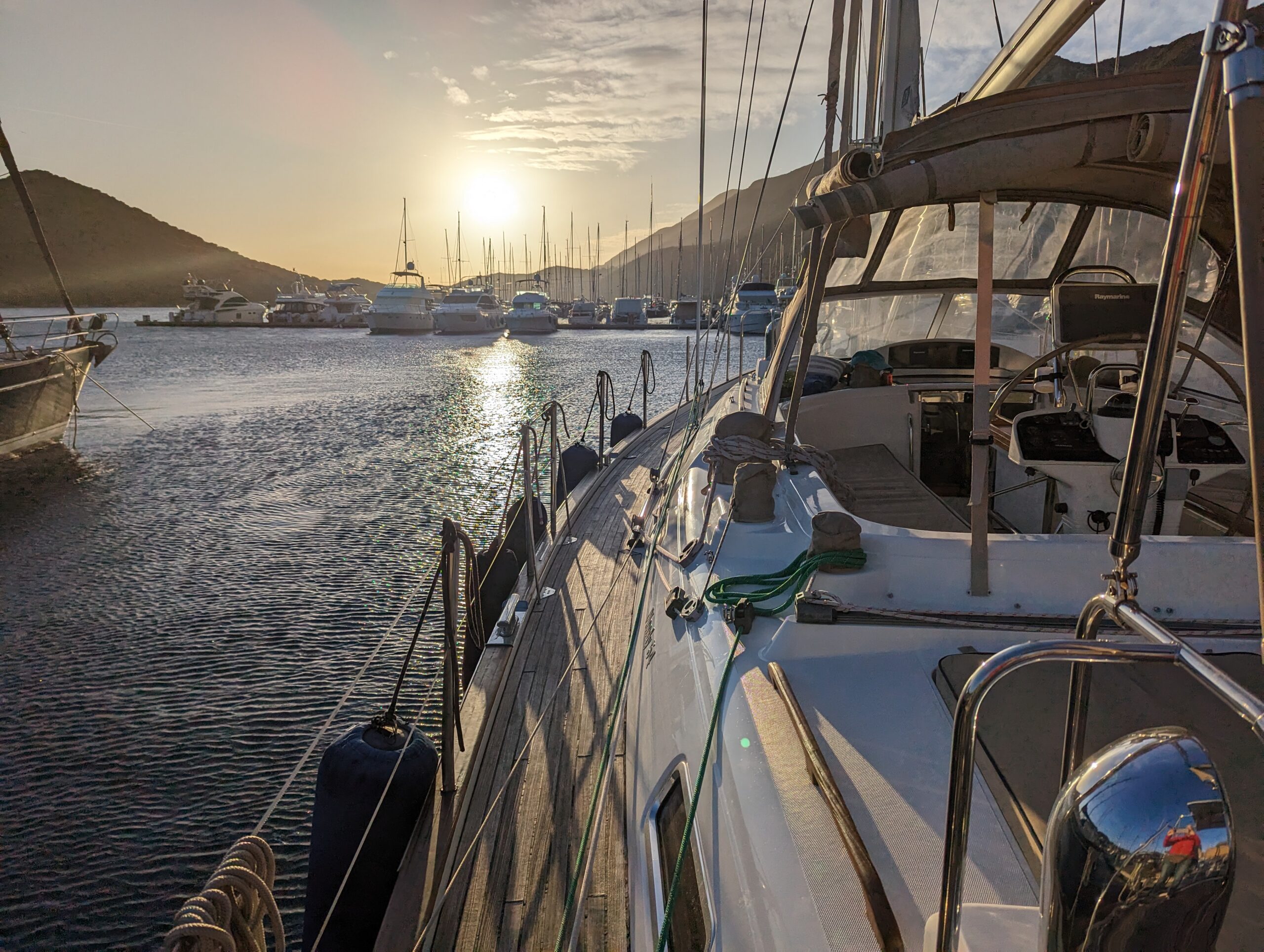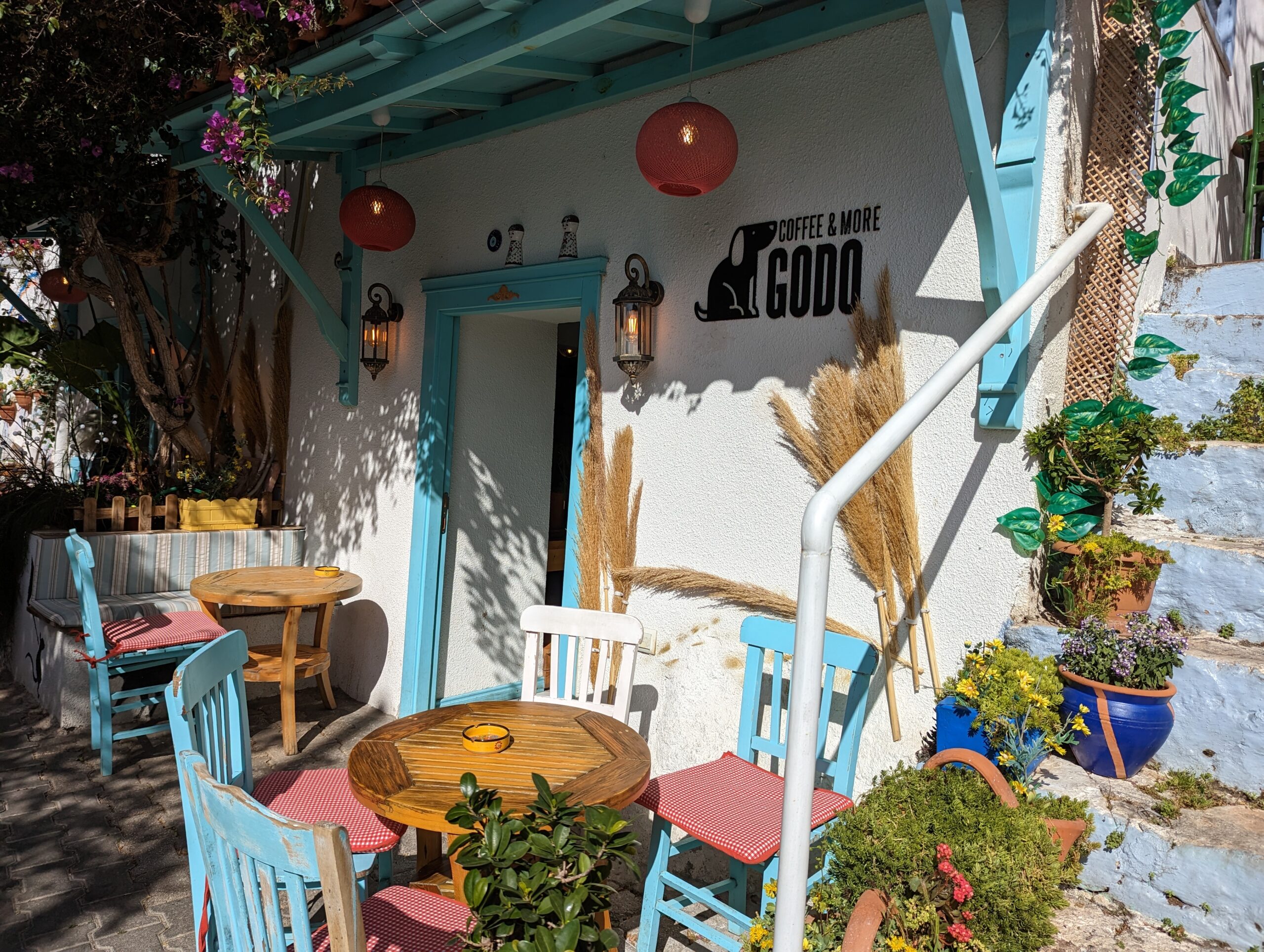 Once our standing rigging, I.e. the wires that hold up the mast, has been replaced we plan to sail up Turkey's west coast before heading to the Greek islands for three months over the summer. Winter will see the boat in N Cyprus.