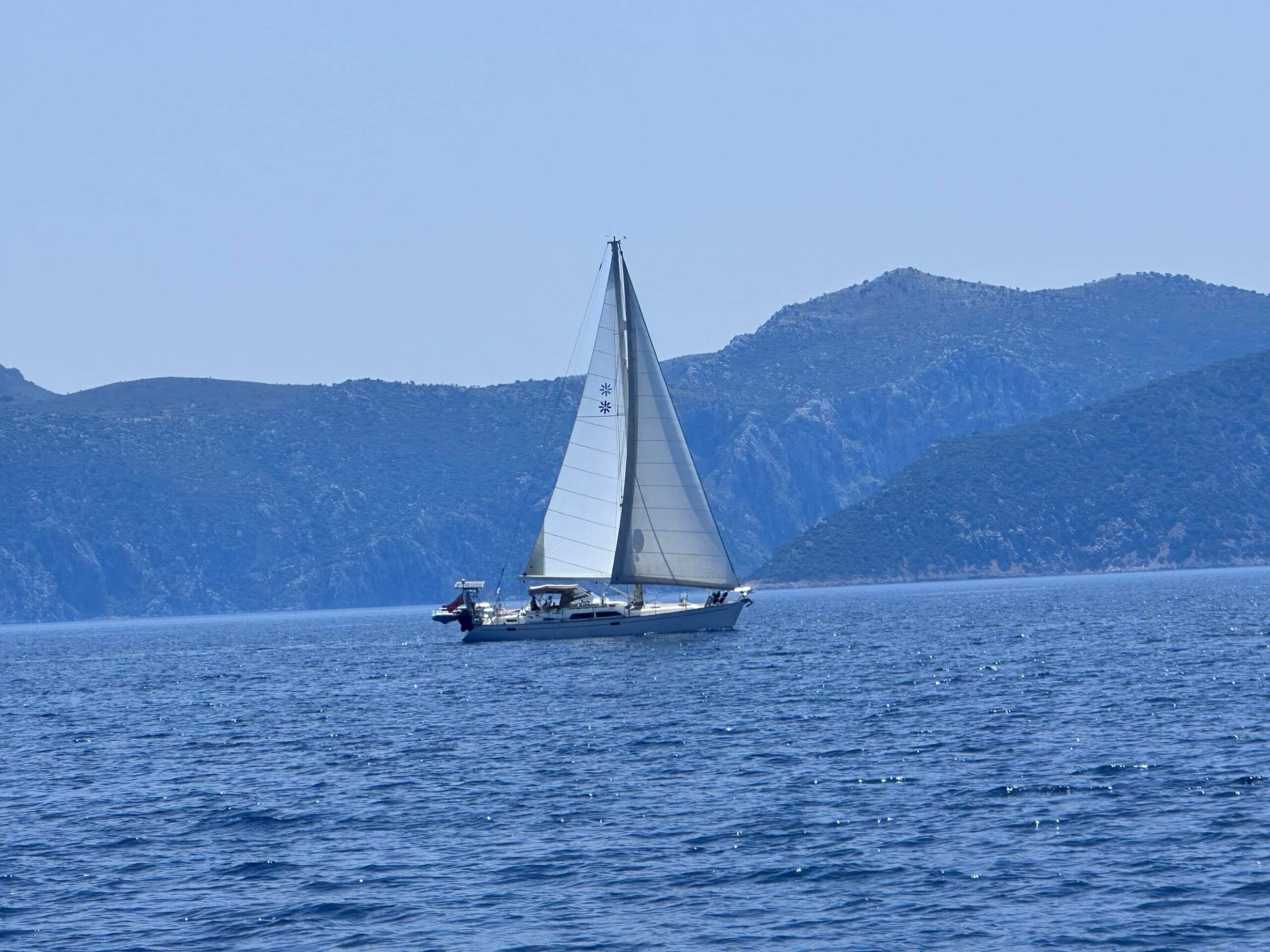 Tarkan, our rigger, returned to Lady Mayfair the day before our new mainsail was due to arrive. He swapped out our mainsail furling line (which involved re-splicing the continuous line) as the thicker line was jamming in the furling drum and he re-tuned the rigging after the mast had settled back into position. So, just 5 days after ordering our sail and 4 days after measuring, our new sail was installed! Apparently the nearby Elvstrom sail loft is huge and caters mainly for exporting sails around the world. We were amazed and delighted by the speed of delivery, the quality of the materials and workmanship for the price we paid. Let's hope it continues to behave well for us.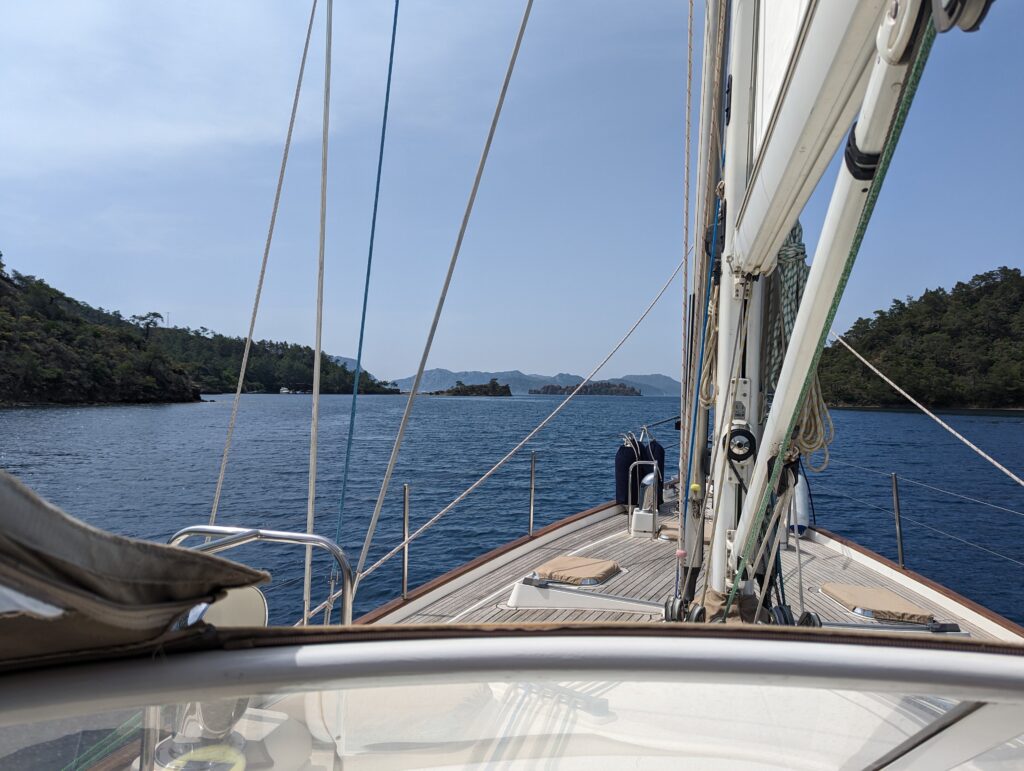 So, having enjoyed a few fairly quiet days, we decided to test out the new sail on a short trip against the fairly light wind across the Gulf of Hirsaronou to another lovely long, narrow tree-lined inlet, Bencik, with barely any sign of humanity, once past the large hotel at the entrance. MaxtoSea joined us and kindly took the photo of us with our new sail and invited us for a potluck dinner on their boat. Us cruisers know how to make our own fun!
The return trip the following day back to Orhaniye involved much less work as it was downwind sailing. Thanks to a renewed acquaintance, Mehmet, who remembered us from 3 years ago when he worked at Osmon's in Bozburun and now manages the Palmiye Restaurant in Orhaniye, owned by his cousin, we arranged with him for Ian to be met at Dalaman airport by a local taxi and be delivered to the restaurant. He arrived in perfect time to help us devour a portion of excellent chips (and a beer) that had just arrived before heading back to Lady Mayfair for a curry. Ian was the previous owner of Lady Mayfair so we were a little anxious about how his visit would go, given that he was no longer calling the shots. It turned out to be a wonderful visit, he was a joy to have onboard and a fantastic motivator to resolve a few issues that cropped up during his time with us and he had experience of how to handle them.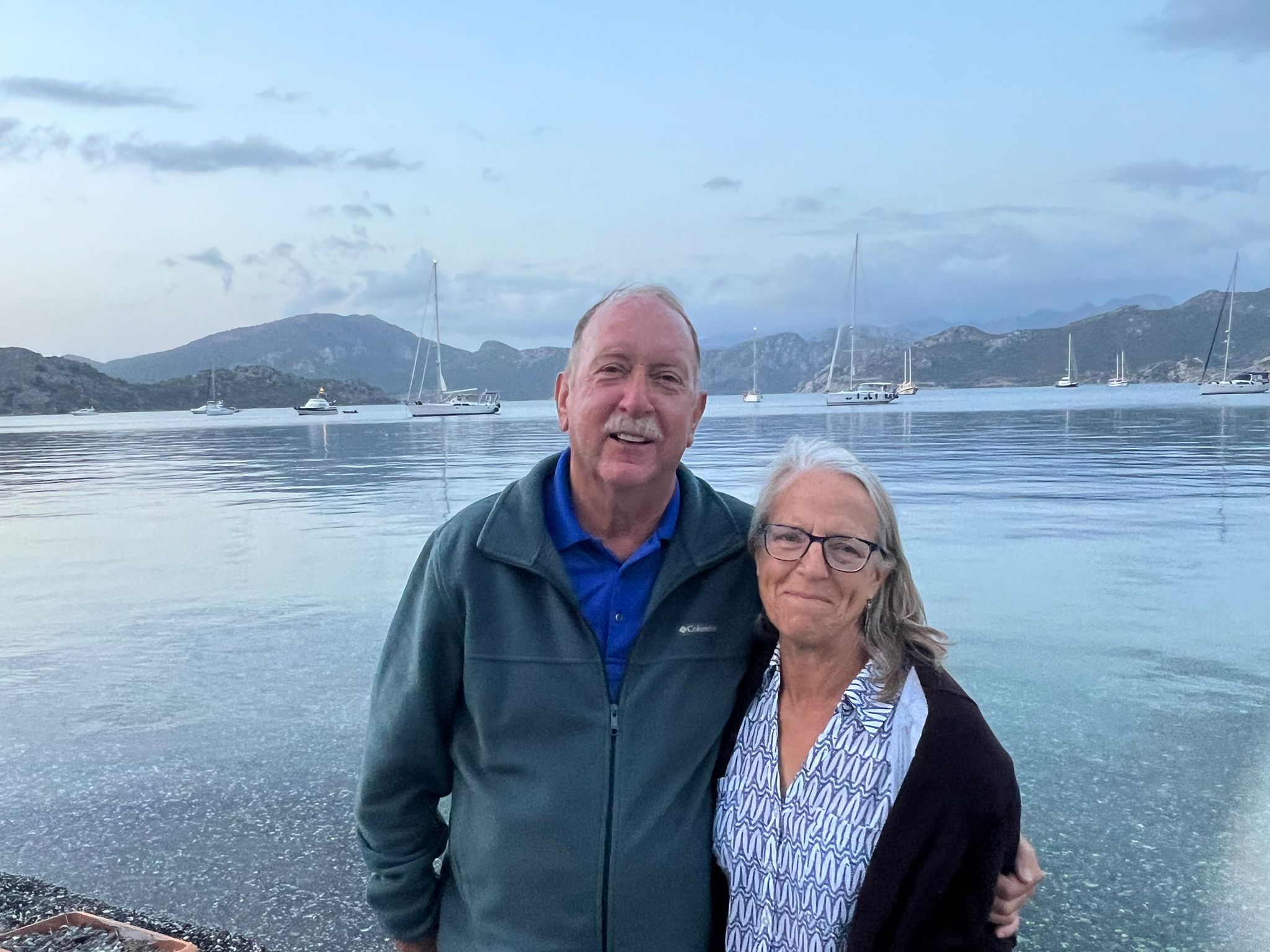 We wanted to remain in the general area until after strong winds that were forecast in a couple of days had passed through. So, we checked out another bay, Selimye, which like Orhaniye was on the north side of the Gulf of Hirsaronou, a trip of just under 7nm. We had not been there before and were very pleasantly surprised by the protection it afforded, despite how large and open it seemed to be, and the up-market feel of the small town. Ian got his first taste of what Turkish open air markets are like.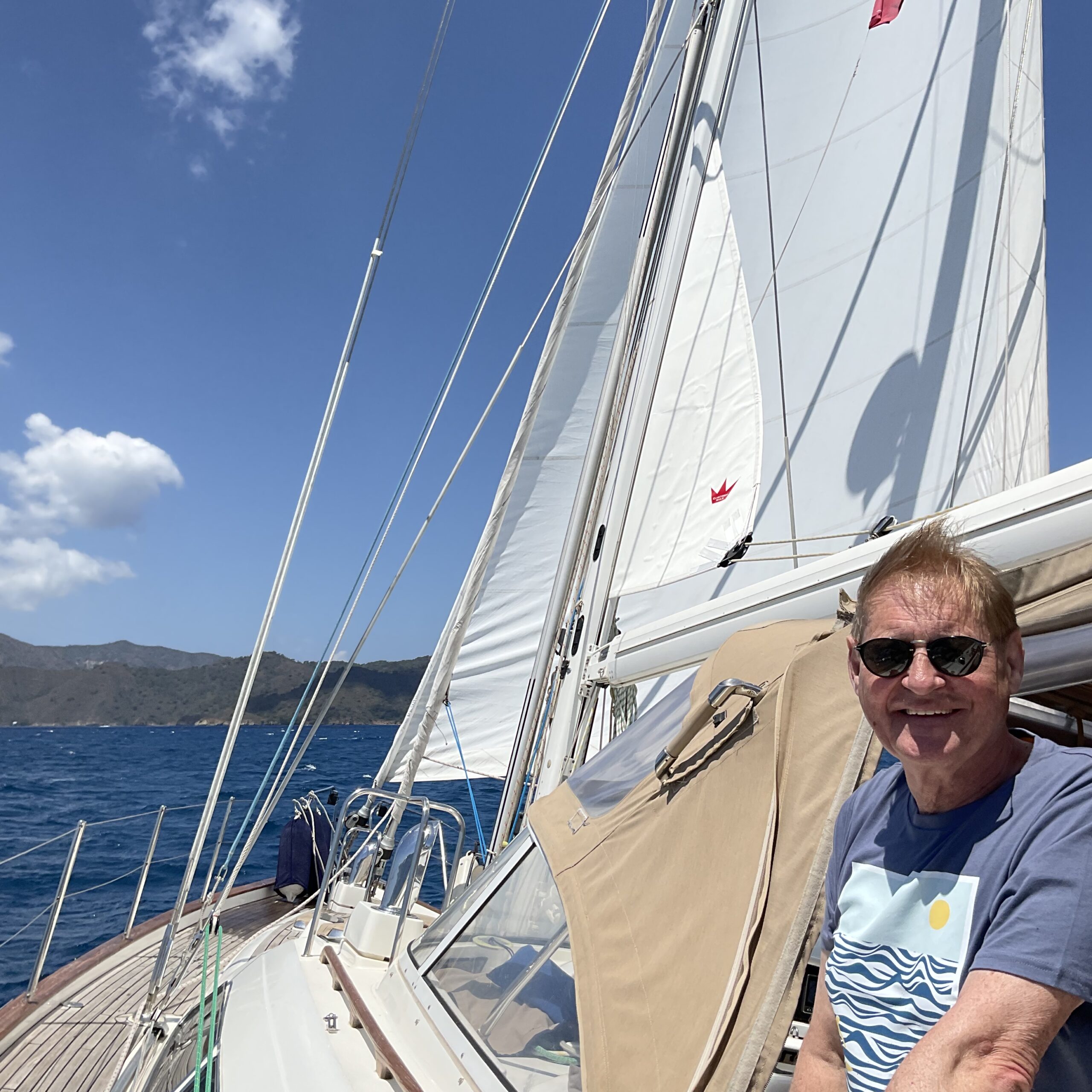 The following day, Thursday, we headed back to Bencik where we stopped for lunch. It was a super easy sail, doing over 6 knots under genoa alone. We decided to carry on to Orhaniye in anticipation of the building wind strength as we felt more comfortable that the anchor would hold well in the muddy bottom there. It turned out to be a good idea. In fact, we remained onboard all day the following day while the wind caused the boat to dance around the anchor. Ian kindly brought us some items that we had ordered in the UK. It was the perfect opportunity to tackle a few jobs, replacing the non-functioning LED lights under the saloon seating, and installing the new dimmer switch that he had brought with him to replace the one in the electrical panel that wasn't working. Fortunately the wind calmed down overnight so on Saturday we went ashore to purchase some fresh produce from the market. Later, the conditions were perfect to get the paddle board out. Hope had a go first and by the end managed to figure out how to paddle in a straight line using the paddle on only one side. Then Ian had a go. He did well, considering he had never been on one before …. but he ended up testing the temperature of the water, whether he wanted to or not!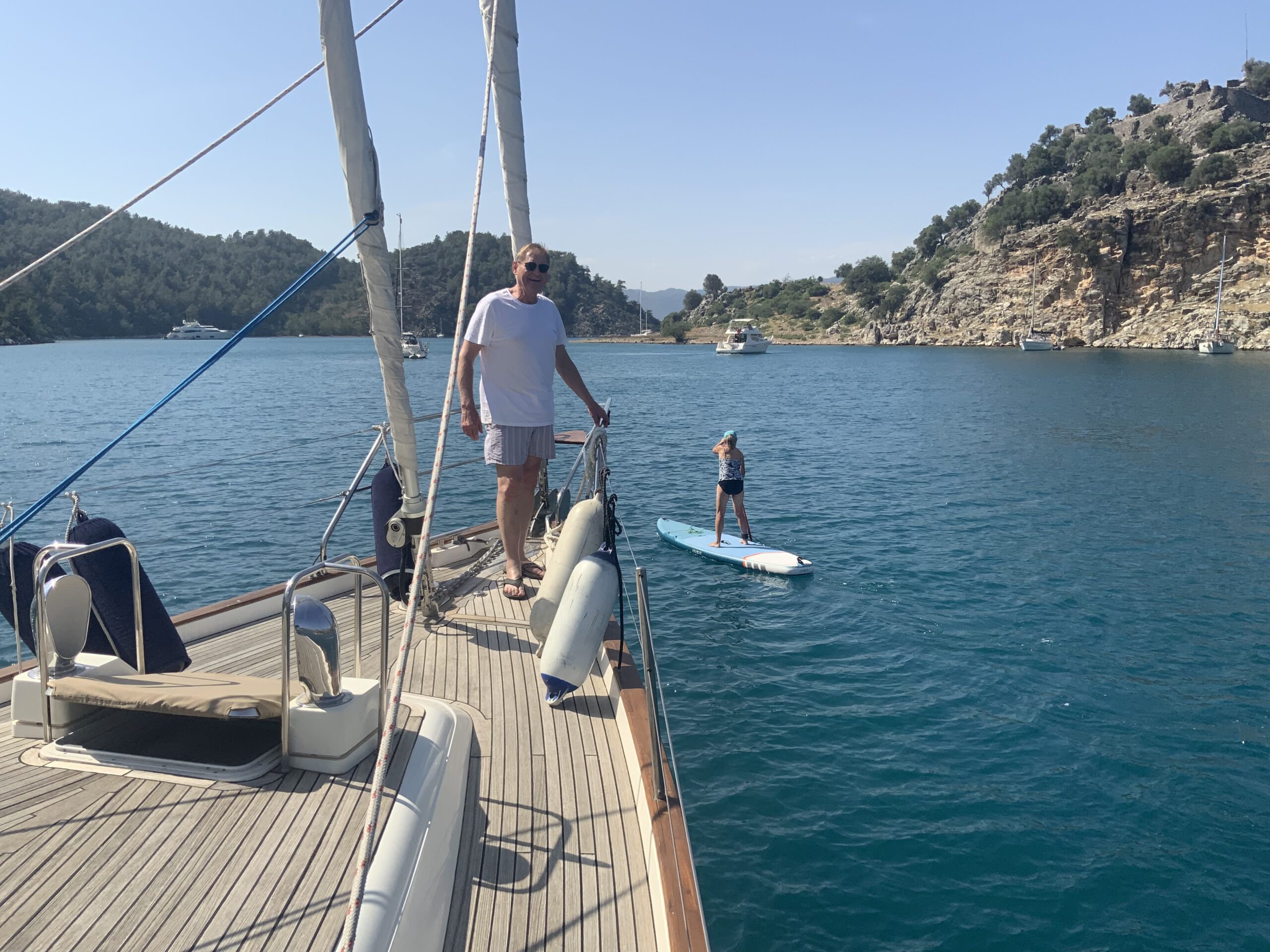 On Sunday May 21st, we departed Orhaniye on a 22nm passage towards Datça on the north coast of the Gulf of Hirsanonou. The wind was with us so it was an easy passage but it died on occasions so we resorted to motoring, then filled in again once its path was unobstructed by land masses. We anchored in the south bay, outside the small harbour, then dinghied ashore to explore. The last time we were here we had to anchor in the north bay because the south bay was too crowded. In 2020 we didn't feel as comfortable leaving the boat there and moved on as soon as we could. However, this time, we thoroughly enjoyed our time and found an excellent little restaurant (Lodos Balik) for dinner that evening, where the calamari and house special of beef with almonds was quite the best we have tasted thus far in Turkey.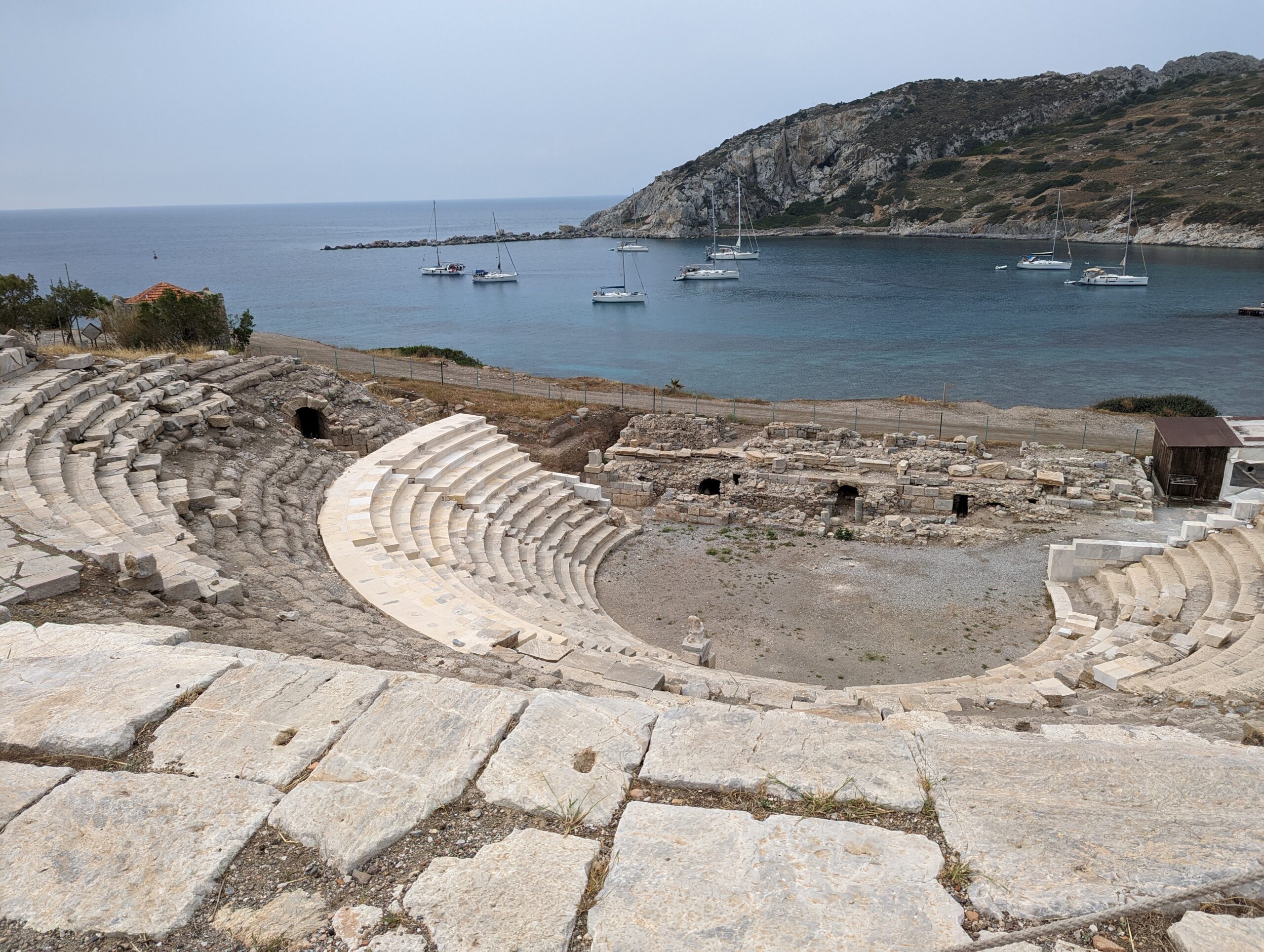 Our departure the next day (Monday) was delayed because we wanted to top up our TurkCell SIM card and try to find fuel for the dinghy outboard. The former was successful but the latter only succeeded in giving us some needed exercise, walking uphill to a point where Google said there was a fuel station, only to find that it was in fact a further 4 km away! We weren't that desperate! However, it also cost us in time because the overnight lull in the westerlies had ended so we found ourselves motoring into a fairly stiff head wind and a short wave chop most of the way to Knidos. Knidos is one of our favourite places in calm weather as it at the extremity of the Datça peninsula surrounded by evidence of ancient civilisations on both sides of the horseshoe bay. We anchored and when we went ashore, we found there were three boats on the small dock that had overwintered in Finike with us. That is part of the joy of living the life we do.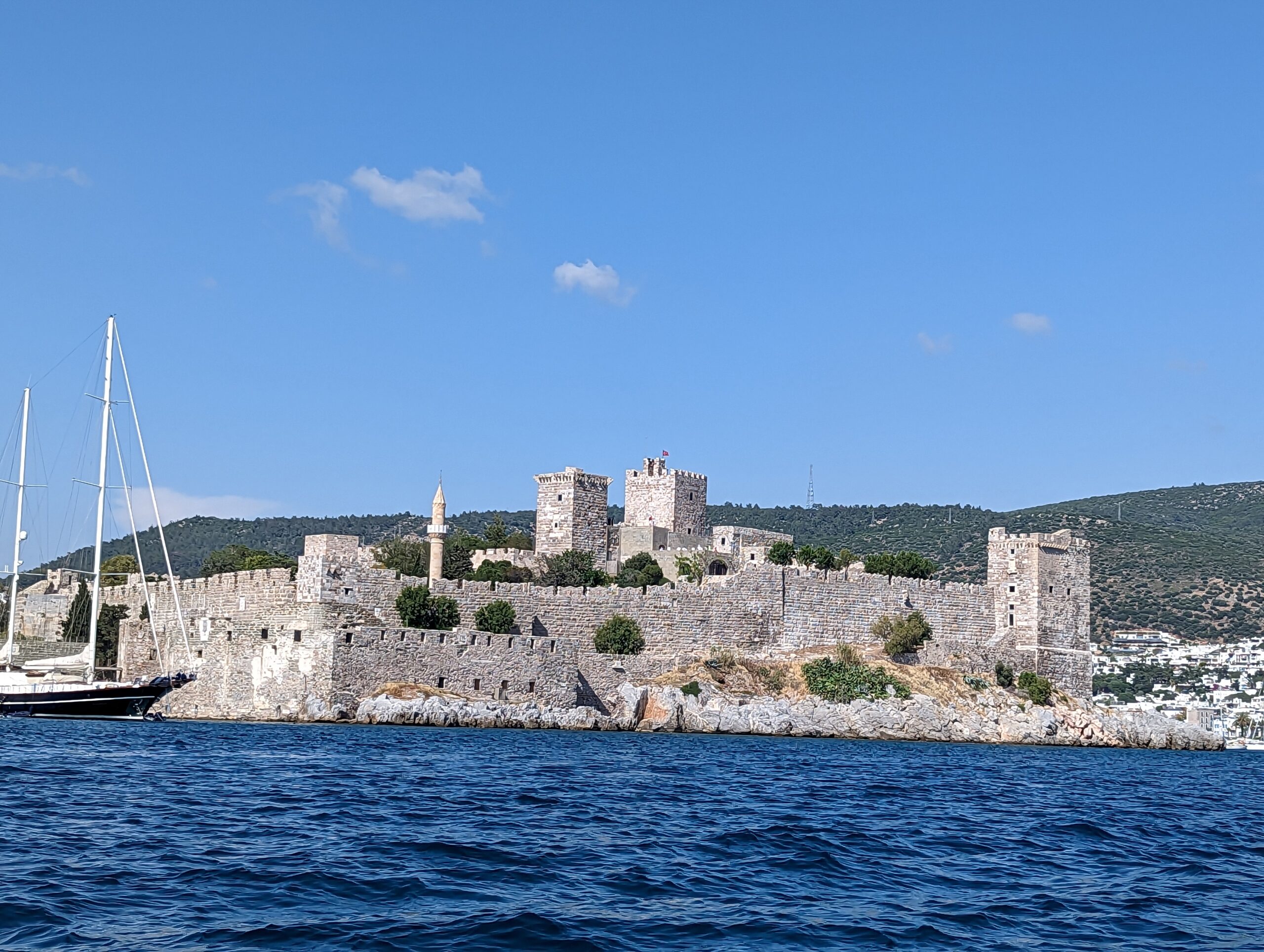 From Knidos, we headed to Bodrum, passing through Greek waters off Kos on the way. Light northwesterly wind meant we were able to sail for almost an hour. The rest of the 4-hour passage, we motor-sailed. We anchored off the beach, near the prominent Bodrum castle, as we had done before. We were one of umpteen boats anchored near Bodrum, including many large gullets and several boats from Finike. That evening we met up with 2 couples for dinner and 3 more later on (6 boats in total).
We had thought of exploring a few more harbours with Ian but unfortunately Lady Mayfair had other ideas. The recently serviced forward head (a vacu-flush toilet) ceased to work. Ian cleverly diagnosed the issue to be worn brushes in the electric motor that generates the vacuum. So, off we went in search of replacements in the industrial area (senayi) of Bodrum, near the bus station. It was an experience unlike anything in modern western countries. Each place we tried initially didn't have any but the shopkeepers were more than willing to provide names of places that might. So, we went from one place to another to another until we finally came across a lovely electrician who led us across the street to a parts shop and success! Our electrician friend then kindly fitted them into the casing, neatly soldering the connections and only reluctantly taking a few lira for his efforts. Back on the boat a couple of hours later and a bit of fiddling to reassemble everything, Ian again had a functioning toilet.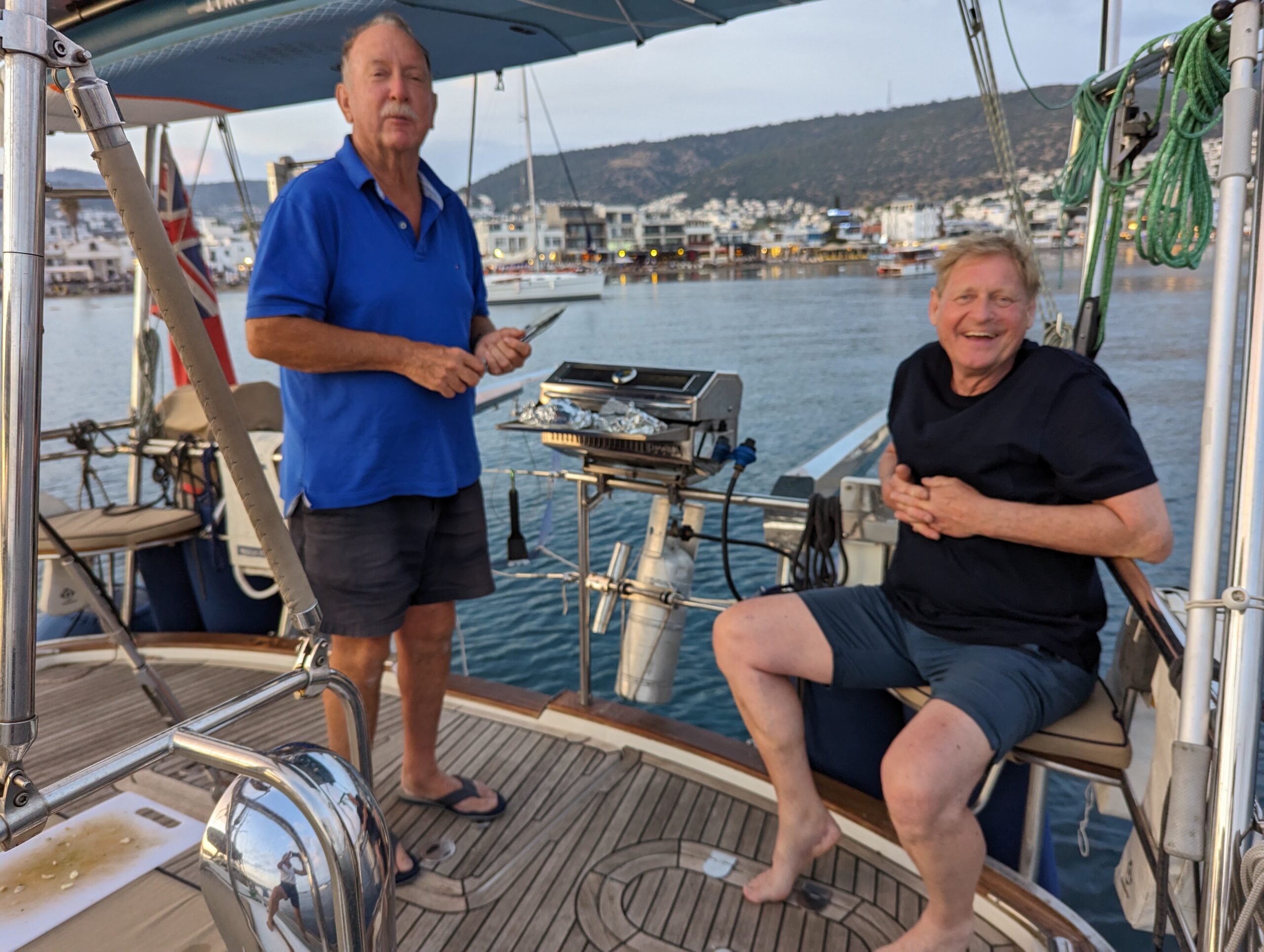 The following day found us working on another issue that had reared its ugly face. The generator suddenly stopped after about 20 minutes. The flow of seawater through the cooling system was not what it should be. Again, Ian diagnosed the issue to be buildup of calcification in the heat exchanger. He had encountered the same issue early on in his ownership of Lady Mayfair. Howard and I went in search of a product that would dissolve the calcification while Ian removed the heat exchanger. After a few hours soaking in the fluid, we were able to clean off almost all of the build-up and open up the blocked holes to let the cooling water circulate freely inside. Once everything was reassembled, including a new pencil anode (another story), the improvement in water flow was dramatic.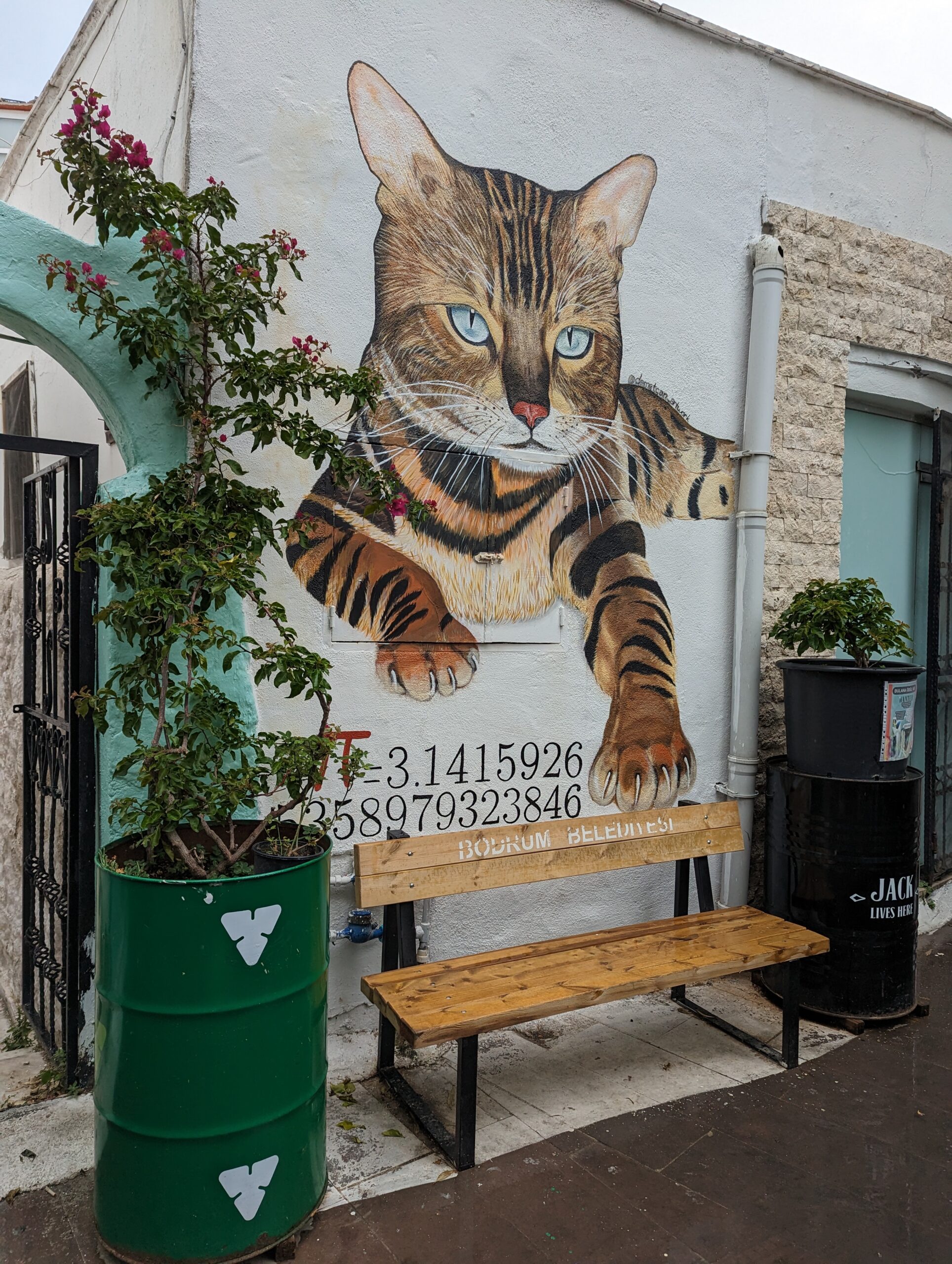 We banned all boat work for Ian's last day with us. Instead we had a leisurely visit to the castle with Ian and Janine (and their Labrador, Lucy) sharing pre-castle çai (tea) and post castle beers (very welcome)…. and later on dinner at a good beach pizza/burger place. The castle has lovely grounds, great views, and many interesting exhibitions in various parts of the castle, including the renowned museum of underwater archaeology displaying various wrecks recovered around the Turkish coast.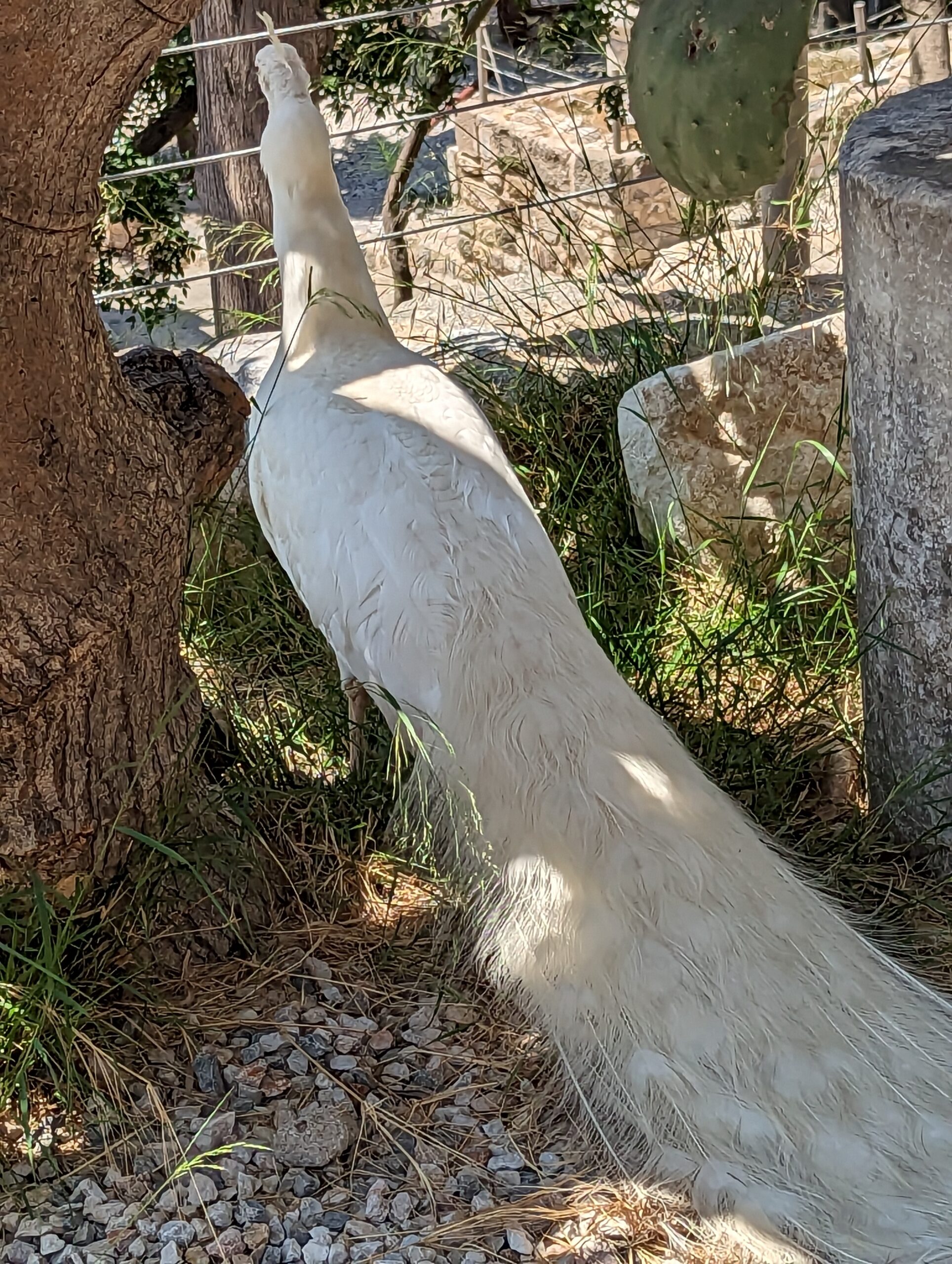 We had planned on sailing further north along the coast after Ian left but instead will be staying in the Bodrum area for a few more days, exploring several bays, before we have the new AIS installed later this week. Once installed you should be able to track us again on Marine Traffic or Vessel Finder.