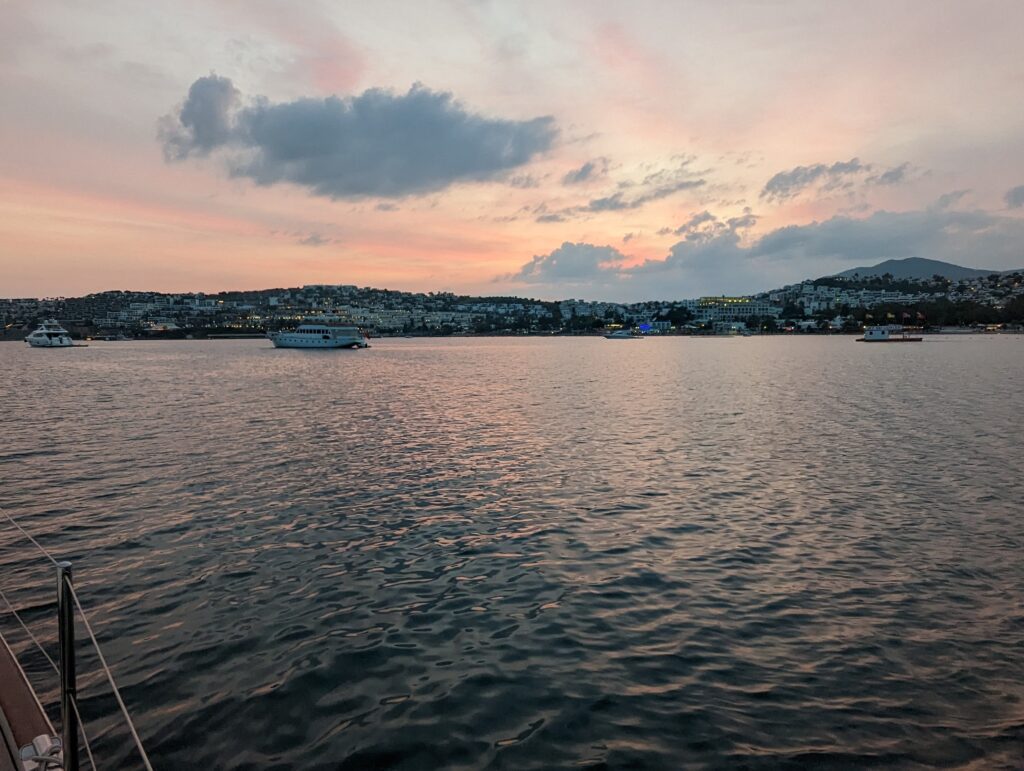 As we said in our last post, we hung around Bodrum a while awaiting word from a couple of enquiries about installing the new Vesper AIS that Ian had kindly brought with him from the UK. We ended up using a technician in Bodrum but in the meantime enjoyed exploring another anchorage or two in the vicinity. We first explored Aquarium Bay, but were not happy that the holding was sufficient, especially given that we were hearing rumbles of thunder. Gumbet Koyu is the bay just west of Bodrum with much more space to anchor and seemed like a better bet. Sure enough after we had enjoyed watching the antics of parasailors, water-skiers and tourist boats towing a variety of floatation devices at high speed around us, the thunder began again in earnest, activities stopped and the heavens opened.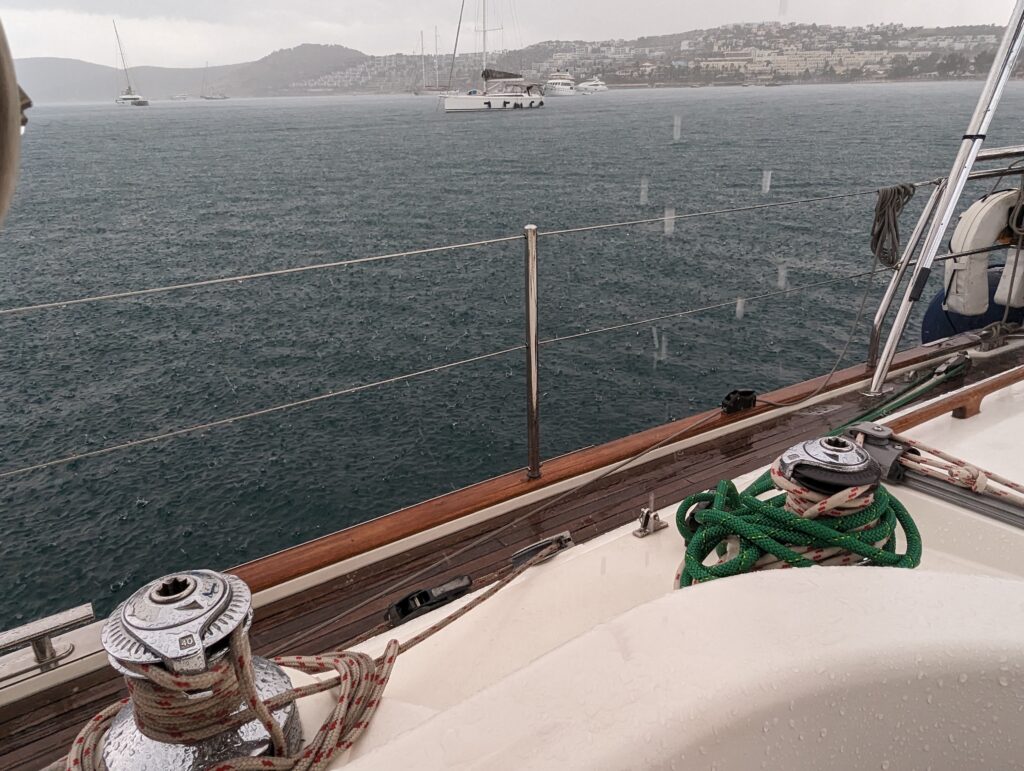 Our next port of call was Akyarlar, a small bay at the western end of the peninsula. The water was crystal clear, the beer cheap at the waterside restaurants, and some good walking along the road overlooking the bay, numerous hotels, and summer houses. We found Ian and Janine on Dee Jay were also anchored there so, of course, we had the first of what turned out to be several pleasant evenings with them. We both were heading north along the coast and had similar ideas about where to stop.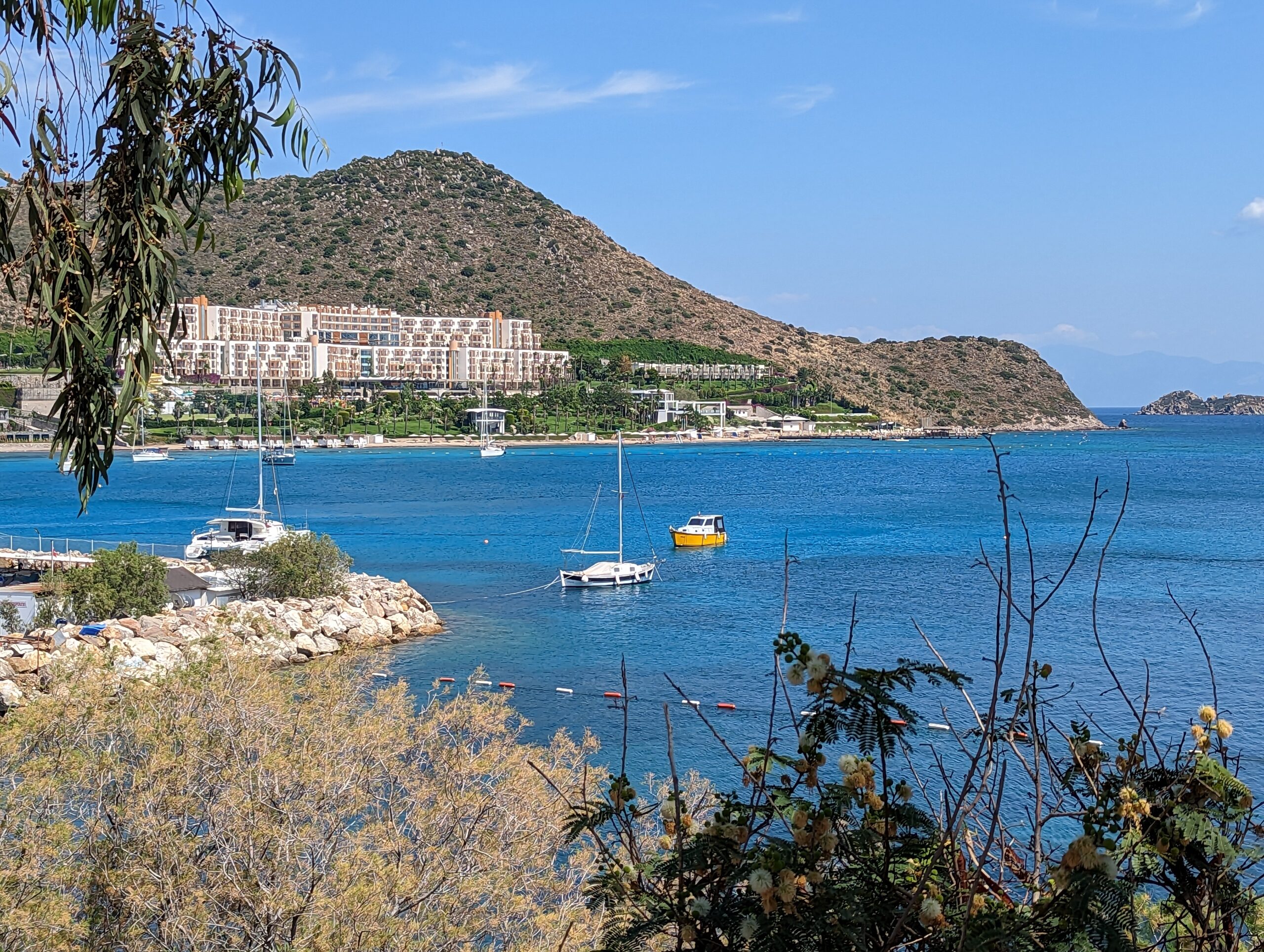 Our next stop was supposed to be Gümüslük, just north of Turgutreis. We had visited both places by car back in 2020, with the former being an anchorage and more appealing. However, there were too many boats there and after being asked to move from the third anchoring spot we tried (too close to boats moored to a dock), we decided to move on to Yalikavak which had plenty of space. We had a pleasant walk with Ian, Janine and their lovely golden retriever, Lucy, along the coast to a new holiday spa hotel, which looked very up-market. At €500 per night we decided a BBQ on Lady M for four was a better proposition than the hotel.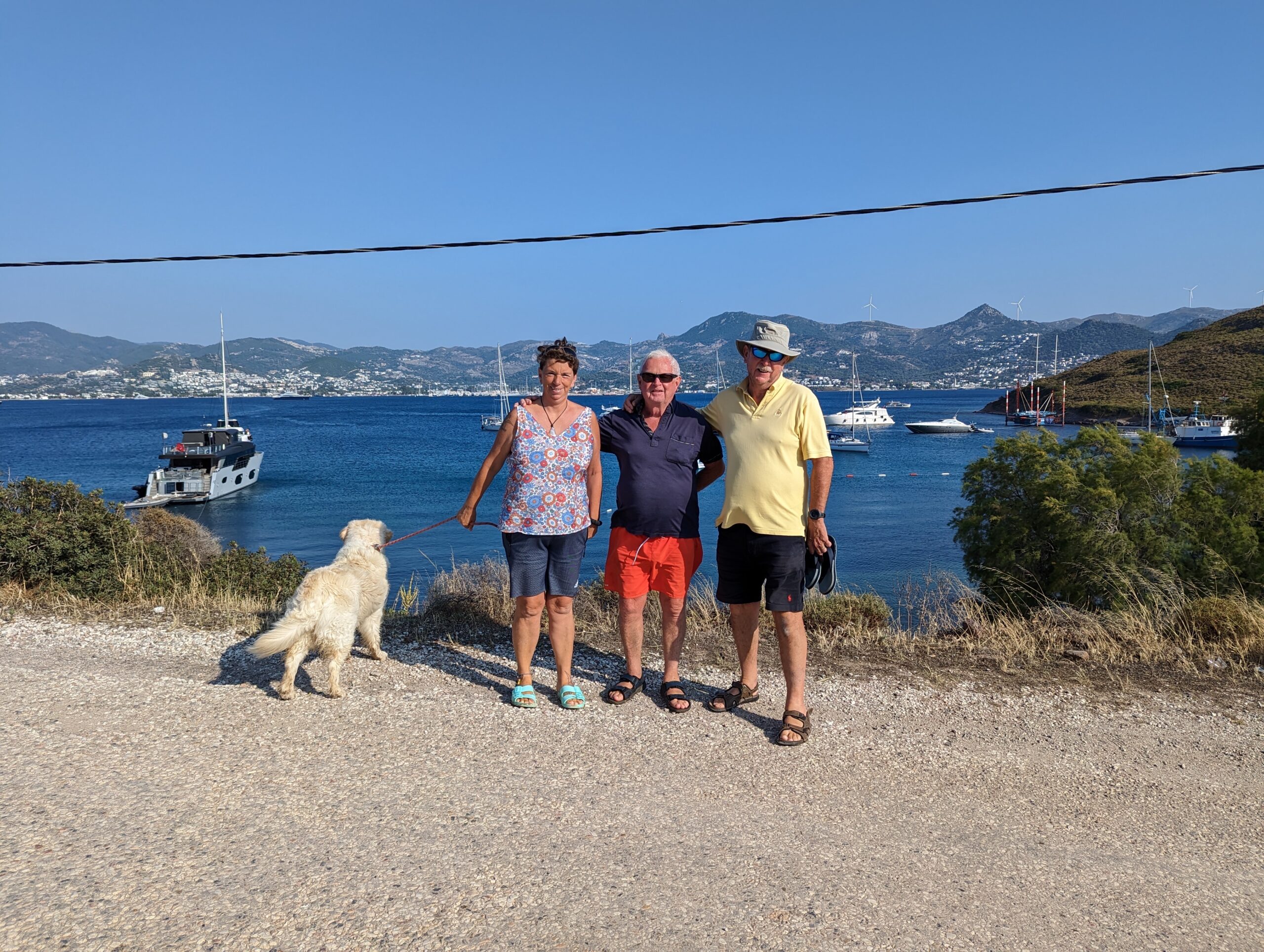 Didim, a motor-sailing passage 15nm across the bay was our next anchorage. The D-Marin marina, which we anchored close to and investigated by dinghy, was most impressive, lots of space, for large and smaller yachts and well organized. Ian and Malia on Longo Mai, another boat that had wintered in Finike, was anchored nearby so joined in on a meal ashore the evening before Ian and Janine headed over to Greece. Didim town was quite a distance from the marina, and accessible by a 10 min dinghy ride. It is a tourist town but not over developed. We managed to renew our SIM cards at Turkcell, essential for internet marine forecasts.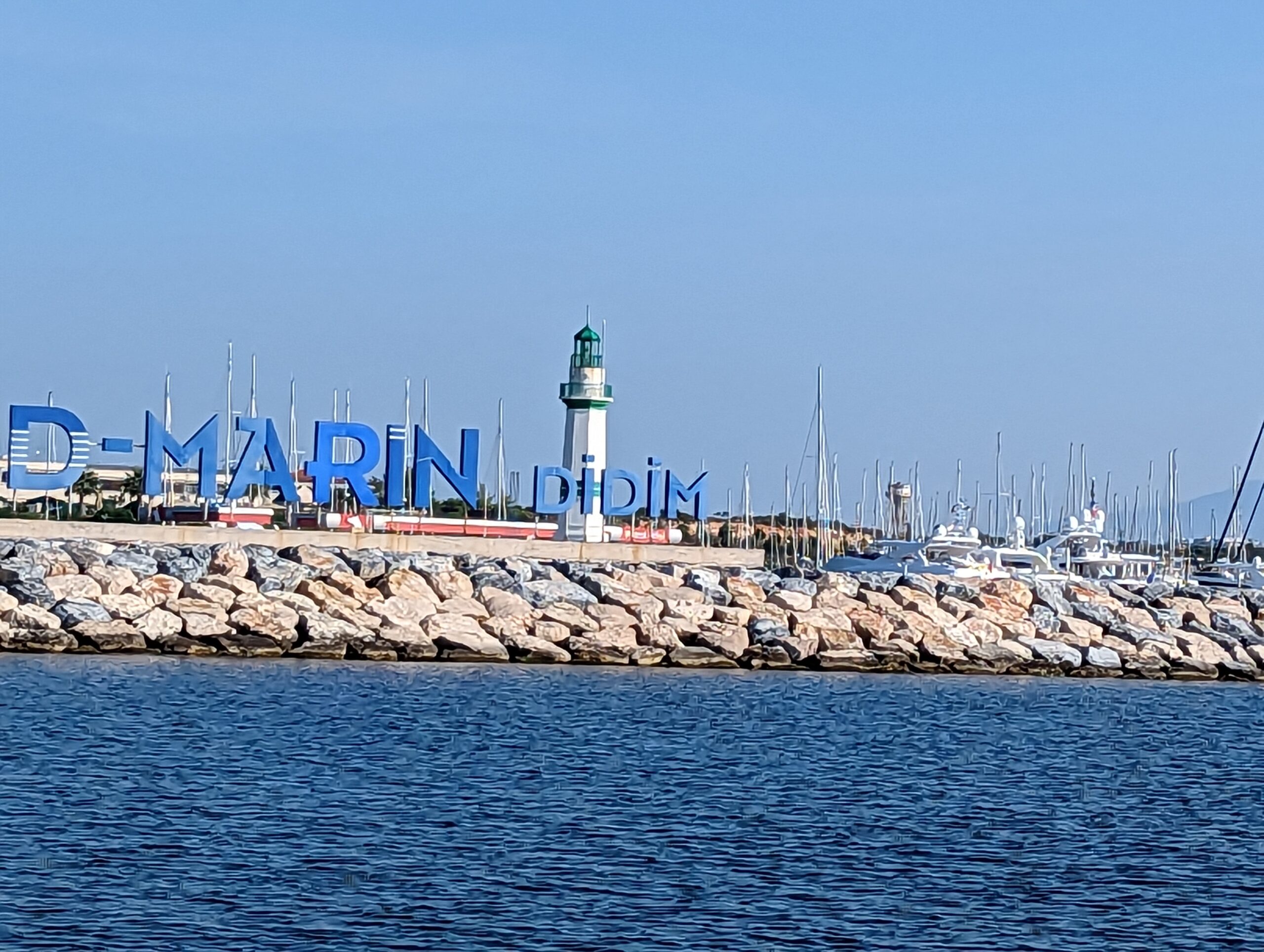 Our next passage was a long one, nearly 8 hours. Heikel's Turkey Cruising Pilot suggested St. Nikolae or St Paul, just before the narrows between the Greek island of Samos and the Turkish coast as potential stopovers, but we found them too claustrophobic with poor holding, so we continued on to Kusadasi, for up to 7 days free dockage at the Setur marina there. Once around the headland we had a very pleasant reach, flying all 3 sails. K is a large tourist town, has a small castle on an island near the commercial harbor, and a pleasant promenade lined with palm trees, a few sculptures and many restaurants.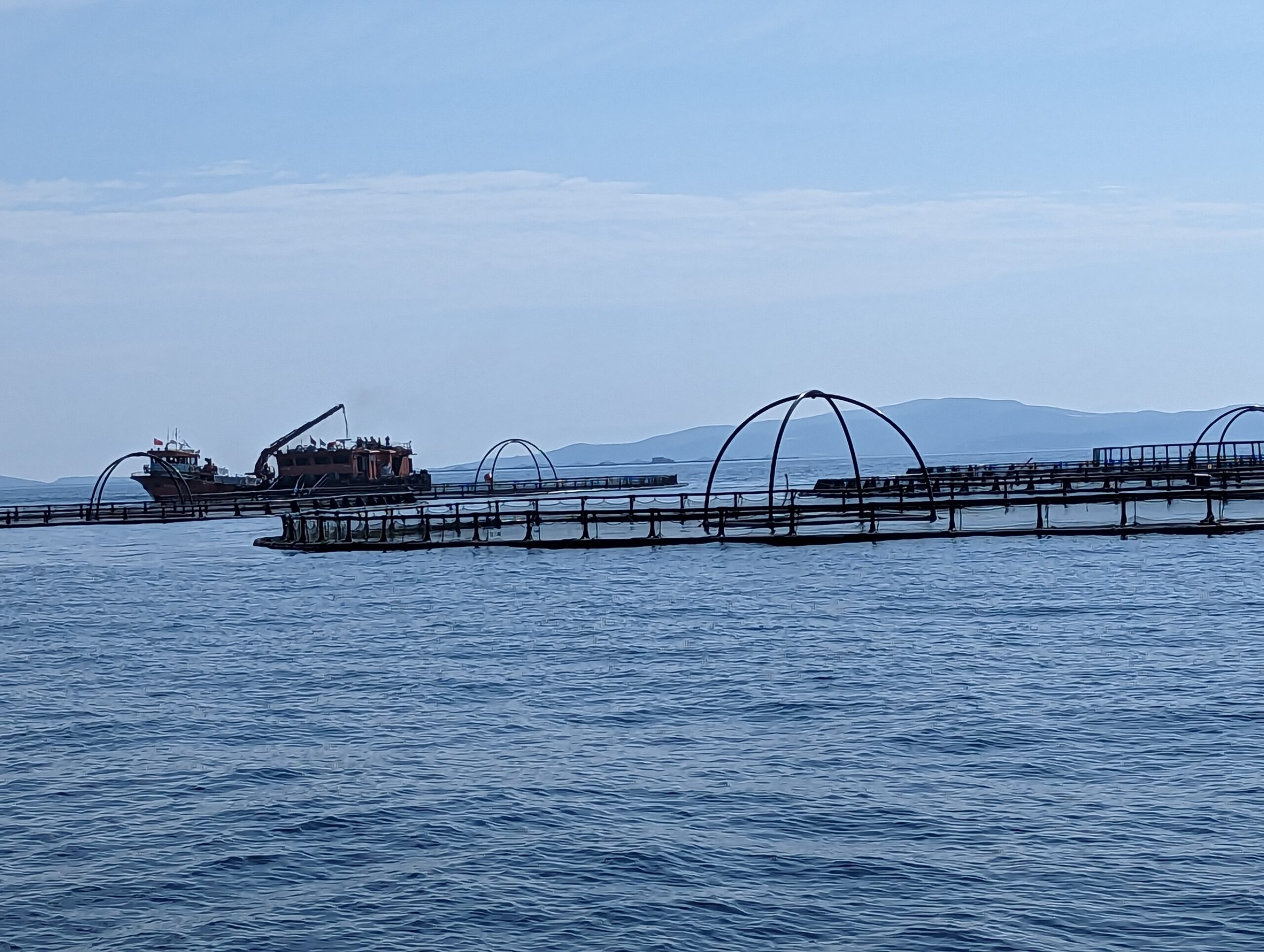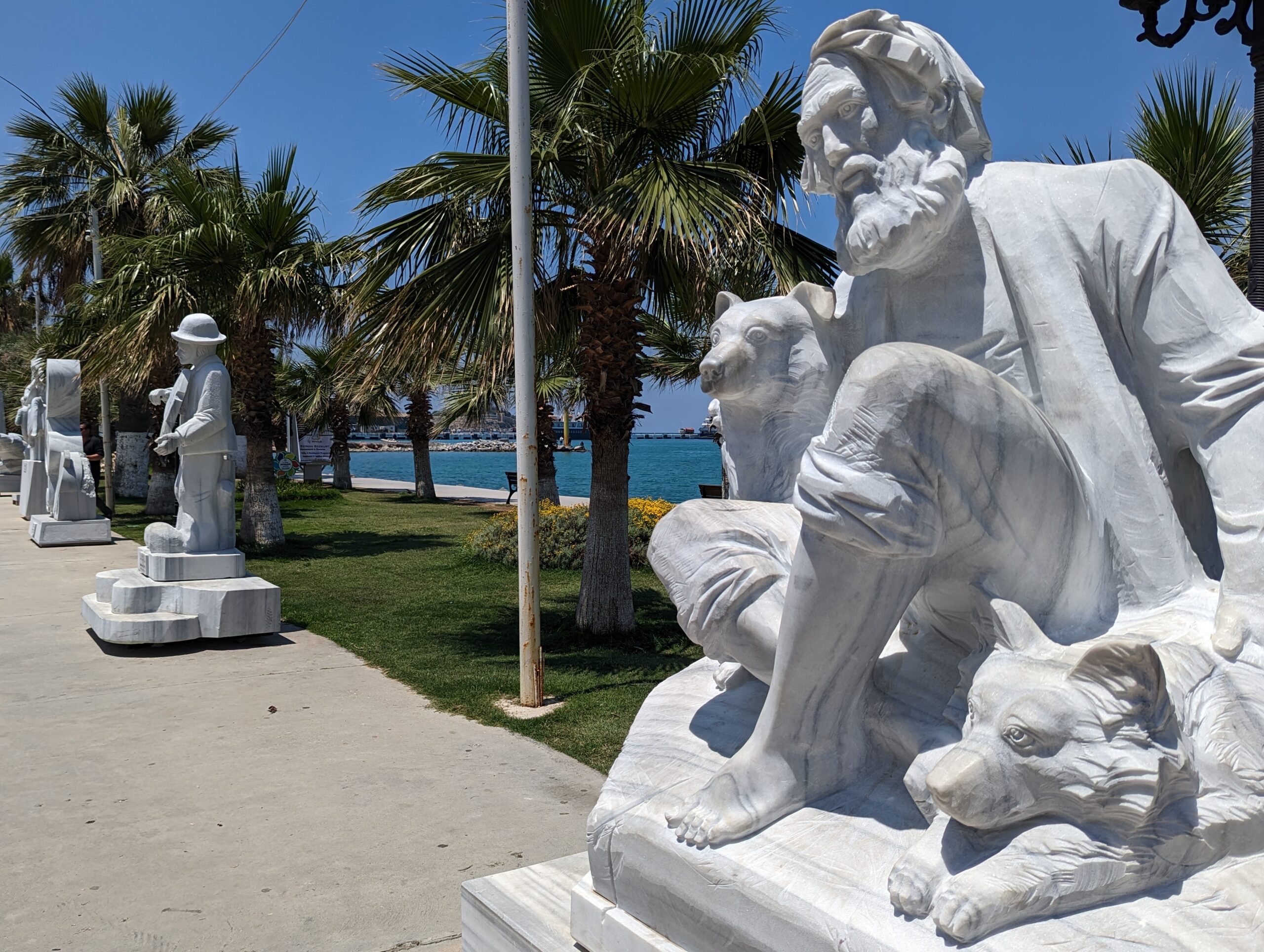 We had intended staying only a few days but ended up staying nine. Three of which were on the hard having the cutlass bearing replaced, which as it was new only 16 months ago, was a surprise. While in K we hired a car for a few days for some exploring: Melitus, Priene, and Magnasia. Ephesus was also near, but we had visited that site previously.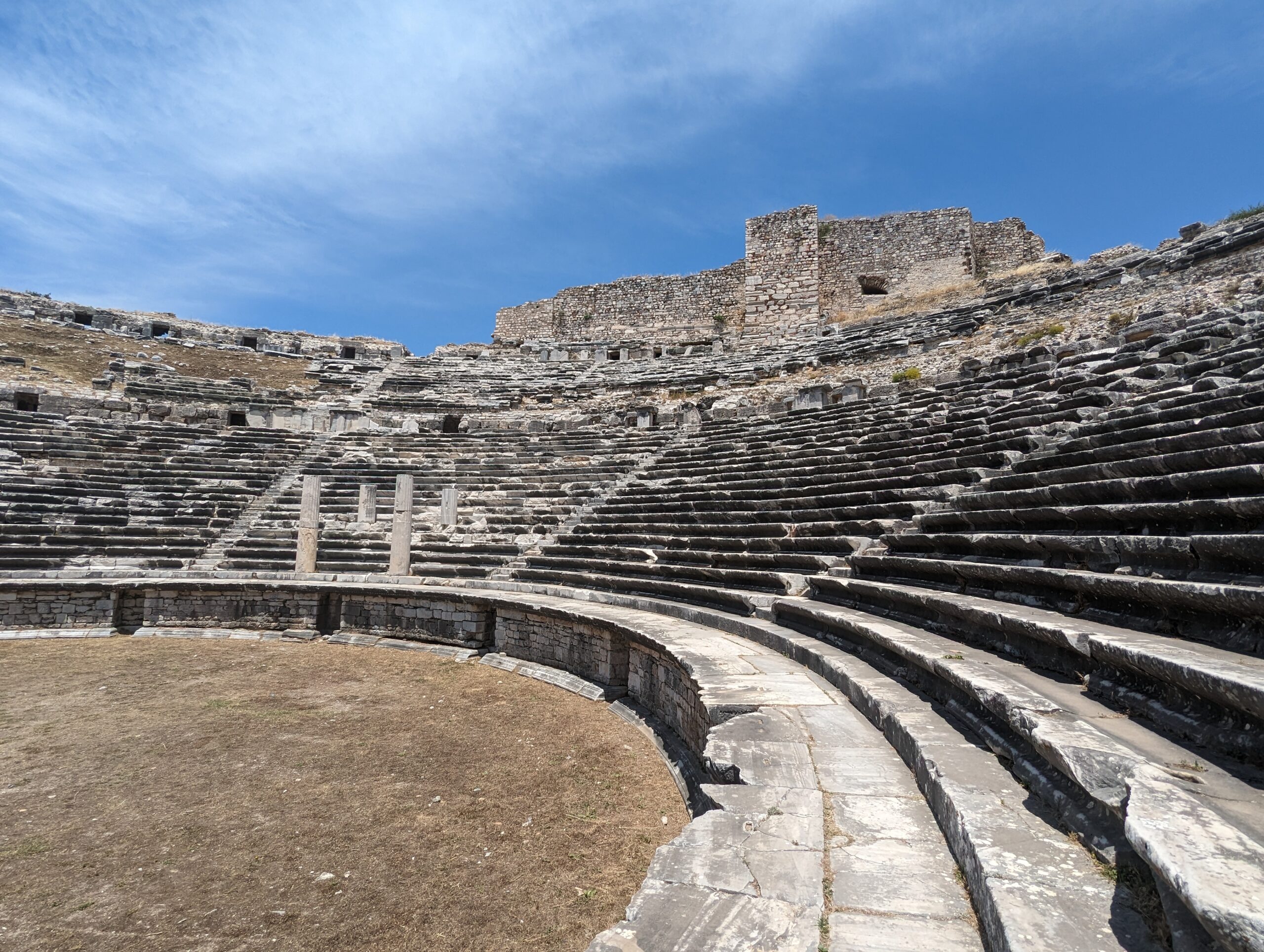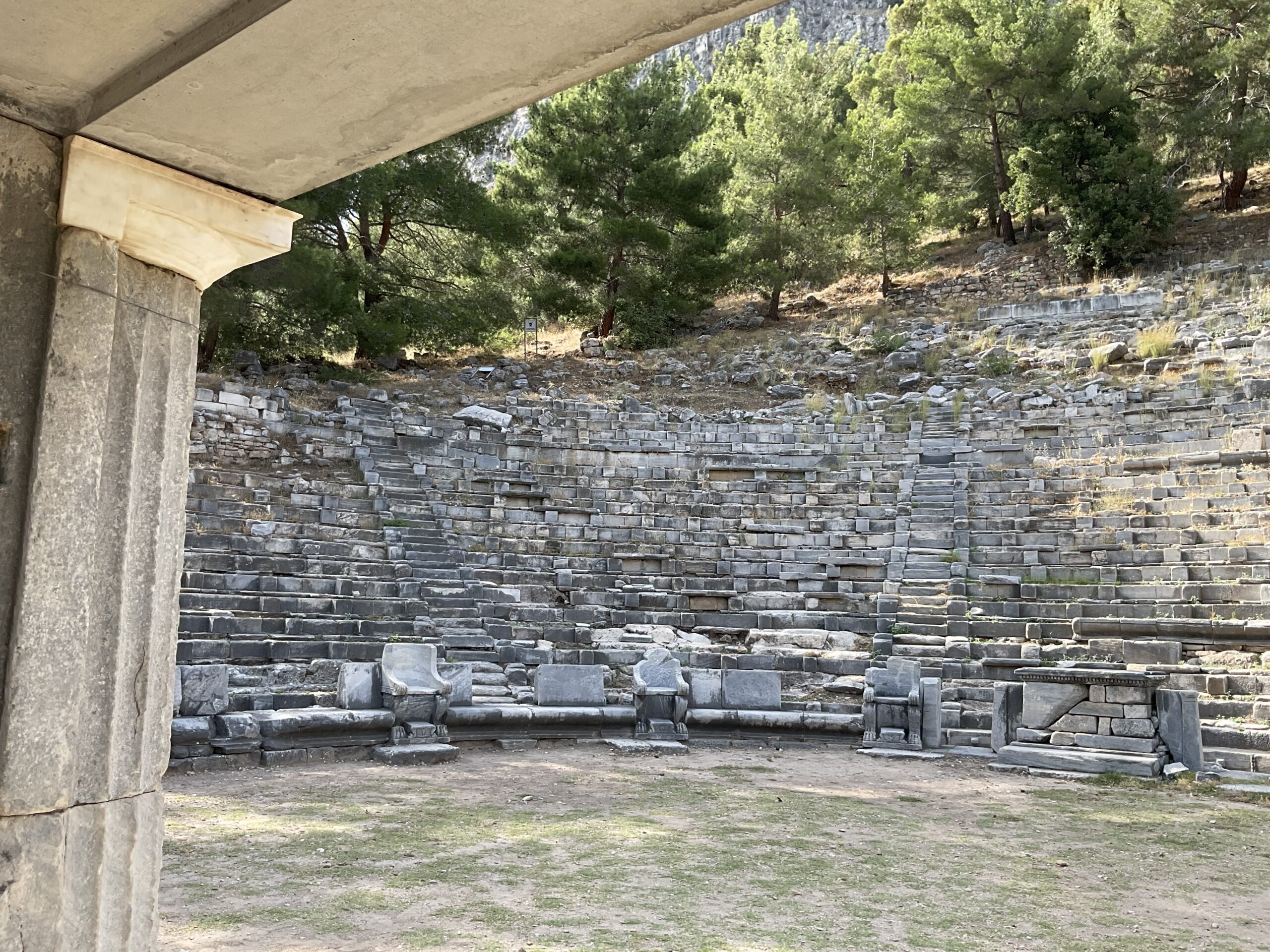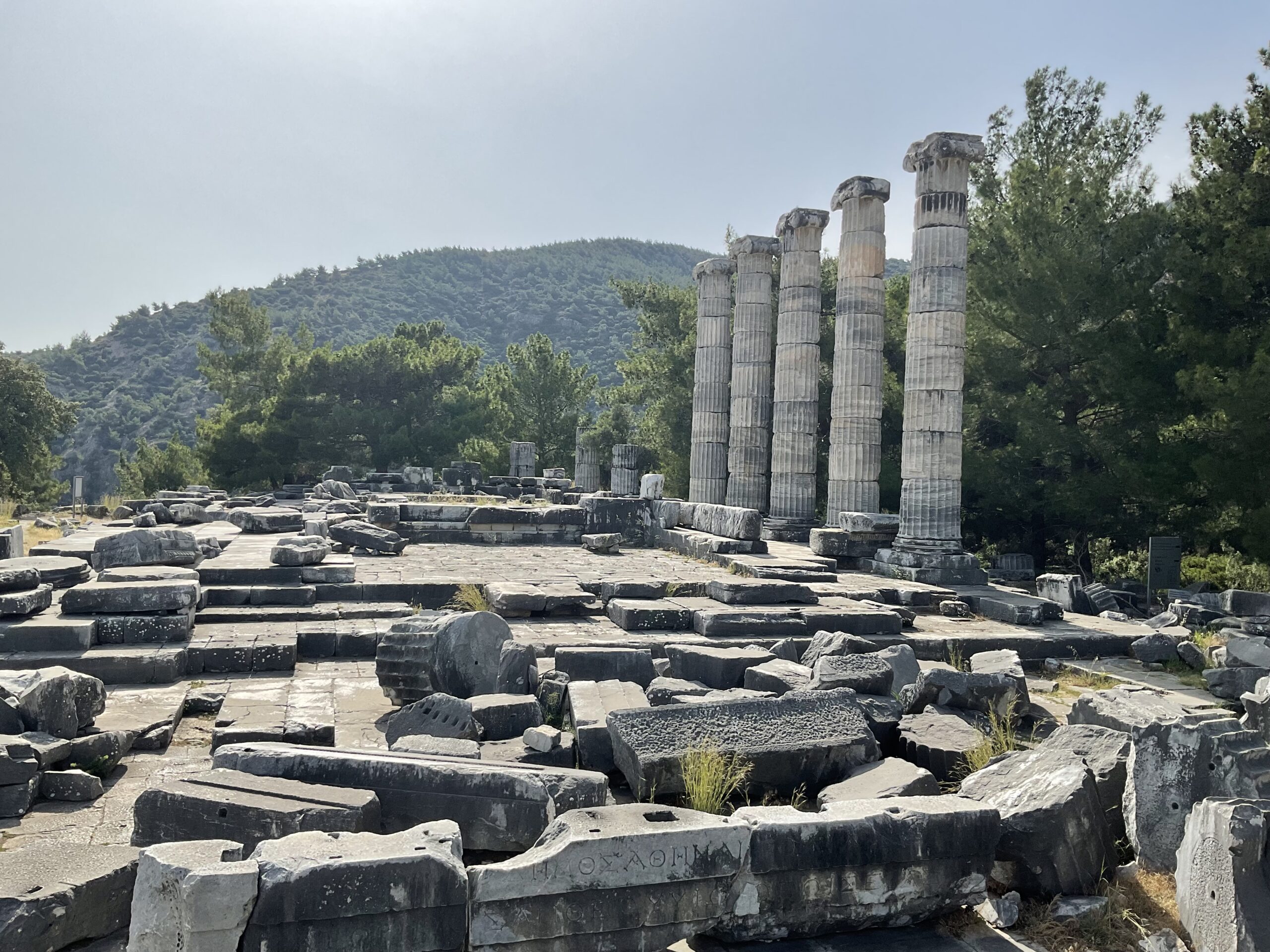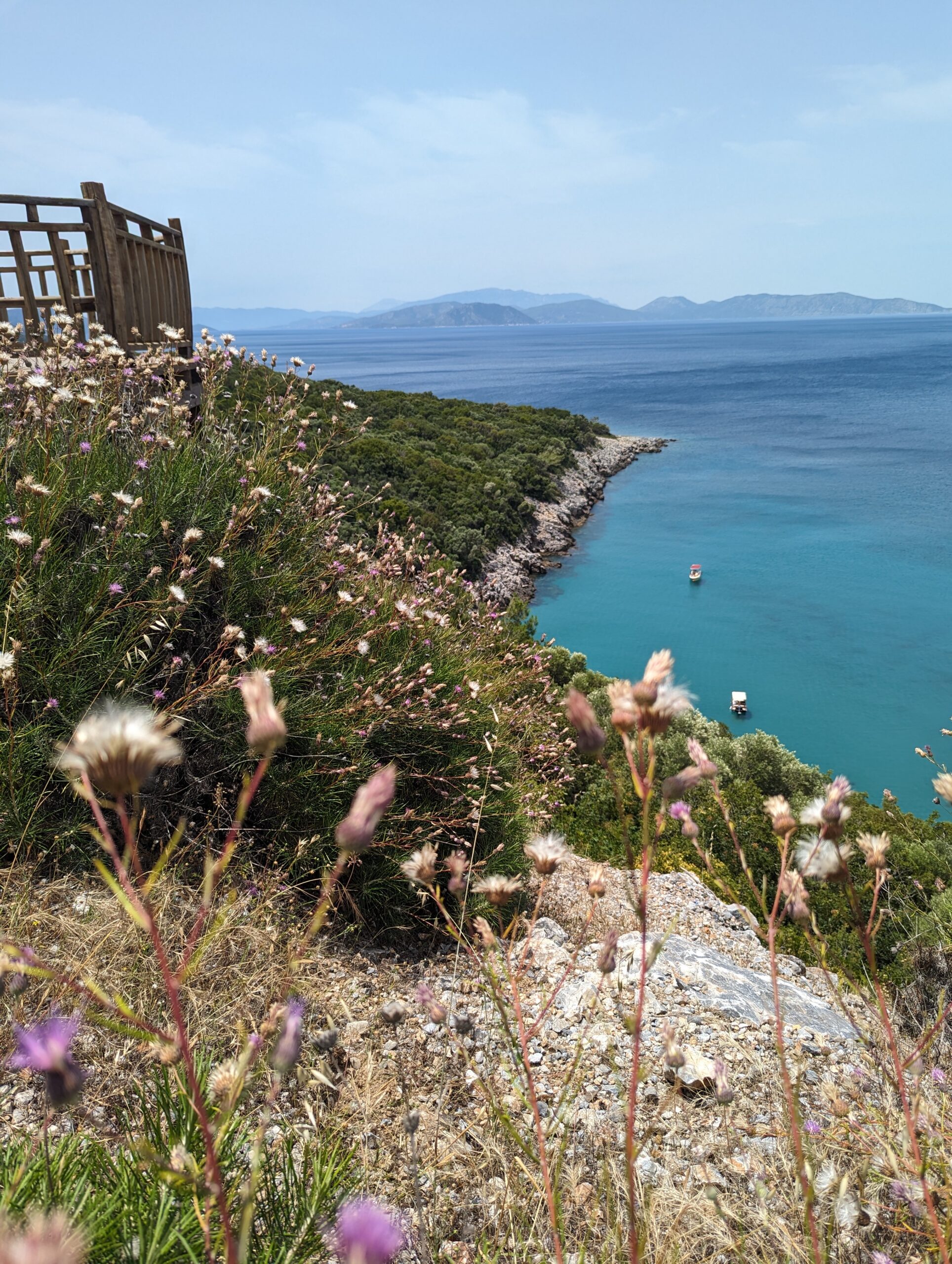 To our surprise 3 three days on the hard with temperatures up to 34C did not destroy the contents of the fridge or freezer, the insulation must be good. Even the ice in the freezer remained almost intact. Whilst in K numerous boat tasks were undertaken: sanded and painted the lead portion of the keel, 20 hour outboard service, etc. Tancay from Yacht Marine, helped us out a lot sorting out contacts and materials.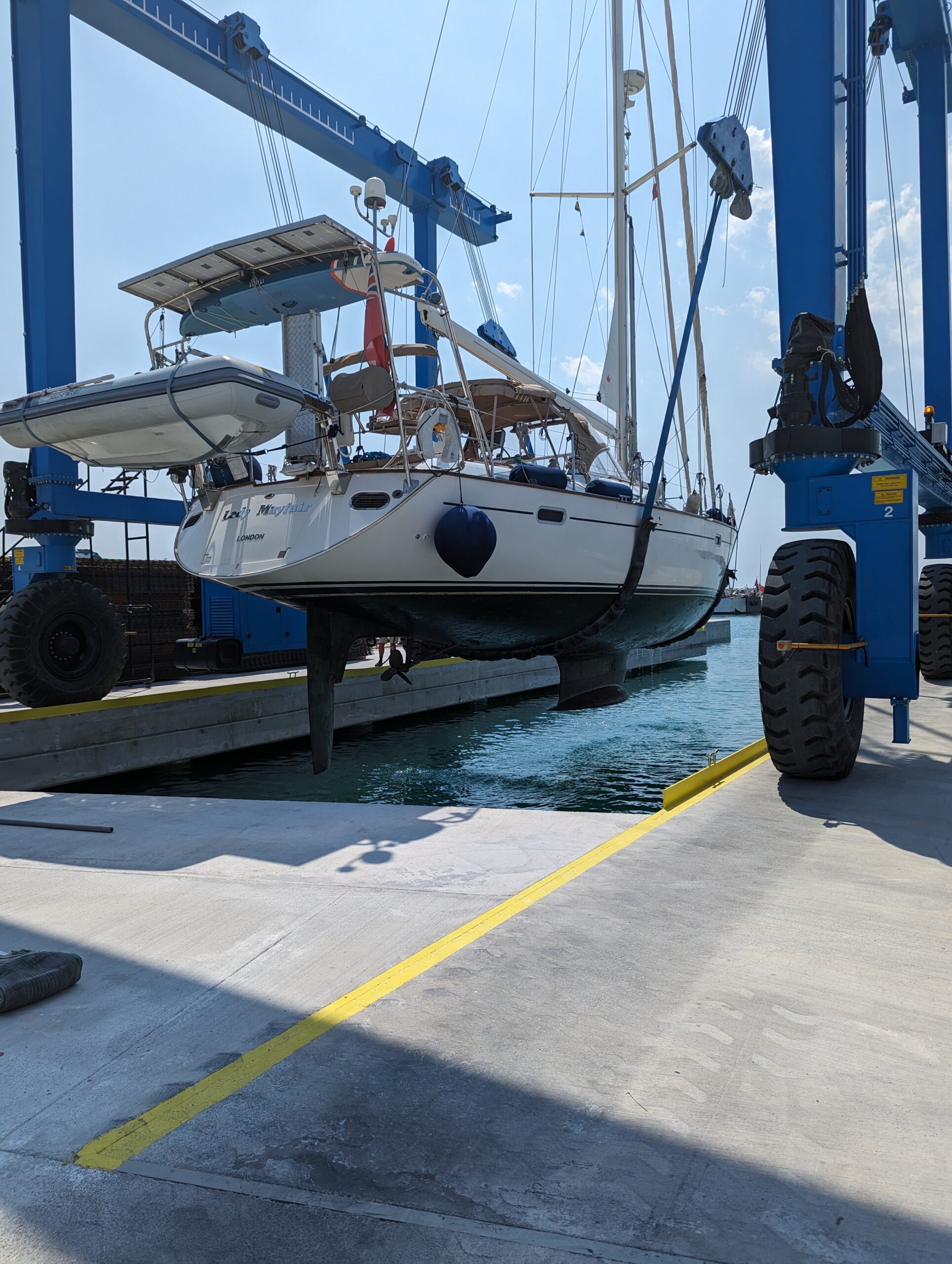 On Sunday, June 25 we departed Kusadasi at 0700 to motor/motorsail the 45nm to Mersin Koyu. Early departure is essential this time of year as the N/NW Meltemi winds usually develop before midday and one does not want to spend too long heading into 20+ knot winds. It turned out that we had light winds initially and then favourable wind to motor-sail for the second half of the trip so we made better progress than expected and changed our destination to a bay, Mersin Koyu, further east. Mersin Koyu is a very pleasant anchorage which we had to ourselves overnight. It is well protected from seas (a primary concern) but the wind farm on the hills overlooking the bay indicate that it can get quite windy.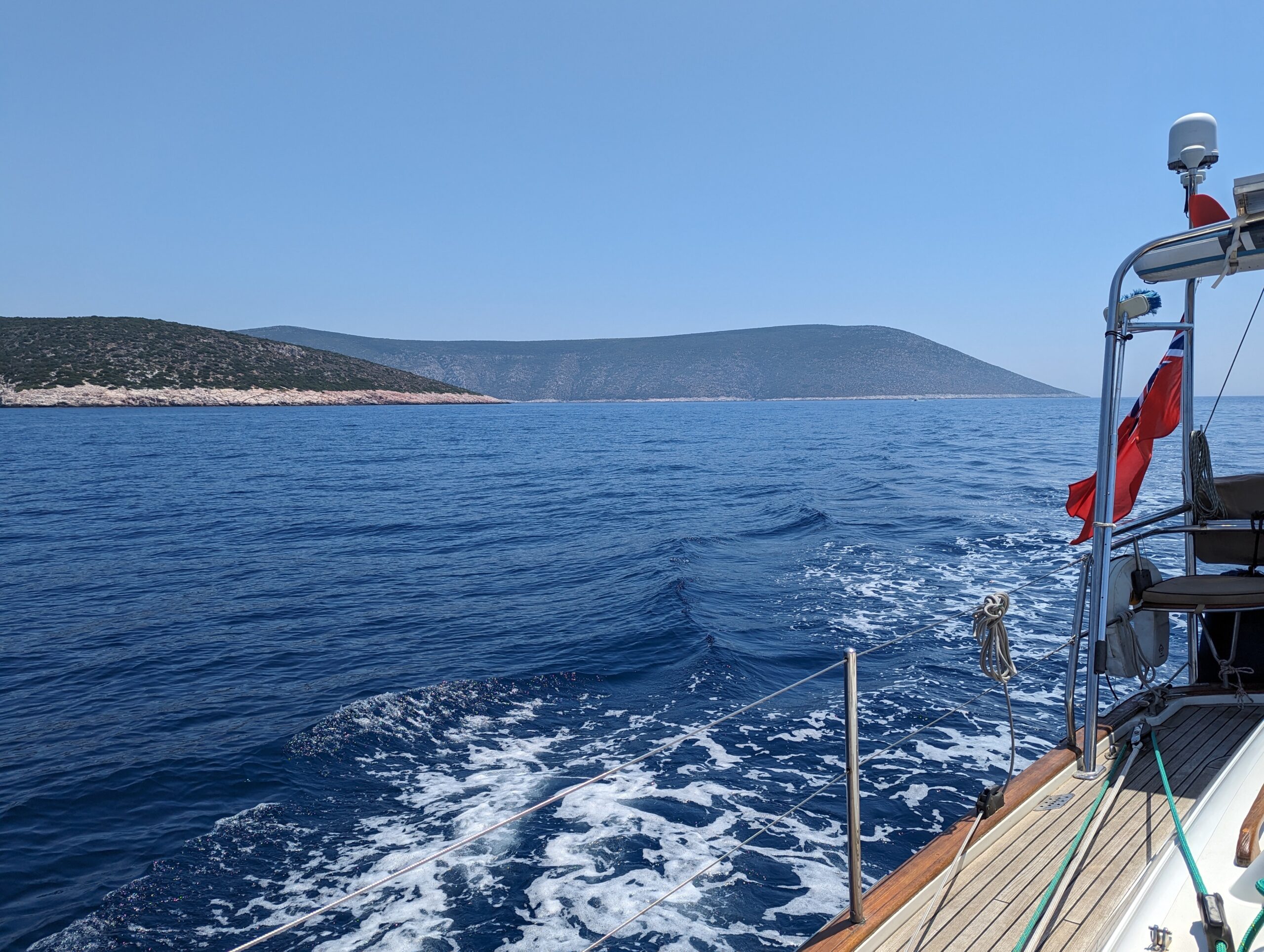 We are now at anchorage in Dalyan Koyu, near Cesme. Although our last two days of motoring have been uneventful, while anchoring here the clunking noise and vibration when shifting into forward gear has recurred, indicating that the cutlass bearing was not the sole cause of the mechanical issue. Unfortunately, it is Bayram in Turkey, which is a holiday, with most people not returning to work until July 3. it looks like we will be spending at least a week here. Once departing it will be a mad dash to get to Evia, Greece to meet Doug.