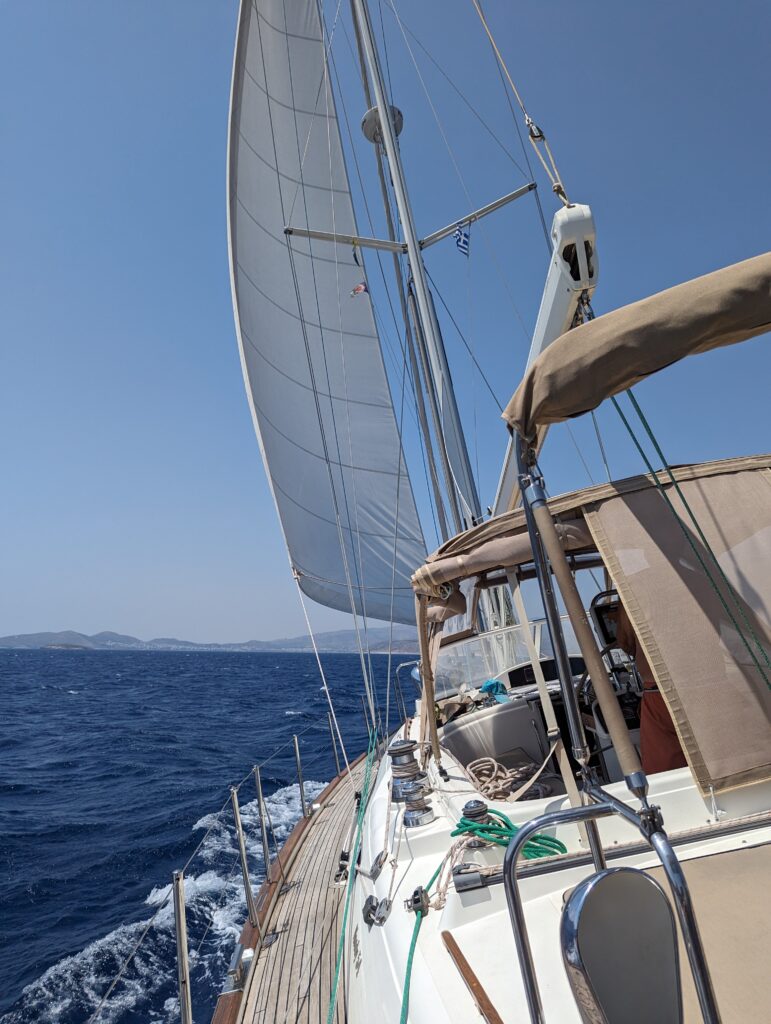 Our stay in the large (1,000 berth) Alimos Marina, near Athens was useful. We finally managed to swop our empty camping gas bottles for full ones as well as purchase a few other boat bits from an excellent yacht chandler nearby. However, Athens was suffering from extreme heat, (the Acropolis was closed to visitors from noon until 5:00 pm each day) so our energy levels were rather low. Indeed, we found our folding bikes very handy for getting around and helping to cover the distances without expending too much energy but, apart from seeing the Acropolis from the water, we didn't manage to see any other sights.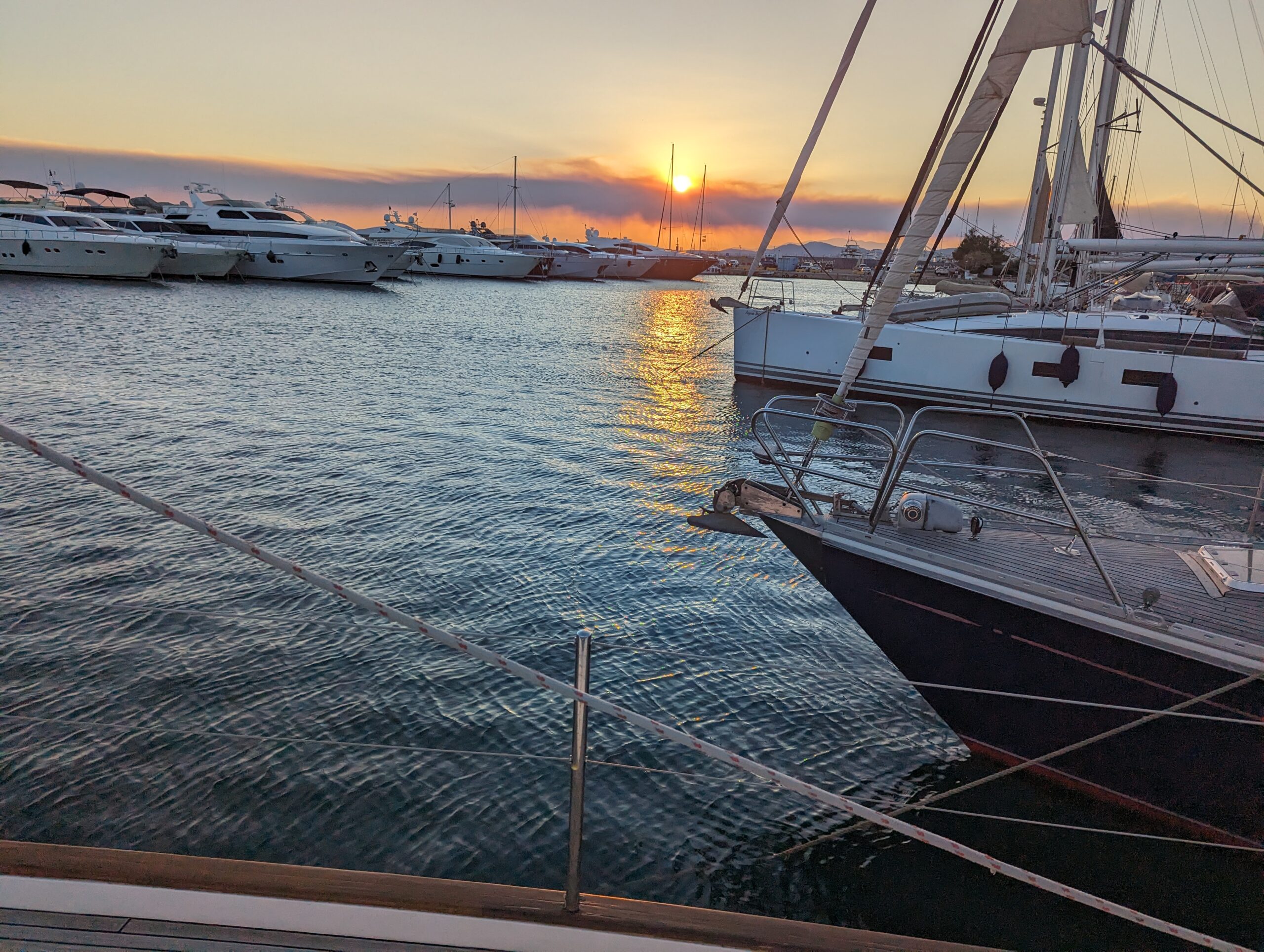 We departed Alimos and moved to an anchorage off the town of Vari/Varkiza, about 11nm SE, where we met up with our nephew Doug and Carla, in a local patisserie, on the 20th July. Their stay was rather short, only 2 days, so we essentially moved from the west side of the Athens Attica peninsula to the east side, stopping overnight at Sounio (under the Temple of Poseidon) and then a lunchtime stop on the small island of Makronisos on our way to anchor off Porto Rafti.
Sounio(n) was first mentioned in Homer's Odyssey, in a story where several Greek commanders returning from Troy stopped and lit a funeral pyre on the beach to cremate the helmsman of King Menelaus' ship. The original temple was constructed in 444-440 BC. The temple had 34 columns, of which 15 still stand today.
We wanted to be in Porto Rafti for Doug and Carla's last night as it was a short taxi trip from Athens airport and Sonia was scheduled to arrive around 3:00 am! Unfortunately we didn't manage to do much sailing because the wind was either on the nose or too light. However, we had plenty of time to enjoy splashing around in crystal clear water and having a bit of fun with various water toys. Porto Rafti was a major trading port until the collapse of the Roman empire, but is now known for its tourism and wine.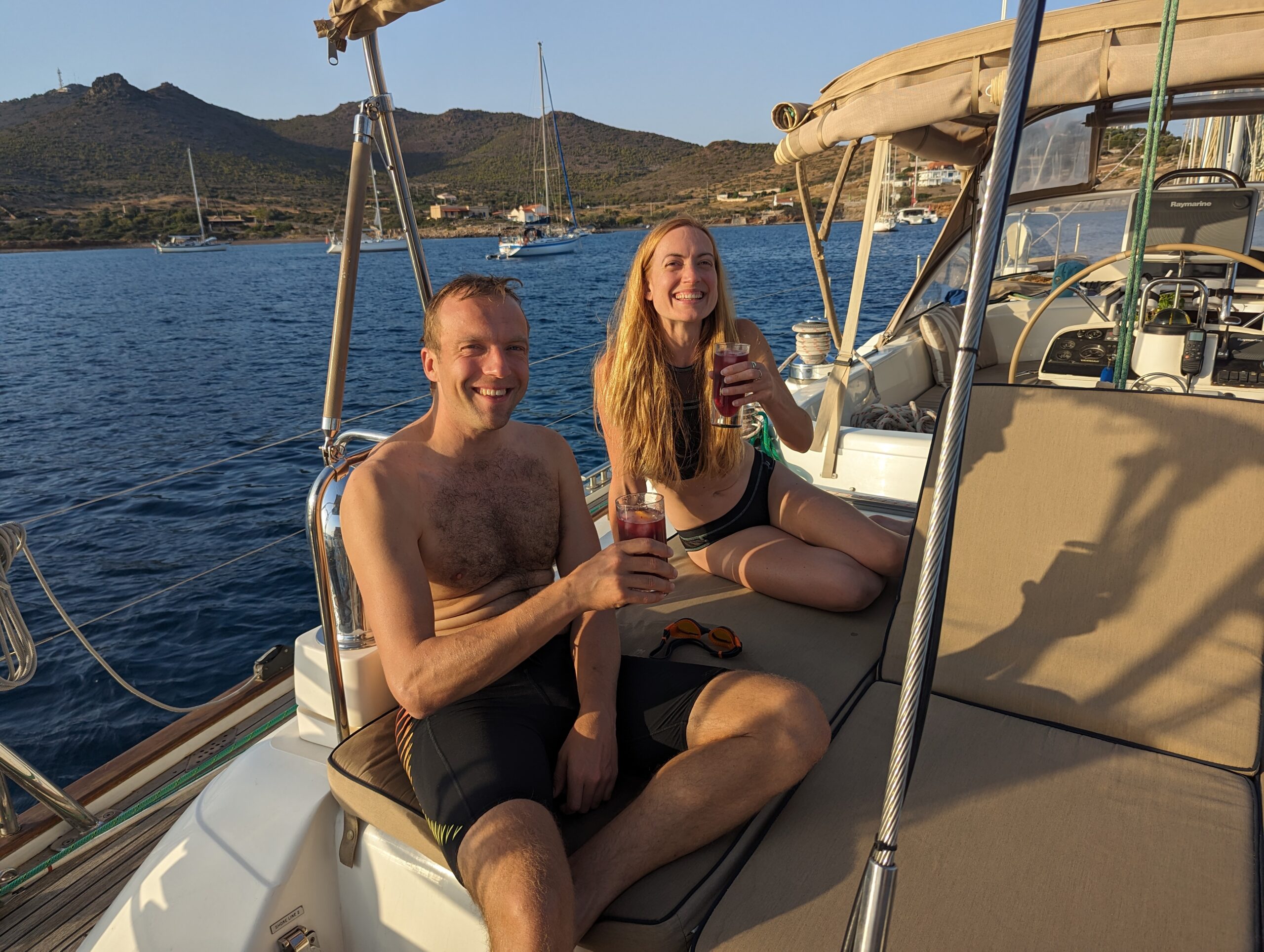 With just Sonia onboard, we headed back to Sounio for the night and the next day set off for the island of Hydra.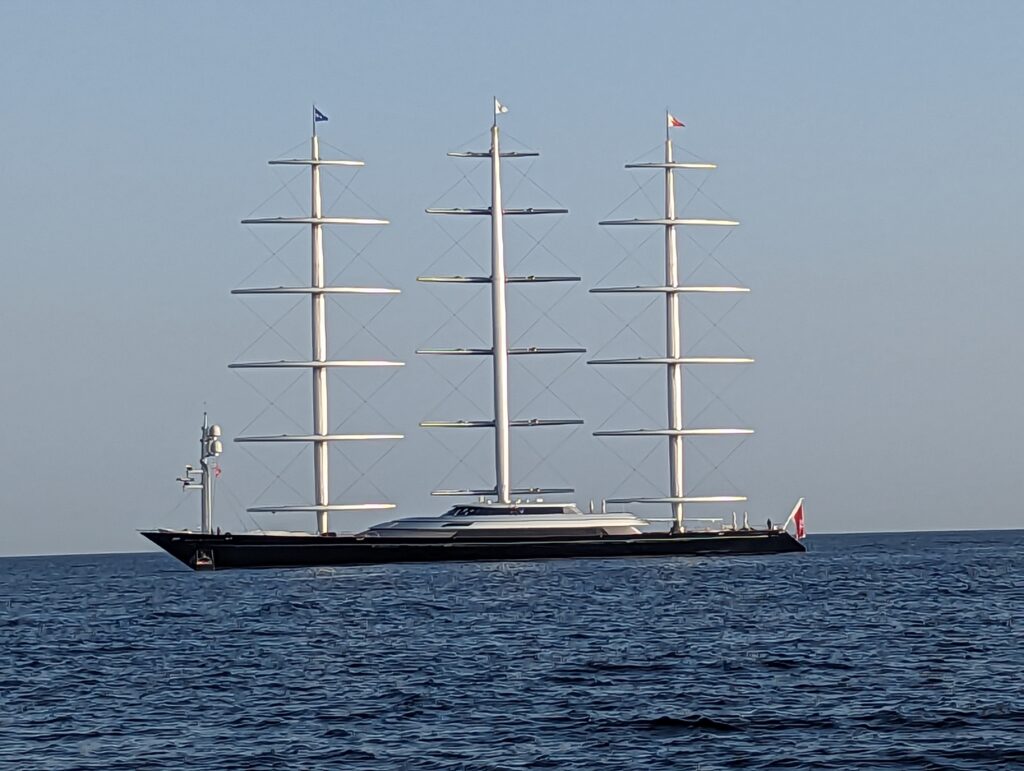 It was thanks to Sonia that we chose to go to Hydra after she read about it in her guide book and we are so glad we did. It is the only inhabited Greek island where no cars or bikes (motorized or pedal) are permitted. The only form of transport on the island is by mule or hand-drawn carts along narrow cobbled paths. It has attracted various artists, actors and musicians over the years, including Leonard Cohen who made it his home from an early age and whose house is still owned by his family. The island became a wealthy maritime power in the early 1800's and shipping merchants built many of the large mansions. We chose not to dock in the busy little main harbour, or in the bay just north of it, which was also too busy, but instead anchored a bit further south in Ormos Molou and had it almost to ourselves.
In ancient times the island was known as Hydrea, referencing its natural springs, which are now almost dry. Hydra has been populated since the third millennium BC, but most recently the Ottomans. Its ship building program began in 1645, along with the creation of a school for mariners. By 1757 they were building 250ton vessels, which enabled Hydra to become an important commercial port. In the 19th century, about 125 ships and 10,000 seaman were based in Hydra. The mansions of the sea captains around the harbour are a testament to the prosperity marine trade brought to the island. During the Greek War of Independence Albanian-speaking seamen from Hydra and Spetses provided many of the leaders and seamen of the Greek fleet. Between 1941 and 1943, during the Axis occupation, roughly 8% of the population died from starvation.
From Hydra, we went to Poros, a short 15-mile trip. It was a joy to finally do some downwind sailing for the last stretch towards Poros. After anchoring off Kaneli beach, we dinghied ashore to explore a little of the town. Poros town, where the bulk of the population live, is on a small peninsula, separated from the mountainous mainland Peleponnese by a narrow navigable channel. It is a popular stop for charter boats out of Athens. However, as we discovered when we took the boat through the channel the following day, there appears to be plenty of space for all to moor on the long quay that almost surrounds the town. We enjoyed a great meal ashore that evening at the Kaneli Beach Bar and Restaurant. The rest of the island had some popular sandy beaches along the south coast heading west and was more wooded and greener on the northern coast after we rounded the western end of the island.
Poros consists of two islands, with rich vegetation, and is separated from the Pelopennese by a 200m wide channel. During the Mycenean era (1400-1100 BC) it was the most important regional naval base. It was part of the Roman empire (86BC to 395 AD). in 1484 it was used by the Venetians as a base for their sea battles with the Ottomans. Venetian rule ended in 1715. Given its strategic importance a Greek naval base was established (1828-1878). A Russian naval base along with a Russian school, coal, food, and storage facilities were established after the Treaty of Kuchuk Kainarji, which gave the Russians free access to the waters controlled by the Ottomans.The Czar granted the base, never fully used, to the Greek navy.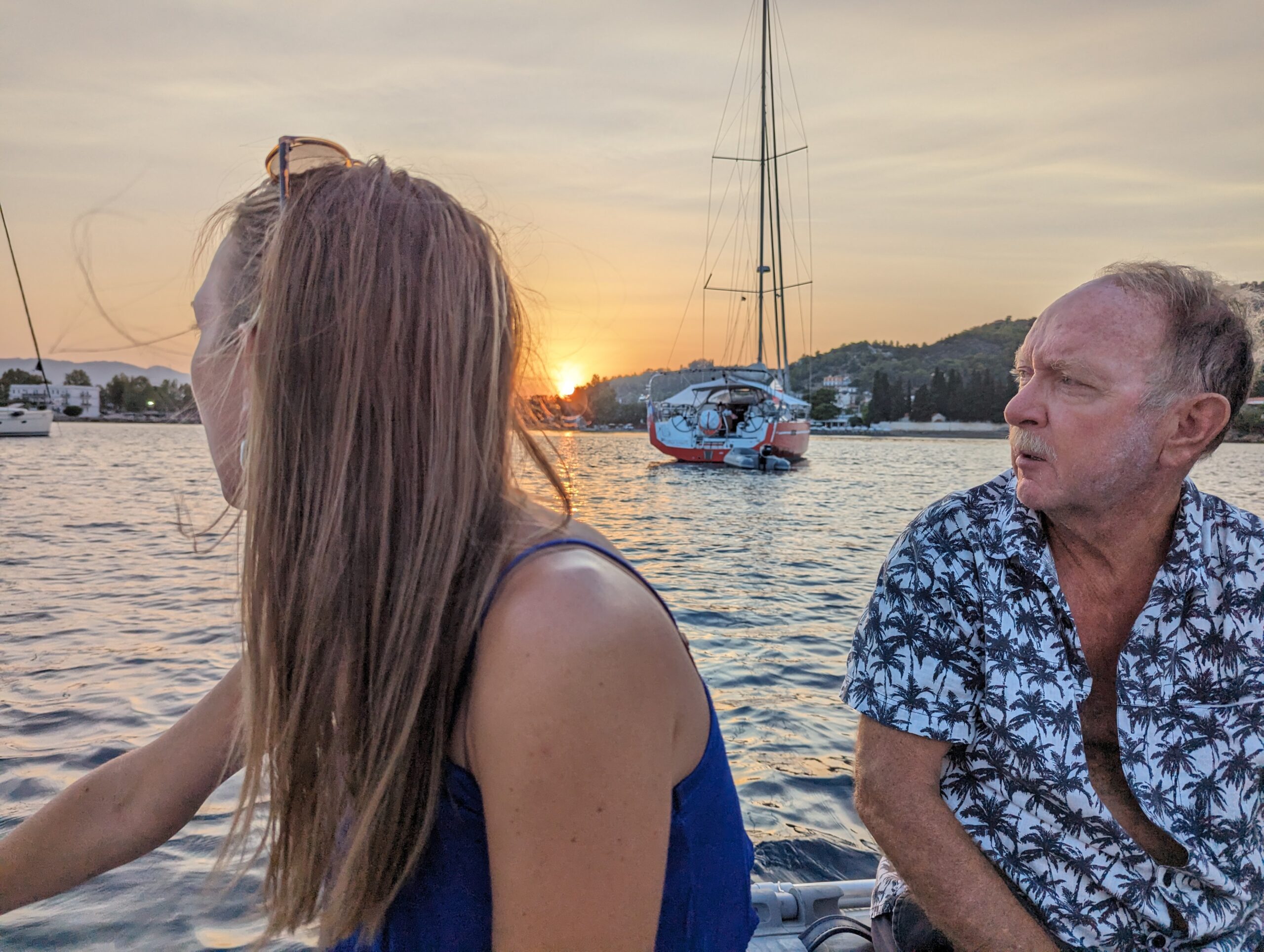 The next island was Aegina. This was more interesting than we expected. We docked in the town port, thankfully before the rush of boats arrived later in the day. Sonia, like us, has decided that Med mooring is way too stressful an exercise and much prefers free-swinging to an anchor. Having said that, it was nice to be able to hop on and off the boat as and when we each chose. We decided to spend two nights on Aegina to give us time to explore it a bit more. Sonia and Hope had a girls day off the boat, exploring some of the many attractive shops as well as taking in some of the ancient sights and having a cooling swim off a nearby beach. Aegina is known for growing pistachio nuts. We tried them in many forms, au naturel, roasted unsalted, roasted salted, in caramel bars, in baklava (of course), in ice cream (the best; 7 varieties on offer), etc, etc. Did you know that when pistachios ripen, they change colour to reddish/yellow and abruptly crack open with an audible pop, known as deshiscence?
Aegina is believed to have introduced coinage and standard weights to the western world around 700 BC. Several silver coins, with a raised turtle on one side, an animal sacred to Aphrodite, have been found, minted between 550 and 340 BC. its history is robust; major rivalry with Athens concerning sea power in the 5th century BC, controlled by various civilisations (Macedonians, Romans, Venetians, and Ottomans), who have all had an impact on the island. A physician first introduced the systemic cultivation of pistachios to the island in 1896. Production has reached about 2,700 tons per year, on 29,000 acres.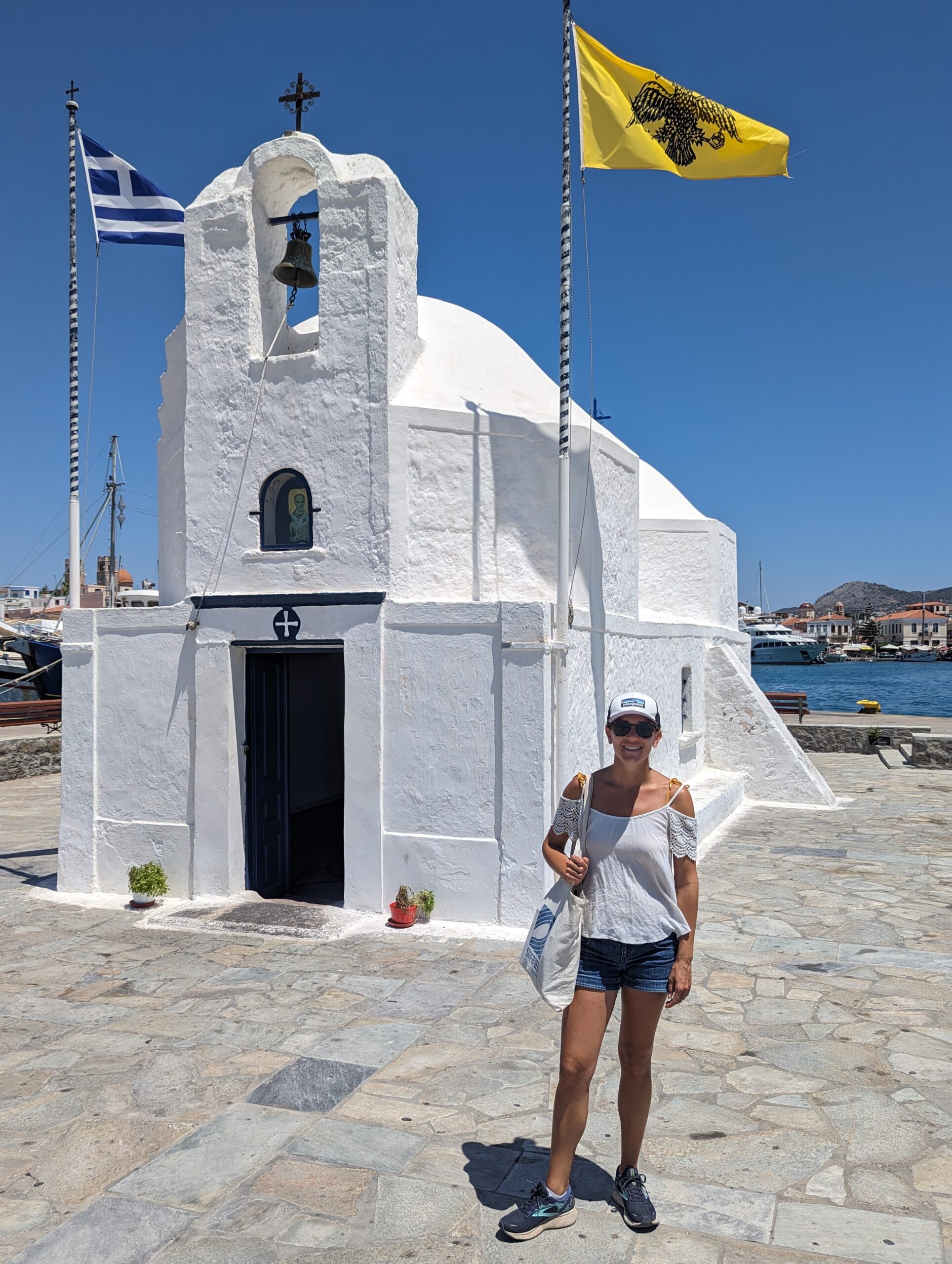 Then it was back to Vari/Varkiza but we did stop off at the north-east end of Aegina for a swim and some lunch. That gave time for the afternoon wind to fill in so we then had a lovely close reach flying both mainsail and genoa across to Vari. This was the third time we have anchored there, Each time, we have found the holding to be excellent with plenty of room to swing to anchor, we have enjoyed watching the antics of windsurfers, some of which are foiling (i.e. the board is lifted off the water when it is going fast enough with only a narrow foil still in the water) as well as foiling kite boards. We were treated to a short fireworks display each evening after dusk. It is also close to Athens airport so was a good place to drop Sonia off for her flight back to Bordeaux the following day. We had another lovely meal ashore that evening, even trying grilled octopus, which was pretty good.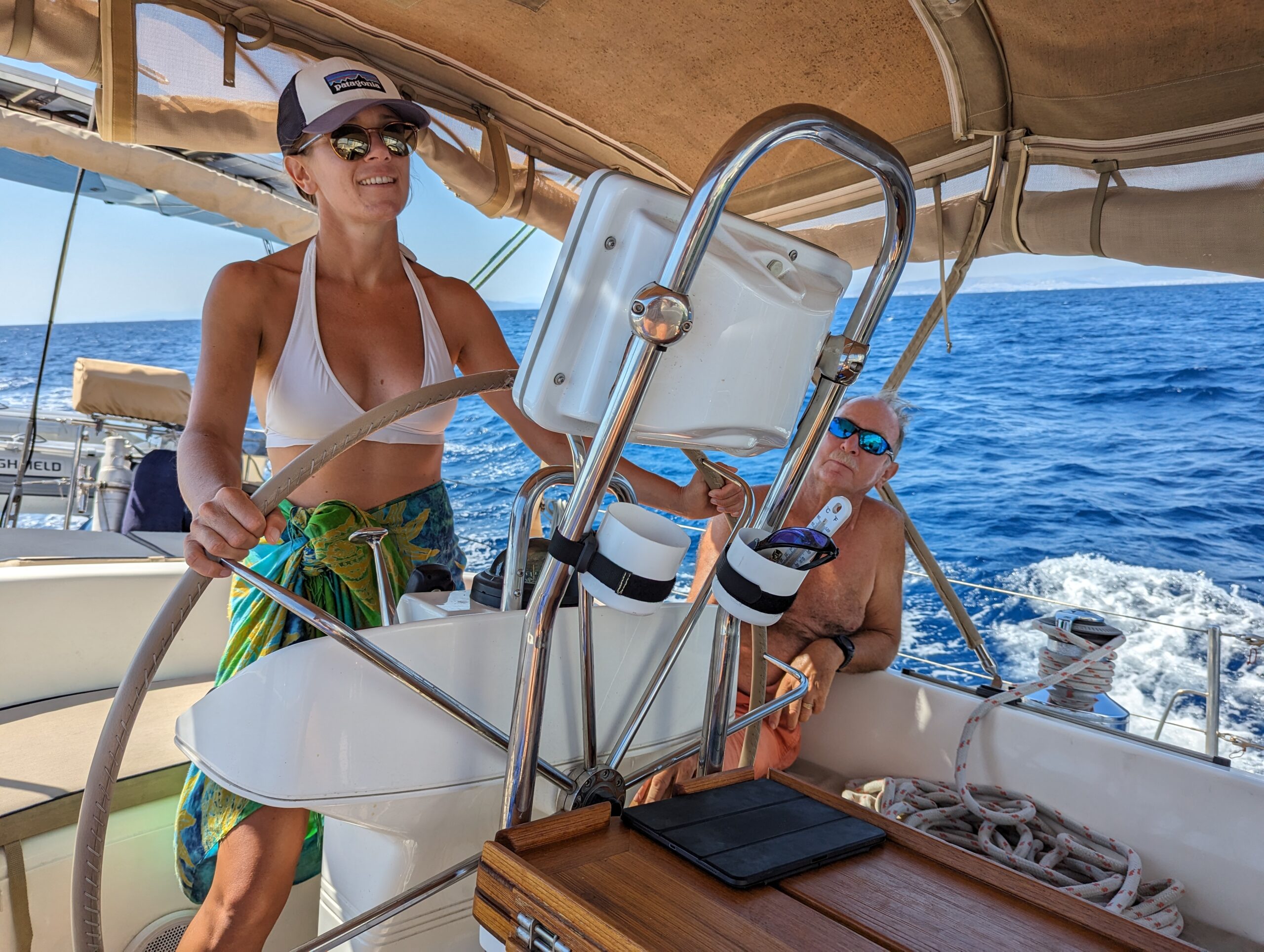 After a couple of catch-up days in Vari, we spent one more night (our 4th) in Sounio from where we would start exploring some of the Cyclades islands.