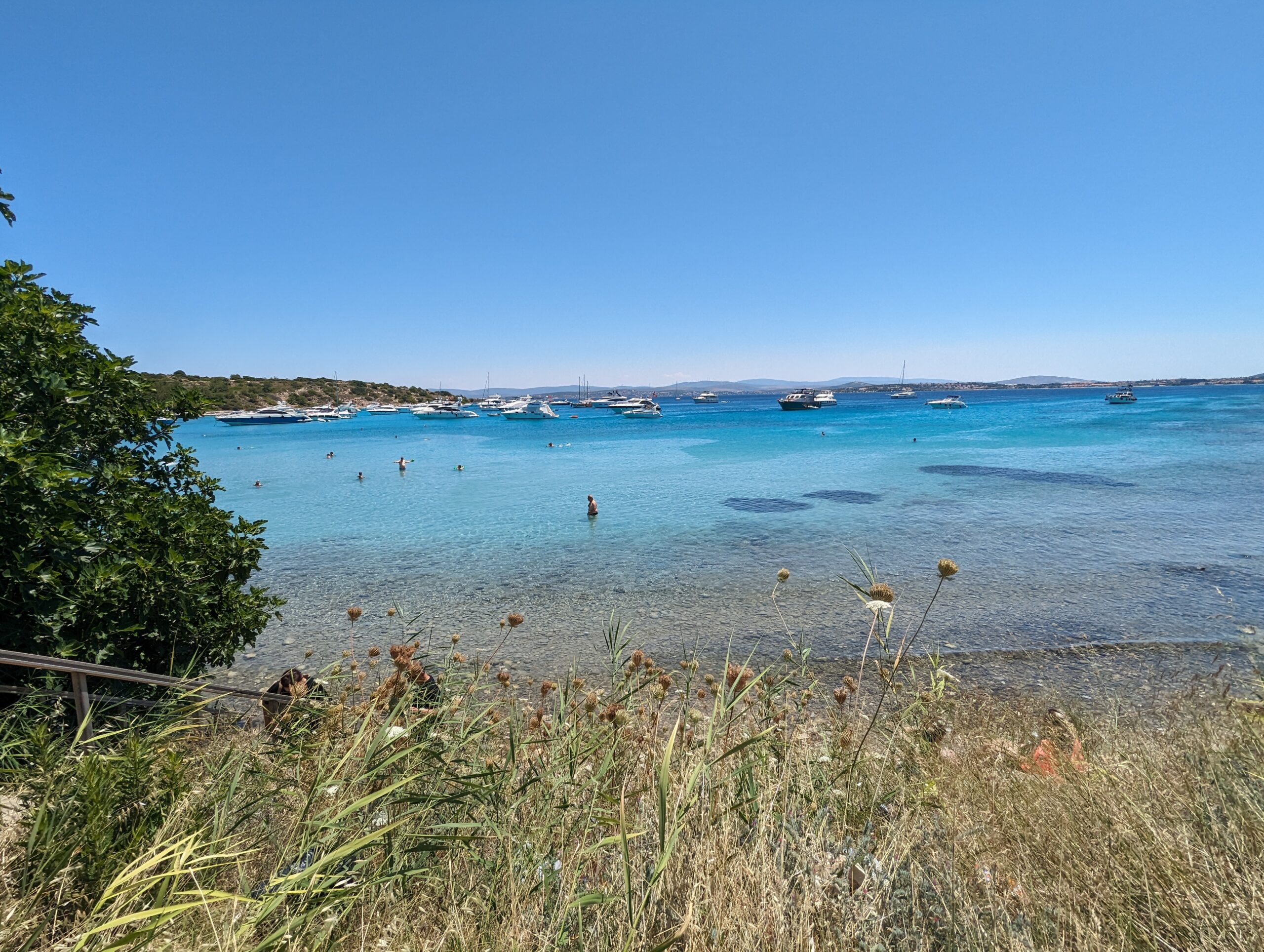 Although frustrated by the week-long Bayram holiday when we had to wait for Osman the mechanic to return to work, we were quite content at anchor in Haceteppe Bay. It was a popular spot, especially during the day as the swimming was excellent and it was close to several marinas in the Çesme region. The village of Dalyan at the head of a lovely long, boat-lined inlet and with a good Tuesday market, was a short walk away. There was also a variety of restaurants which we presume were a lot more popular in the evenings; they appeared to have few customers in the heat of the day when we visited.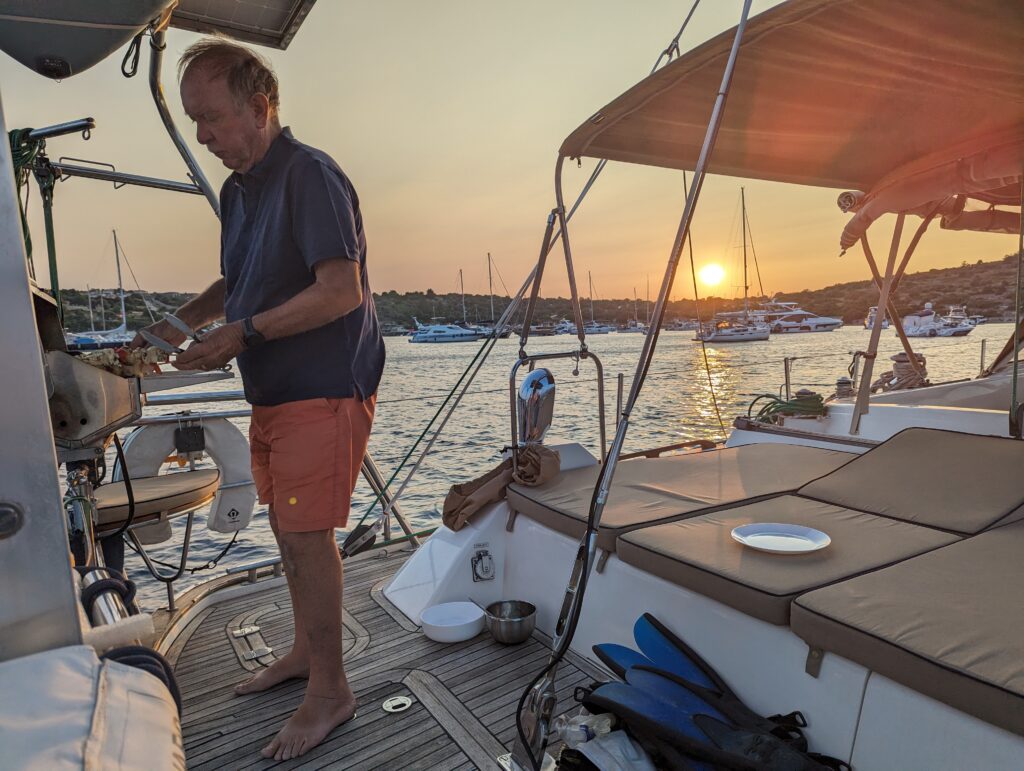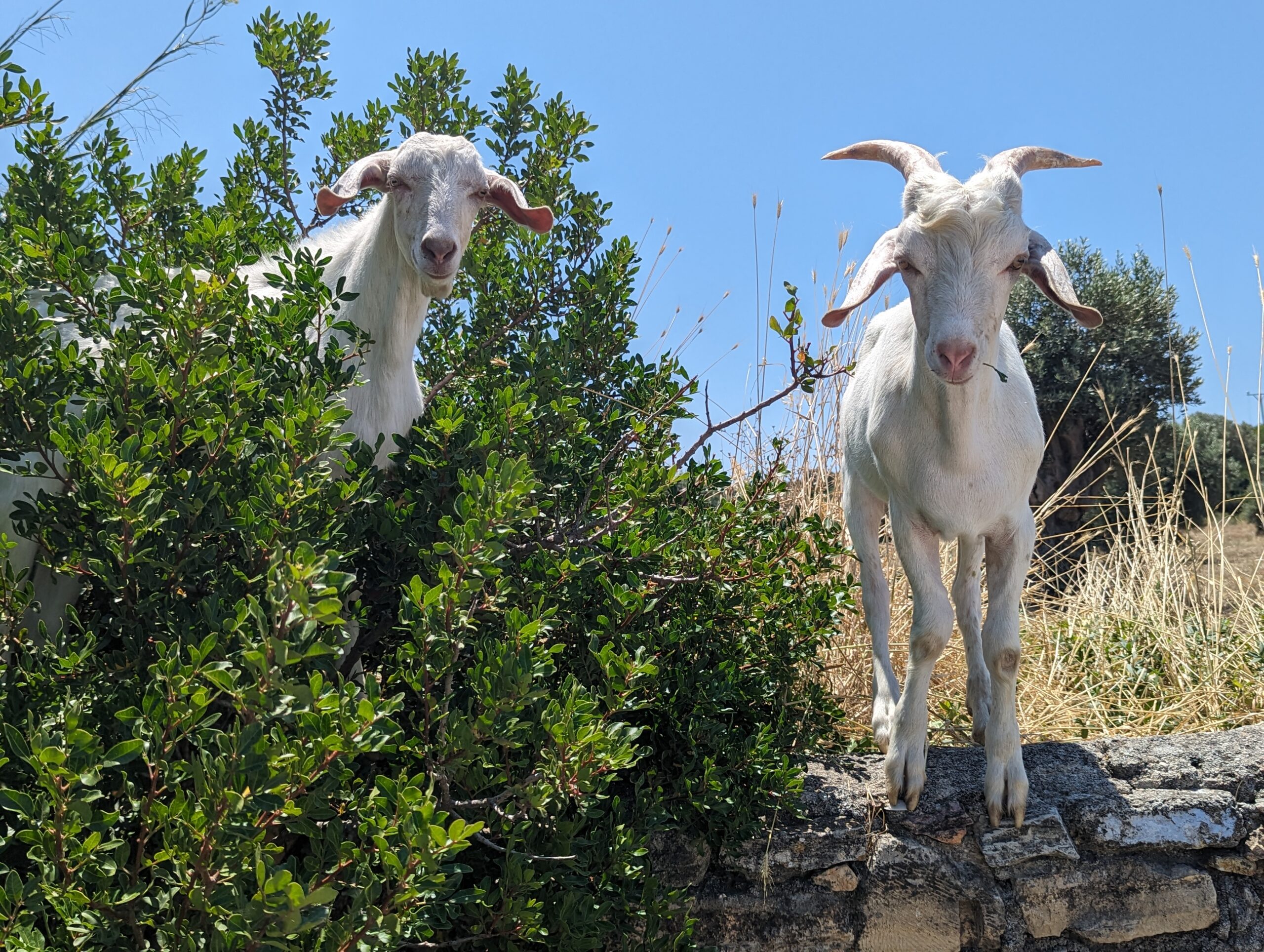 We took the local Dolmus (bus) into Çesme a couple of times to find an agent and to initiate the process for checking out of Turkey. Downtown Çesme is a lovely place to meander along the sea front, admiring the castle, and sauntering through the colourful streets lined with gift and clothing shops, plus multiple restaurants.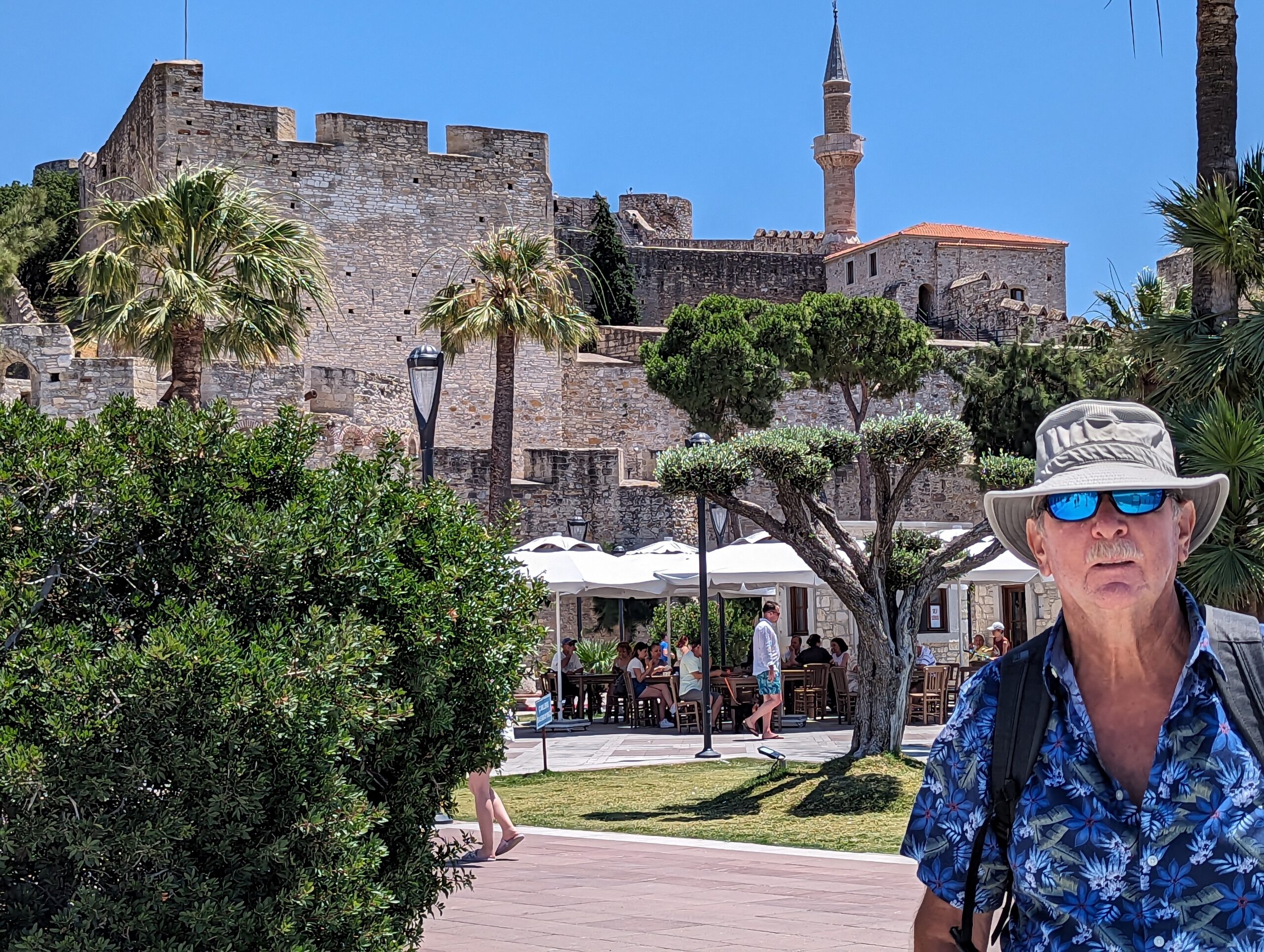 On Monday 3 July, we managed to re-connect with Osman the mechanic and agreed to meet him after 5:00 pm in Setur Çesme marina, all of 2.4 nautical miles away from our anchorage. He and his brother confirmed our fears that the horrible noise associated with changing from neutral to forward or reverse, and vice versa, was from the gearbox. Fortunately the marina managed to do some rearranging so we could have a berth for the week while the gearbox was removed, disassembled, replacement parts ordered and reassembled with the new parts.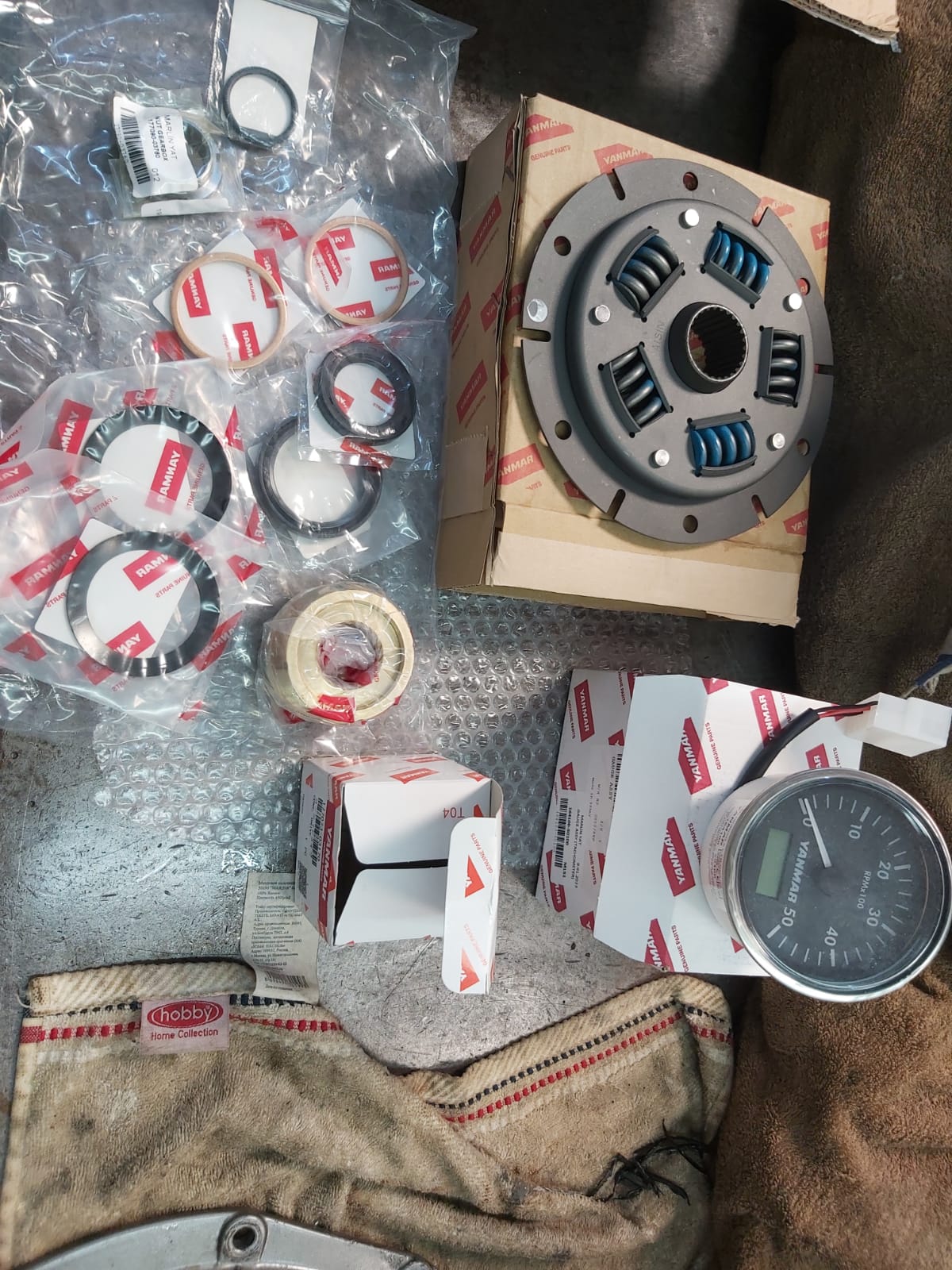 It was a hot week but we were fortunate to be able to swim off the entrance to the marina, just across from our berth, to help cool us off. We had a lovely neighbour who was very helpful with local knowledge. He recommended an interesting fish restaurant where we celebrated our 43rd wedding anniversary.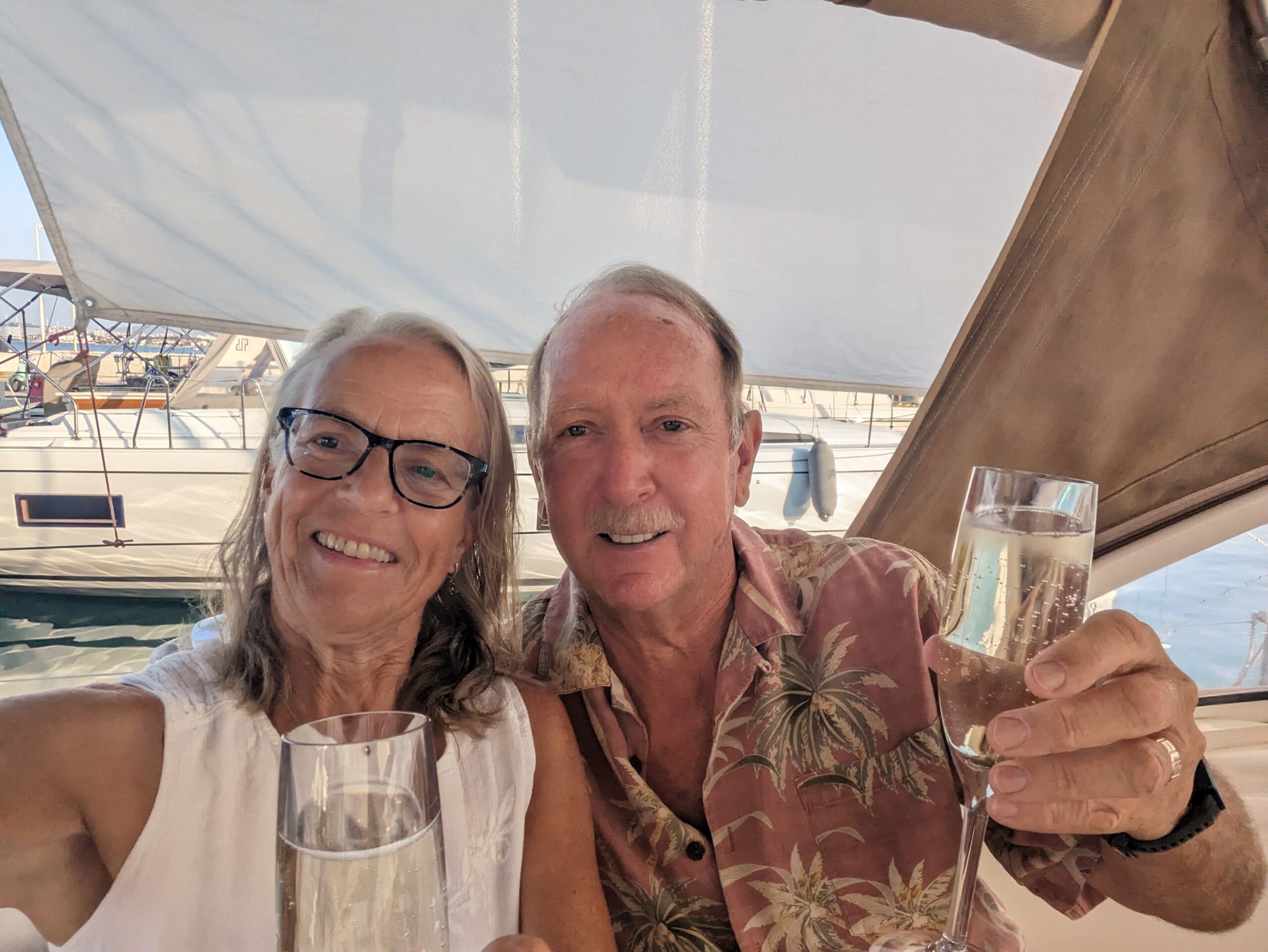 We came to realise that this is a much wealthier area than Antalya province. Houses are bigger, sprinkler systems irrigate lawns (non-existent in Finike) and when we asked for our neighbour's recommendation for a laundry service, it really struck home. We have never paid as much; 2,500 TL (about $96) vs. about 200 TL in Finike! It was beautifully ironed and protected in plastic bags, all of which is unnecessary for our sailing clothes.
The following Monday (10th July), Osman collected us and brought us to his workshop where he showed us the removed parts and the newly reassembled gearbox, explaining exactly what he had done. After figuring out how we were going to pay him, he treated us to lunch at his local restaurant, a typical Turkish meal. Later that afternoon, all was installed and tested; no more horrible clunking noises when shifting gears – yea!
We were now ready to depart Turkey. So, after a taxi ride to Çesme with boat papers in hand, the agent prepared our paperwork and we checked out at the nearby immigration building. We then returned to the boat, made our final preparations for departure and waited for the customs official to come to the boat to give us the final OK to leave. We slipped our lines around 14:00 on July 12th and headed towards Chios, a little over 12 miles away, to the west.
While we are sad that our plans to explore more of the Turkish coast, potentially as far as Istanbul, were thwarted, by boat issues, we are very much happier that the propulsion system is performing as it should. The multiple delays meant that we were facing many more days of Meltemi winds from the north, making it more challenging to head north along the coast. We also wanted to be near Athens by July 20 to meet up with some 'guests'. A visit to Istanbul is still very much on our wish list. Hopefully we will manage to take time to explore it while en route (by plane) between N. Cyprus and any onward travel plans over the winter months.